June 2021
Australian Fixed Interest
Stranded assets: a rising risk for credit investors?
June 2021
Australian Fixed Interest
Stranded assets: a rising risk for credit investors?
Jay Sivapalan, Shan Kwee and Liz Harrison from the Australian Fixed Interest team explain how the rise of environmental, social and governance (ESG) considerations could result in stranded assets as companies work to protect their social licences, and highlight the importance of in-depth analysis and company engagement in mitigating that risk.
Key Takeaways
ESG factors represent a relatively new sub-set of the material financial risks that entities face when operating within their social licence – a dynamic concept, hinging on society's views, consumer preferences, shareholder governance and regulatory frameworks.
We believe in thinking like it is 2050, considering where society wants to be by then and investing accordingly.
Some trends creating stranded asset risks have been playing out for years; the pandemic has brought others to light. In both cases, deep credit analysis and company engagement are critical in assessing the risks that could lead to negative financial outcomes.
Institutions, including governments, public organisations and companies, exist to serve a valued purpose to society, and to operate in today's world they must also carry a social licence. Albeit intangible and difficult to define, we view this licence as a function of an institution's goals and the impact of their goods and services, in conjunction with society's expectations, consumer preferences, shareholder governance and regulatory frameworks. The era of profit at any cost is long dead, with success or failure today, in our view, largely relying on institutions' ability to preserve their social licences.
A relatively new, but increasingly important, concept
Within the context of 400 years of bond market history, ESG factors are relatively new. They represent a sub-set of the material financial risks that entities face when operating within their social licence. And, the concept of social licensing is dynamic, evolving with society's views and placing growing emphasis on ESG factors, including climate change, equality and better institutional frameworks. The market is increasingly considering both the positive and negative externalities of business practices, so it is fitting that ESG risks, particularly material ESG risks, are considered at the core of an investor's assessment.
The practical application of this framework may include:
Gating or negatively screening industries and/or individual companies that will increasingly find it difficult to hold the social licence to operate
Assessing companies for stranded asset risk by monitoring valuable assets that could potentially prove worthless over time
Assisting companies that are open, incentivised and driven to transition their operations to fit with the evolving social licence
Supporting entities that seek to solve a social need or those that demonstrate alignment to the future social licence through capital provision or positive impact investing
We believe in thinking like it is 2050, considering where society wants to be by then and investing accordingly. The rapid technological and societal changes of the past 25 years have felt exponential, and looking three decades ahead, we can envisage a very different world from the one we live in today. Investing in a portfolio of corporate credit as though the world will remain static could result in bond underperformance as credit quality potentially declines and securities become illiquid, as well as re-financing risks and even default risk (or the pricing of it), in the worst case.
Through our assessment, we estimate 25% of all corporate debt issuers in Australia have material ESG risks, with many of these issuers un-investible on the basis that they lack the obligatory social licence.1 Our finding is derived from bottom-up research, including qualitative and quantitative factors, which we believe provides stronger insight than publicly available ESG scoring providers that tend to rely on backward looking, quantitative metrics. It is also the very reason we believe an active assessment, as well as active management, of these risks is critical.
Stranded asset risks
The proverbial canary in the coal mine of stranded assets is, in fact, the coal industry. Dedicated coal infrastructure, such as power stations and handling terminals, are under pressure due to increased competition from renewable energy and climate change action. This is curtailing their economic lives as demand falls and profitability declines, forcing closures and the creation of stranded assets.
However, businesses across sectors face similar threats, not only from environmental factors, but from technological improvements, shifting societal preferences, shareholder governance actions and regulatory changes. Investors must be forward looking in order to mitigate negative impact to portfolios from these disruptive forces.
Case study: environmental risk
With global focus on achieving net-zero carbon emissions objectives, the potential impact on gas assets, which had been touted as a cleaner alternative to coal, now needs to be assessed. Given political and social will to generate sizable investment and expedite development of economically viable renewable energy, the lifespan of gas as a transition fuel may be curtailed. Long-life gas projects and infrastructure built on multidecade demand assumptions may never see their full potential and risk becoming stranded assets.
One example is the Australia Pacific Liquefied Natural Gas (APLNG) venture in which Origin Energy, an Australian BBB rated debt issuer, has a significant stake. Since project inception in 2011, Origin has borrowed significant amounts of debt to invest in the venture, which now represents 40% of its business by asset value. Entering production phase, reserves appear healthy, but the ability to generate sustained profitability from the project is reliant on ongoing demand. The social stigma associated with carbon emitting assets has become crucial for issuers to consider as bank lenders and public capital providers reassess the longevity and viability of business models, while asset owners such as Origin look to refinance debt.
Figure 1: APLNG Timeline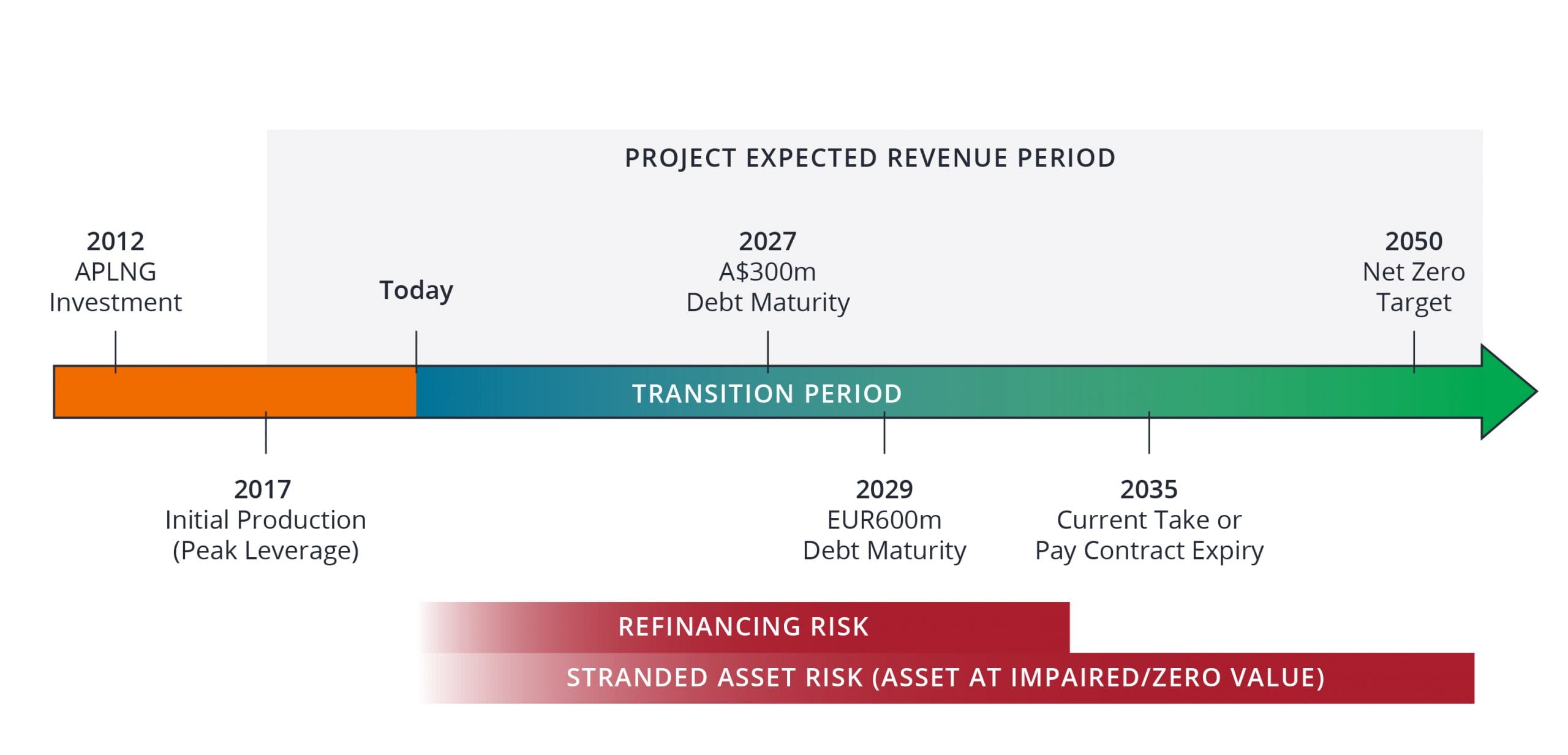 Source: Janus Henderson Investors, May 2021.
Case study: social risk
From a social perspective, the prevalence of poker machines and issues surrounding problem gambling are a valid concern. Companies exposed to this theme could also be exposed to regulatory changes aimed at combating these issues from the top-down.
An example of a company in this position is ALE Property Group, landlord and owner of 86 pubs around Australia. ALE's portfolio is unique in that the properties are all leased to a single tenant Endeavour Group (a division of Woolworths Limited), which adds a significant degree of concentration risk. With societal attitudes around gambling and alcohol consumption changing, investors are already voicing their opinions, triggering Woolworths to pursue a demerger of the Endeavour Group.
While the pub leases are long-term, these socially-driven changes indicate a material risk of reduction in quality and sustainability of the tenant, and a more challenging environment for re-leasing, asset sales or capital expenditure costs in the future. Given the compounding effect of COVID-19 on the hospitality and leisure sector, there is growing potential for stranded asset risk.
Case study: governance risk
Poor governance practices are at the centre of issues faced by casino operator, Crown Resorts Limited. Crown had its New South Wales operating licence suspended following allegations of facilitating money laundering, breaching gambling laws and partnering with junket operators with links to criminal enterprises.
Crown's suspended licence means its new A$2.2 billion development in Barangaroo, Sydney will only be able to operate its hotel, restaurants and bars, leaving a large hole in its revenue stream. The new casino's future is dependent on the company's ability to address its practices and convince authorities of its suitability to operate. Crown's deteriorating financial profile remains of concern for investors and their social licence to operate has indeed been called into question as a result of this failure of corporate governance.
Engagement and credit analysis are key
We believe in only lending to companies that we deem stable and sustainable, attributes we determine through deep credit analysis of a company's business, financial, management and ESG risks. This includes assessing the potential for stranded asset risk. Regular company engagement plays a crucial role in this process as it provides a forum for direct discussion about any material risks and the steps a company is taking to mitigate them.
Some ESG thematic and secular trends that can lead to stranded assets have been playing out for several years, including the shift to renewable energy sources, decarbonisation and the increasing prevalence of e-commerce. Thus, the risks to certain industries are already clear. We believe engagement work with these issuers should be centred around objectives in place for transition and progress toward meeting stated targets.
Where flow-on effects from one industry are impacting another, the importance of research and engagement grow. In transport, for example, shipping companies have had to make changes to their fleets to make them more sustainable and reduce biodiversity risks, such as the excretion of sulphur, polluted ballast water, sewage, plastic rubbish, oil spills and air pollution. This has flow-on affects to other industries, namely ports. But if ESG concerns should push ports to restrict older style fleets from entering, it creates stranded asset risk anew for the shipping companies as they are forced to retire older vessels. In-depth analysis covering consumers, suppliers and counterparts, along with company engagement can help identify these risks.
COVID concerns
In our view, the pandemic has exacerbated the need for in-depth credit analysis. Stranded asset risk has popped up in industries not previously on the radar. During the height of the lockdowns restaurants, theatres and hotels were all empty, with some shutting their doors permanently. Risks remain for the aviation industry as airlines still have planes sitting idle, which may result in stranded assets on their balance sheets. Universities face reduced revenues from a drop-off in international students, but what about the potential for stranded assets as campuses lay largely dormant with the move to online learning?
While negative screens are one way to shelter a portfolio from material ESG risks, engagement and deep credit analysis should prove valuable in assessing the risks that could lead to adverse financial outcomes for individual issuers. Understanding management's plan to mitigate these risks, if the plan is likely to succeed and whether all the issues are known and addressable is critical. Knowing a company's plans enables investors to be better equipped to draw the line on which issuers' social licences may be at risk.
Ultimately, we are providers of debt capital to companies, and we believe we have a responsibility to clients to deploy that capital to companies that are stable and sustainable.
1Janus Henderson Investors, as at 28 May 2021. Based on proprietary, fundamental research, including qualitative and quantitative factors, such as company analysis and engagement.