Jay Sivapalan, Head of Australian Fixed Interest at Janus Henderson, discusses why now more than ever an active approach to investing in fixed interest is vital.
In response to COVID-19, we are now in a prolonged period of near-zero interest rates. In this environment, many of our clients have asked how we are investing through the crisis and our answer is simple – we are investing actively.
To us, the importance of active management is vital in unlocking investment opportunities that simply aren't available in the benchmarks. In addition to identifying opportunities at a security and sector level, it also means being able to actively manage risks, including interest rate risk, inflation risk and default risk in order to preserve investors' capital and enhance returns.
As we learned in the period following the Global Financial Crisis, significant changes to the composition of the Australian fixed interest benchmark (Bloomberg AusBond Composite 0+ Yr Index) took place as corporates de-levered and governments borrowed more. We anticipate the same scenario playing out in the aftermath of the COVID-19 crisis.
Heavy issuance of increasingly longer-dated government debt (federal, state, supra-national) combined with corporate de-leveraging causes a 'crowding out' effect in the benchmark, skewing it toward these lower yielding securities.
As shown in the chart below, the composition of the benchmark was noticeably different in 2008, with credit taking a much larger proportion at approximately 30% versus today's weighting of just under 10%.
Chart 1: Composition of the Bloomberg AusBond Composite 0+ Yr Index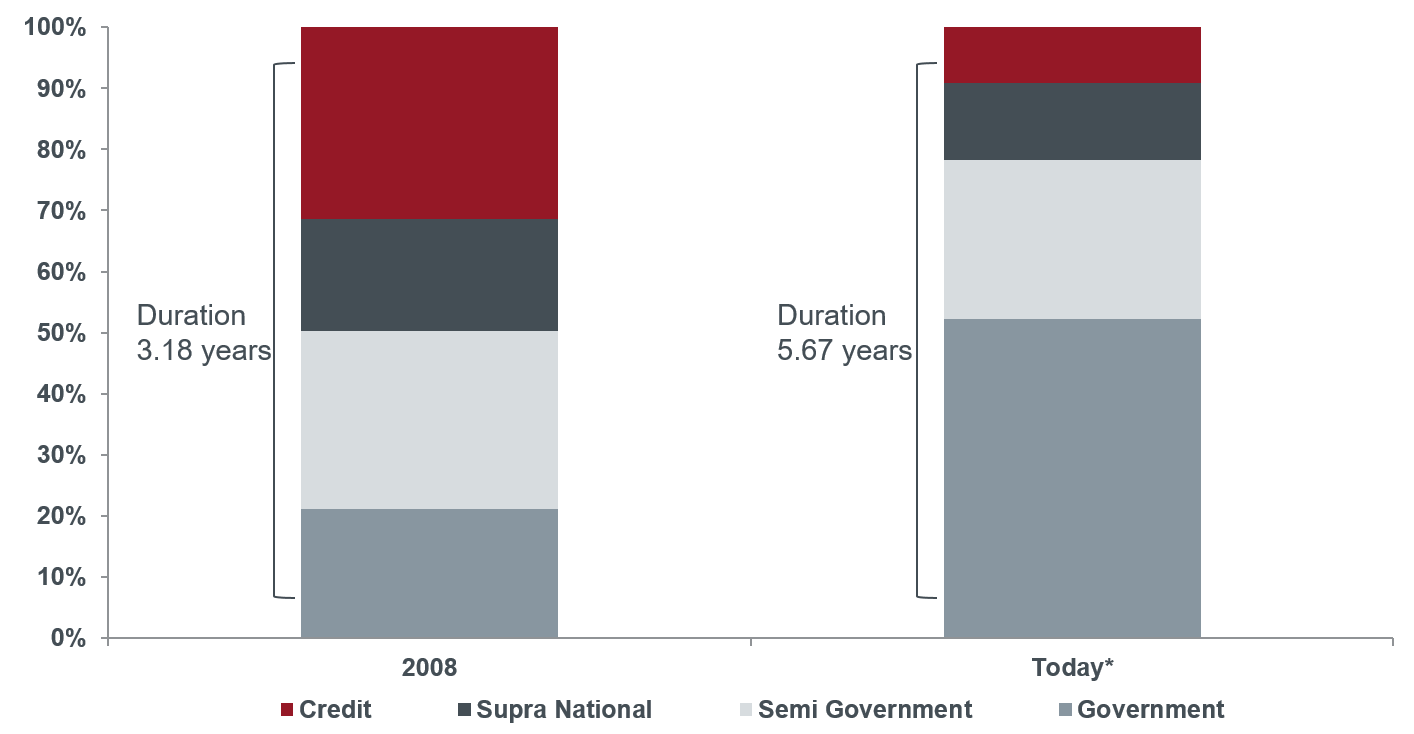 Source: Bloomberg. As at 31 May 2020. *31 May 2020.
Investors in passive index strategies have progressively lost access to the higher yields available in the credit sector and the diversification benefits of broader holdings in the benchmark. While lower fees on passive funds can be compelling, one mustn't overlook the opportunity cost of holding a portfolio heavily skewed to government bonds.
While we expect the cash rate to remain at 0.25% for a prolonged period, the issuance of longer-dated government debt to fund the massive stimulus response to COVID-19 has increased the interest rate risk embedded in the benchmark. Chart 2 below shows the benchmark's very low yield at a point where interest rate risk (duration) is at 5.67 years. Even a modest 0.25% increase in bond yields would result in a capital loss of -1.42% (-0.25% x 5.67yrs = -1.42%).
Chart 2: Australian average bond market yield and modified duration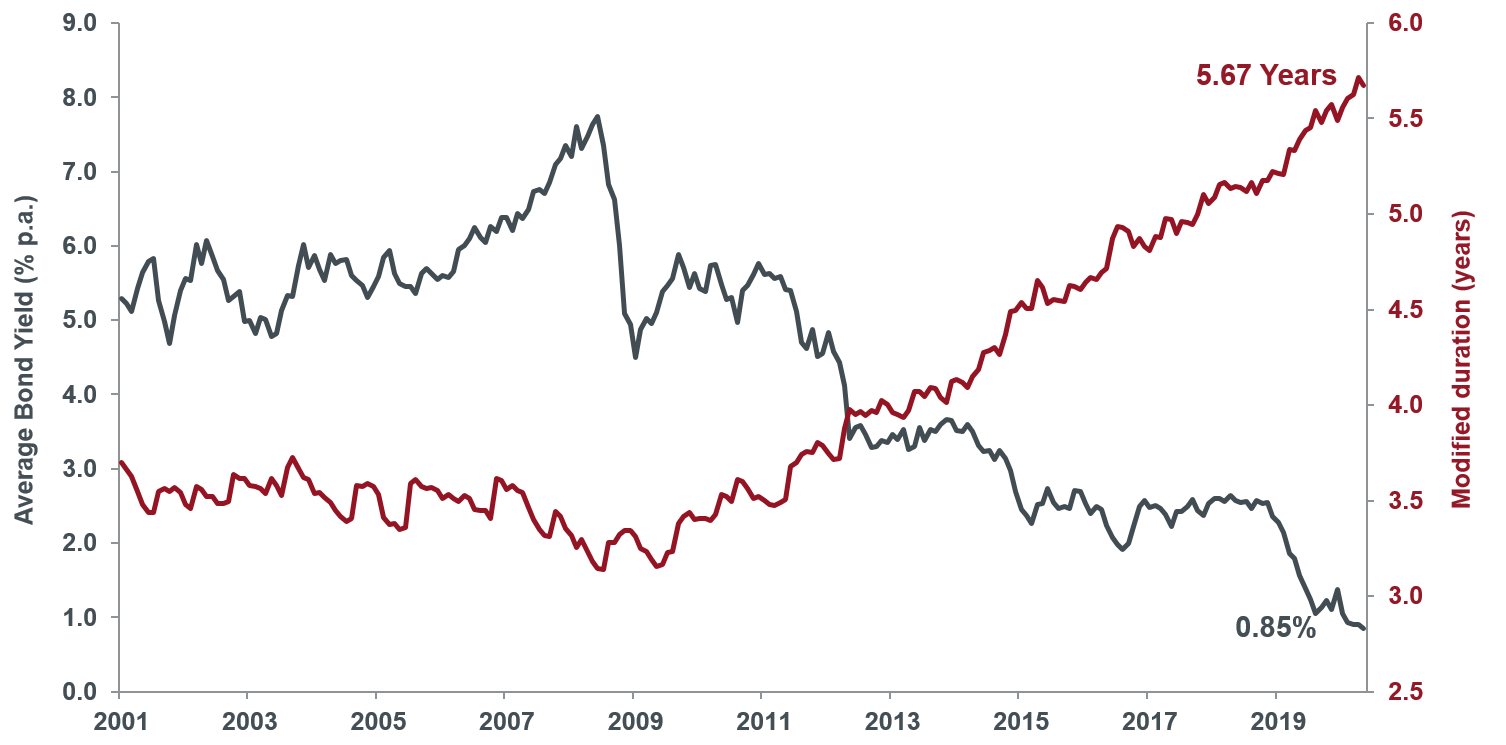 Source: Bloomberg, as at 31 May 2020. Australian bond market based on the Bloomberg AusBond Composite 0+ Yr Index.
The Janus Henderson Australian Fixed Interest Fund is invested quite differently from the benchmark, actively seeking opportunities for higher yields and managing duration (interest rate risk) to preserve capital and enhance returns.
Chart 3: Composition of the Bloomberg AusBond Composite 0+ Yr Index vs Australian Fixed Interest Fund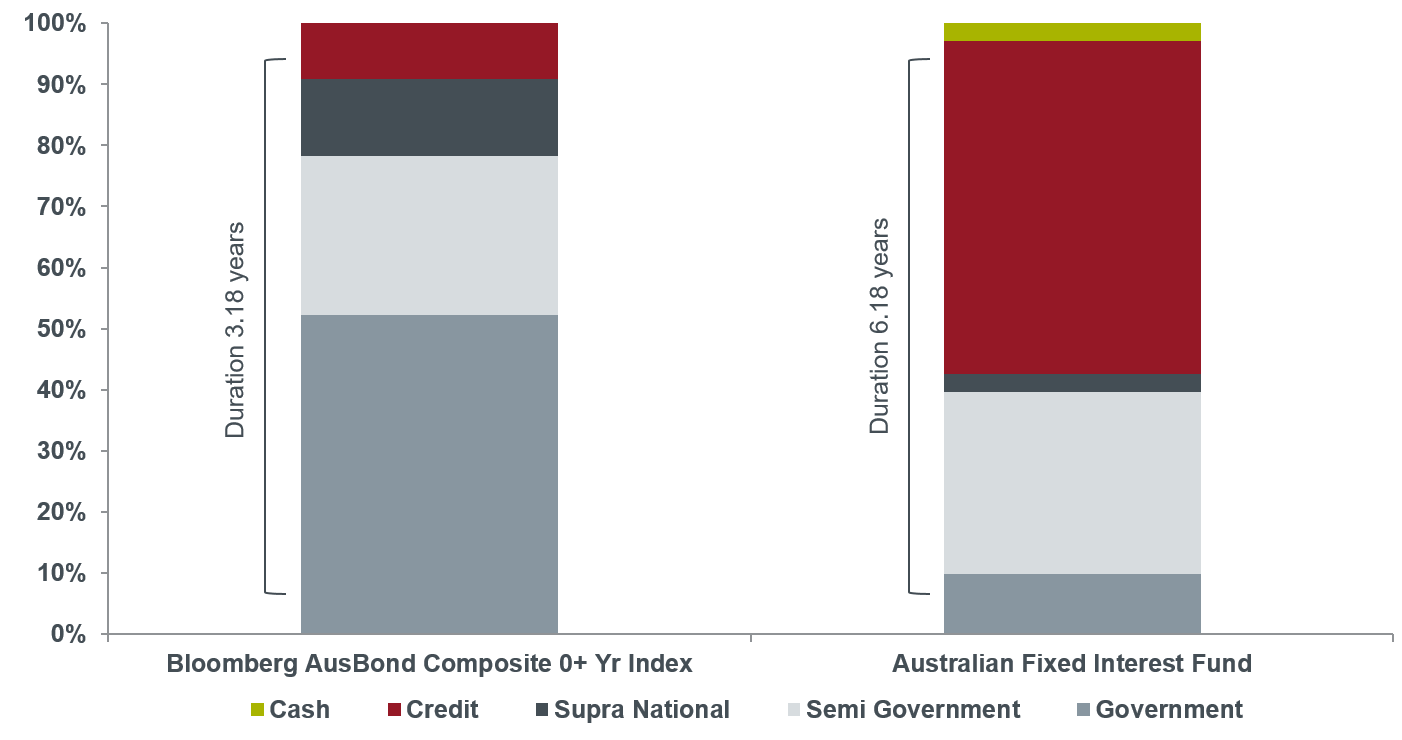 Source: Janus Henderson Investors, Bloomberg. As at 31 May 2020. *31 May 2020.
Our Tactical Income Fund exhibits additional flexibility, investing across four actively managed underlying funds:
Janus Henderson Australian Fixed Interest Fund – Institutional (fixed government and corporate debt);
Janus Henderson Cash Fund – Institutional (cash);
Janus Henderson Cash Enhanced Fund – Institutional (primarily cash, corporate debt, corporate floating rate debt and mortgage-backed securities); and,
Janus Henderson Diversified Credit Fund (primarily hybrid securities and senior corporate debt).
Our active approach allows us to change the Tactical Income Fund's allocation to these funds based on where we see opportunities emerging at an asset class level.
Having the ability to shift between sectors and securities means that in periods of market dislocation (as experienced in March-April), we are well positioned to take advantage mis-pricings when the market can 'throw the baby out with the bath water', selling down assets regardless of quality. Active management can reward those who can identify and capitalise on opportunities of this nature.
Fixed Income Perspectives