Biopharma delivers blockbuster growth
Despite a sell-off in biotech stocks in recent years, the sector's medical advances are translating into record drug sales and creating opportunities for investors, says Portfolio Manager Andy Acker.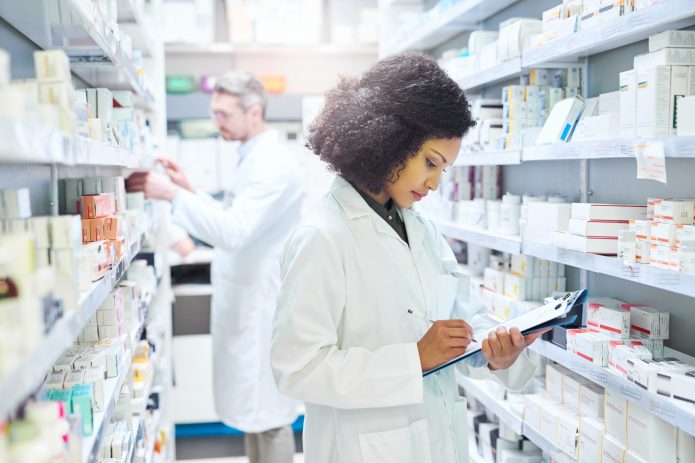 Apr 13, 2023
4

minute read
Key takeaways:
In 2022, large "blockbuster" biotech drugs delivered a total of $464 billion in sales, up 12% from the year prior and 70 times what they were roughly two decades ago.
With innovation continuing, particularly in large disease categories such as Alzheimer's, obesity, and cancer, revenues could continue to expand in the coming years.
In our view, valuations for the biotech companies driving much of today's innovation have yet to reflect this growth potential, creating opportunities for investors.
If you were to look at the performance of biotech stocks over the past two years, you might reason the sector's growth potential had stalled, if not stopped altogether. Since peaking in February 2021, a broad index that includes small- and mid-cap biotechs – the sector's main innovation engine – is down nearly 60%. (By comparison, the S&P 500 Index was up 8.5% over the same period.)1
But look past the broad market performance and the story changes dramatically. Last year, revenues for blockbuster drugs (medicines with annual revenues of $1 billion or more) topped $460 billion, up 12% from the prior year. Just five years ago, blockbuster revenues were only half as much. In addition, the number of blockbuster drugs has grown rapidly. In 2022, there were nearly 120 blockbusters. In 2000, that number was just two.2
The biotech sell-off can be attributed to many reasons, including valuations that got overstretched during COVID-19 and regulatory uncertainty during a change of leadership at the Food and Drug Administration (FDA). More recently, rising interest rates have been a headwind. But all the while, the sector's innovation has been gaining momentum – and may soon be too hard to dismiss. This year, more than 75 new medicines are pending approval decisions by the FDA, which could result in a record number of new drug launches for the year. (Currently, the record stands at 59 in 2018.3) What's more, many of the therapies under review could represent medical breakthroughs that could alter the standard of care – and mark the start of 10-year product cycles.
Consider NASH, a nonalcoholic form of fatty liver disease. Although more than 10 million people in the U.S. suffer from NASH, no approved treatments exist for the condition, which is quickly becoming a leading cause of liver failure. That could change in the near future: one medicine is set to be reviewed by the FDA in the coming months, and two others have delivered impressive clinical trial data, including the ability to improve fibrosis (tissue scarring) and resolve NASH in a meaningful percentage of patients.
Drug revenues rise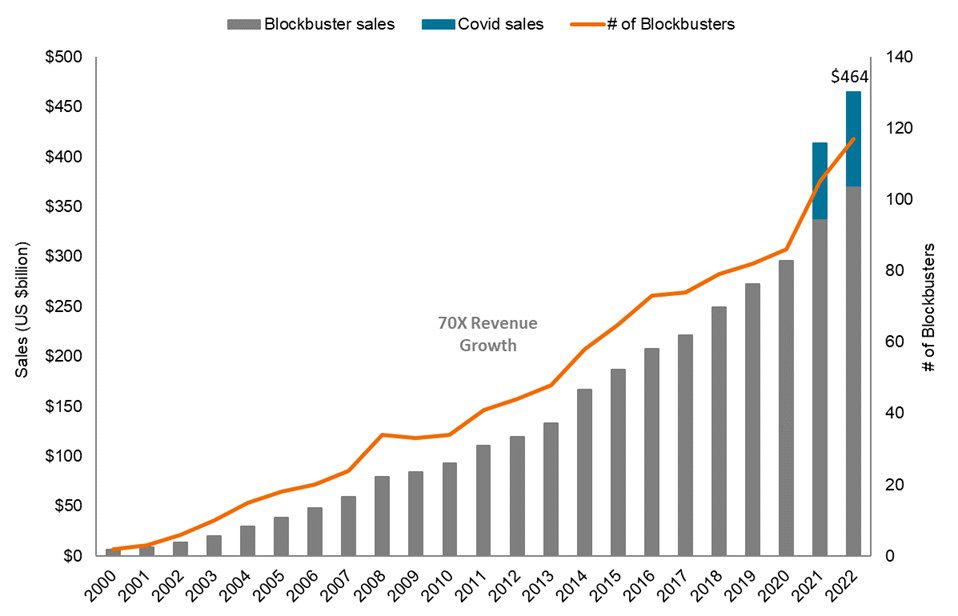 Source: Evercore ISI, Janus Henderson Investors. Data from 31 December 2000 to 31 December 2022.
These types of medical advances are becoming widespread, from rare diseases affecting a few thousand patients to conditions impacting millions of people. COVID-19 product sales, for example, topped $90 billion in 2022 for a disease that didn't even exist three years ago.4 While these revenues are expected to decline in 2023, other large end markets – obesity, diabetes, hemophilia, cancer, and Alzheimer's disease, to name a few – could see large revenue growth. In a late-stage clinical trial last year for obesity, for example, one therapy delivered weight loss of over 20%, a level previously possible only through bariatric surgery. And in January, the FDA approved Leqembi for Alzheimer's, the first treatment to clearly slow the rate of cognitive decline in the early stages of the disease.
Plugging revenue holes is increasingly becoming a necessity for large-cap pharmaceutical companies. Over the next five years, more than $160 billion in drug sales are expected to be lost to patent expirations and competition from generics and biosimilars.5 At the same time, the Inflation Reduction Act, passed in 2022, will allow the U.S. federal government to negotiate pricing for select drugs, starting in 2026. While the impact of these and other provisions remain uncertain, some drugmakers have already warned about negative impacts to certain research initiatives and/or sales.
We are optimistic that the industry will be able manage both loss of exclusivity and regulatory changes (global prescription drug sales are projected to reach $1.6 trillion by 2028, up 40% from 20226). But for many large pharmaceutical companies, maintaining growth will require increased business development activity, including mergers and acquisitions. The upcoming challenges underscore the need to identify the companies most at risk – and those that could stand to benefit. As we have noted over the past year, large-cap pharmaceutical companies have an estimated $500 billion in available cash to replenish product pipelines.7 We believe biotech's combination of low valuations and accelerating innovation create the potential for upside: of deals announced within recent months, many have offered premiums of 100% or more. Should innovative new medicines continue to be developed for high, unmet medical needs, we believe more blockbuster deals will ensue.
IMPORTANT INFORMATION
Health care industries are subject to government regulation and reimbursement rates, as well as government approval of products and services, which could have a significant effect on price and availability, and can be significantly affected by rapid obsolescence and patent expirations.
1 Bloomberg, data from 8 February 2021 to 10 April 2023. Data based on S&P Biotechnology Select Industry Index – which comprises stocks in the S&P Total Market Index that are classified in the GICS biotechnology sub-industry –  and the S&P 500 Index.
2 Janus Henderson Investors. Data from 31 December 1999 to 31 December 2022.
3 Food and Drug Administration, data as of 31 December 2022.
4 Janus Henderson Investors, as of 31 December 2022.
5 Jefferies, as of 5 February 2023.
6 Evaluate Pharma, "World Preview 2022 Outlook to 2028: Patents and Pricing," October 2022.
7 Jefferies, as of 5 February 2023.
This information is issued by Janus Henderson Investors (Australia) Institutional Funds Management Limited (AFSL 444266, ABN 16 165 119 531). The information herein shall not in any way constitute advice or an invitation to invest. It is solely for information purposes and subject to change without notice. This information does not purport to be a comprehensive statement or description of any markets or securities referred to within. Any references to individual securities do not constitute a securities recommendation. Past performance is not indicative of future performance. The value of an investment and the income from it can fall as well as rise and you may not get back the amount originally invested.
Whilst Janus Henderson Investors (Australia) Institutional Funds Management Limited believe that the information is correct at the date of this document, no warranty or representation is given to this effect and no responsibility can be accepted by Janus Henderson Investors (Australia) Institutional Funds Management Limited to any end users for any action taken on the basis of this information. All opinions and estimates in this information are subject to change without notice and are the views of the author at the time of publication. Janus Henderson Investors (Australia) Institutional Funds Management Limited is not under any obligation to update this information to the extent that it is or becomes out of date or incorrect.