The second edition of the Janus Henderson Decarbonisation in Emerging Markets Report – Perspectives and Insights from Asia – indicates that decarbonisation efforts across Asia are hampered by a fragmented market, but recent trends are encouraging.
Key Takeaways
Varying economic and energy reliance on fossil fuels across Asia creates barriers to setting realistic net zero targets and decarbonization strategies.
Stronger policy action toward renewable energy projects – such as solar PV, wind and hydropower – into government plans is needed to facilitate the energy transition to spur better financing solutions for decarbonization.
The issuance of climate-related financial instruments is dominated by China, India and the Republic of Korea – with the majority of countries not leveraging climate bond issuance at all.
The Janus Henderson Decarbonisation in Emerging Markets Index is constructed as an equally weighted index of scores given to three trends that can be tracked effectively over time. Each trend is tracked via a proxy indicator which we believe can help follow the degree, and speed, of progress on decarbonisation trends now and in the future.
Perspectives and Insights from Asia, the second report based on the Index, measures the decarbonisation efforts facing emerging markets in Asia against three metrics: renewable energy as a percentage of total energy mix, climate bond issuance as a percentage of total bond issuance, and net zero target dates.
As of May 2022, the overall Decarbonisation Emerging Market Index for the region sits at 50.68, based on the following factors:
Nearly three-quarters of the emerging markets have set or declared net zero targets, but timeframes range from 2030 (the Maldives) to 2070 (India).
At face value, less populated countries consume more renewable energy, but when contextualised by population, China and India's relative renewable consumption significantly increases.
Renewable energy consumption regionally is driven by hydropower, largely due to historical investment, but more recently wind and solar power generation are starting to take centre stage. However, it is worth noting that China is expected to also be the world's largest producer and consumer of nuclear power by 2030.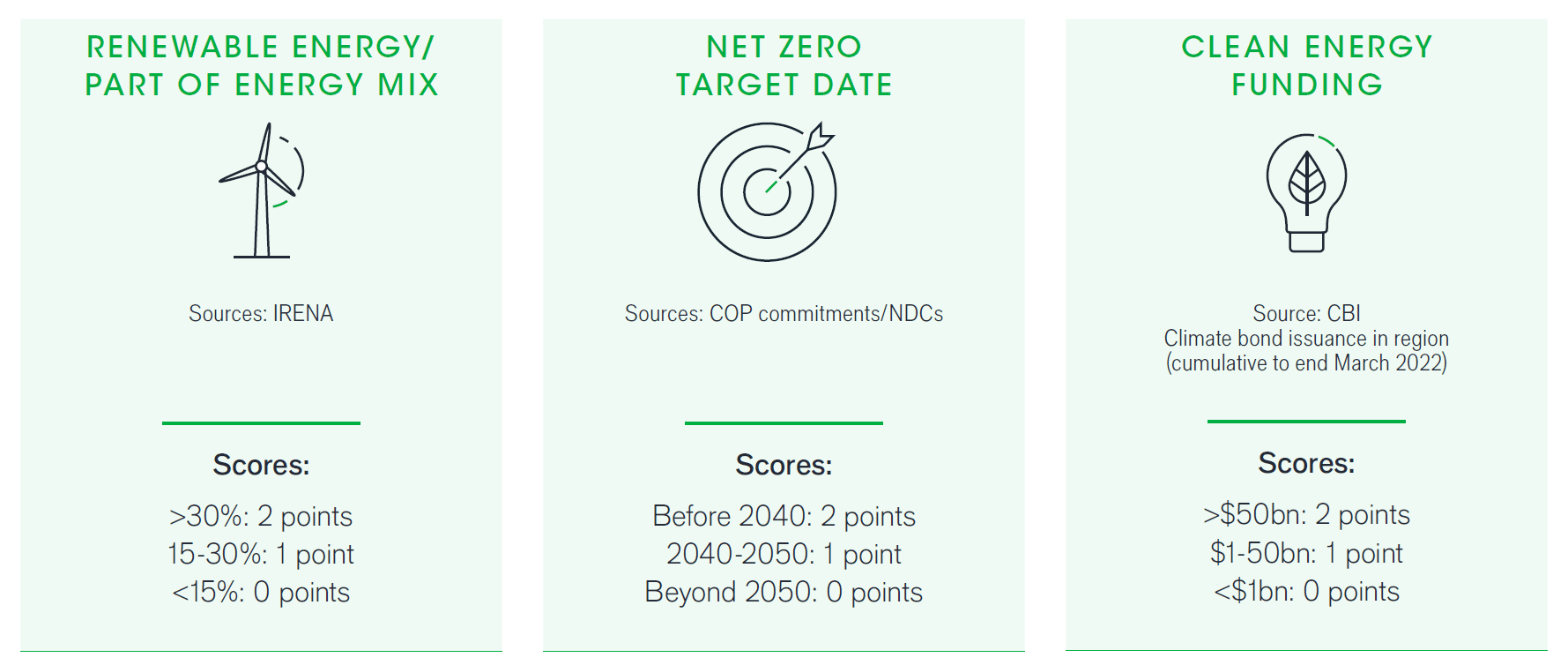 Total score: Each category weighted 1/3 each to get country composite score. Each country composite score weighted in regional index by % weight of each country in regional real GDP per capita in PPP dollars, as of end 2021 (Source: IMF). Regional sum x100.
There is a clear decarbonisation opportunity in Asia as it's home to countries with some of the largest carbon emission challenges. Through the combination of supportive government policy, technological innovation and emerging financing solutions the region is likely to sit at the forefront of the next industrial (green) revolution. - Matt Doody, Research Analyst
Call to Action for Asia
With 30% of the global land mass and 60% of its population, it's abundantly clear that decarbonisation initiatives in Asia are not only important for the region but for the whole planet. Moreover, as the "factory of the world," Asia uses a significantly higher amount of energy in its economy than other regions – often coal or diesel. However, climate financing solutions are underutilised by most of the emerging markets in Asia, and those that do issue green bonds are dominant economic powers in the region.
While Asia was represented in the early days of green bond issuance, such as Indonesia's 2019 green sukuk, the region has since became a laggard, falling significantly behind other regions such as Europe or North America. As investors' appetite for green bonds continue to grow and we start to see some new national efforts, such as Singapore's green bond issuance framework, Asia could leapfrog the rest of the world. - Ales Koutny, Portfolio Manager
Emerging markets in Asia will need to continue to balance economic growth against renewable energy affordability and availability. There is a clear opportunity for bond investors to play a key role in helping companies upgrade their capital toward complying with long-term emissions targets and international engagements. With hydrogen predicted to be one of the fastest-growing alternative energy sources in the next decade, investing in hydrogen solutions as a low-carbon alternative could accelerate the clean energy transition across the region.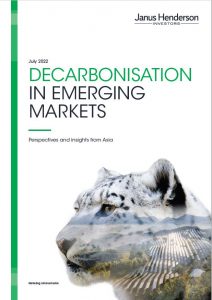 Read the full July 2022 Decarbonisation in Emerging Markets report covering Asia.
Environmental, Social and Governance (ESG) or sustainable investing considers factors beyond traditional financial analysis. This may limit available investments and cause performance and exposures to differ from, and potentially be more concentrated in certain areas than, the broader market.
Emerging market investments have historically been subject to significant gains and/or losses. As such, returns may be subject to volatility.
Fixed income securities are subject to interest rate, inflation, credit and default risk. The bond market is volatile. As interest rates rise, bond prices usually fall, and vice versa. The return of principal is not guaranteed, and prices may decline if an issuer fails to make timely payments or its credit strength weakens.