April 2021
Specialty Equities
Technology: solutions for a sustainable future in transport
April 2021
Specialty Equities
Technology: solutions for a sustainable future in transport
Technology portfolio managers Alison Porter, Graeme Clark and Richard Clode highlight how technology companies are providing solutions for a future of sustainable transport.
Key Takeaways
Technology is the science of solving problems and its innovation is already having a positive impact on the transportation crisis.
Tech is providing sustainable transport solutions across zero emission vehicles, Advanced Driver Assistance Systems (ADAS), Transportation as a Service (TaaS) and autonomous driving.
While myriad investment opportunities exist within sustainable transportation, thorough analysis and deep understanding of franchises and solutions are required.
When we think about the megatrends that provide a rising tide to the global challenges that we face, the transport revolution is crucial. The International Energy Agency (IEA) estimated that transport generates almost a quarter of global emissions, with cars and trucks contributing 75% of that. As a result, some 92% of the world's population live in places with air pollution levels exceeding World Health Organization (WHO) limits.
Many facets to transport sustainability
A key driver is urbanisation ̶ around 64% of all travel occurs in cities1 and while occupying only 3% of global land mass, cities generate over 70% of global greenhouse gas emissions2. A significant portion of those emissions are due to inefficiency, with 30%-40% of traffic in cities looking for a parking spot responsible for 40% of fuel consumption3,4. Not only must we contend with a growing global population, but it is estimated that 70% of people could live in cities by 2050 compared to 55% in 2018. More efficient, lower emission modes of transportation are required.
An ageing population and accompanying accidents is a wider challenge that is more acute in cities, with populations made up of a rising percentage of over 65-year-olds. Drivers over the age of 75 are almost two-and-a-half times more likely to suffer a fatal road accident5. At the other end of the age divide, the percentage of teenagers with a driving licence is also falling precipitously6. In both these demographics, new transport solutions are key.
More widely, access to quality and affordable transportation is a key driver of reducing poverty and inequality. With over a million road deaths globally a year, according to the WHO, a high multiple of that in terms of injuries and even more in terms of road crimes, it is clear that new transportation solutions are required to transport people more safely, affordably and efficiently.
Importantly, we must think about the sustainability of transportation in the widest possible sense of the word ̶ sustainability of the planet, the creation of sustainable cities and the sustaining of life and its quality.
Technology is a problem solver
Technology is the science of solving problems, and its innovation is already having a positive impact on the transportation crisis. Thankfully, the starting point is a situation that is so inefficient there is huge room for improvement. The incumbent model is personally-owned cars; expensive assets that are often financed yet spend 95% of the time unoccupied, and when occupied, only with an average of 1.7 passengers.7,8 And when driven, vehicles are reliant on internal combustion engines (ICE) powered by fossil fuels, while denigrating the urban landscape. For example, a significant portion of land in Los Angeles is car-related tarmac/concrete, including streets, pavements and parking.
Technology is providing wide-ranging sustainable solutions – across zero-emission vehicles, Advanced Driver Assistance Systems (ADAS), Transportation as a Service (TaaS) and autonomous (self-driving).
Figure 1 compares Tank-To-Wheel (TTW) (the use of fuel in a vehicle) and carbon dioxide (CO2) emissions during driving for internal combustion engines versus various types of electric vehicles (EV). It shows the clear benefits of EV.
Figure 1: Carbon dioxide emission by degree of electrification

Source: Infineon Technologies, automotive division call 5 October 2020; The International Council on Clean Transportation (ICCT), May 2020. ICE = Internal Combustion Engine; 48 V MHEV = 48V Mild Hybrid Electric Vehicle; FHEV = Hybrid Electric Vehicle; PHEV = Plug-in Hybrid Electric Vehicle; BEV = Battery Electric Vehicle; FCEV = Fuel Cell Electric Vehicle.
Accelerating EV adoption
2020 saw a dramatic inflection in electric vehicle adoption, notably in Europe, with 137% growth9, surpassing the incumbent largest market of China in volume on some estimates. Government-set green targets backed by generous subsidies were further boosted in countries such as China, France and Germany as COVID fiscal stimulus packages were issued to boost post-lockdown economies. This has accelerated the trajectory towards price parity with ICE cars. A greater selection of models from well-known brands increasingly in the mid-cost range, and superior charging infrastructure have all combined to accelerate EV adoption during the COVID crisis.  However, penetration remains low at less than 5% in China and Europe, with the US a laggard at less than 3%. According to IHS Markit forecasts, there will be a significant inflection to 25% global EV penetration by 2023 and over 50% by 2027 (see Figure 2). The rumoured entry of Apple into the market is likely to accelerate this trend, while companies such as sustainable transport start-up Rivian is helping Amazon deploy a fully-electric commercial fleet.
Figure 2: EV penetration – car production by fuel type

Source: Infineon Technologies, automotive division call presentation 5 October 2020. Based on or includes content supplied by IHS Markit, Automotive Group. Alternative propulsion forecast, July 2020.
Moving forward with ADAS and autonomous technology
As Advanced Driver Assistance Systems (ADAS) continue to become more sophisticated, they are beginning to cascade down to the mass market and are increasingly mandated by safety standards. Emergency braking, automated lane changing, more sophisticated cruise control and automated parking are becoming more prevalent. Forecasts predict a significant inflection in ADAS adoption through the next decade with more simple level 1 ADAS having achieved 40% penetration in 2020 but more advanced level 2 ADAS only achieving 7% and level 3 (pre-autonomous) 0%. Forecasts however suggest combined adoption will rise to 87% by 2030 (Figure 3).
While the practical challenges of autonomous driving have now been better acknowledged, real progress has been made with Alphabet subsidiary Waymo commercialising fully driverless taxis in Phoenix. We have also seen Motional, the joint venture between Hyundai and tech auto supplier Aptiv, powering autonomous rides for Uber rival Lyft in Las Vegas. Autonomous technology looks to be a longer-term trend and is likely to be geofenced or reserved for commercial fleet/delivery uses for the foreseeable future. This is despite the best efforts of Tesla to take their autopilot functionality to the truly autonomous level.
Figure 3: Car production by degree of automation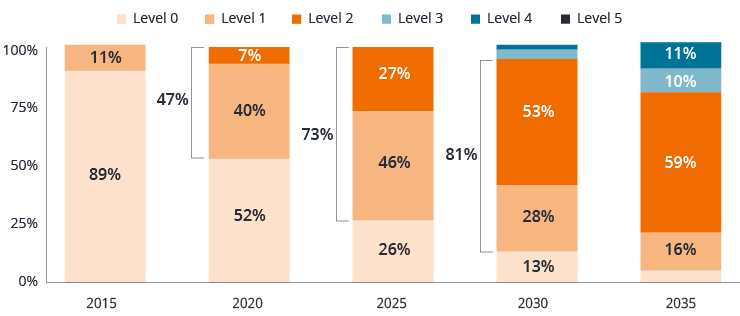 Source: Infineon Technologies, automotive division call presentation 5 October 2020; Strategy Analytics: Matrix Live, December 2019. L2 includes L2 and L2+.
Level 0 – no automation; Level 1 – driver assistance; Level 2 – partial automation; Level 3 – conditional automation; Level 4 – high automation; Level 5 – fully autonomous. See Glossary for more details.

The autonomous technology push also has important longer-term implications for ride hailing. It will be a key driver in reducing the cost to parity with owning a car, which would unlock a much larger Transport as a Service (TaaS) addressable market, especially given 46% of all US vehicle rides are less than three miles in distance10. Waymo, Motional/Lyft and Aurora/Uber are all working towards that goal. In the interim, ride hailing is already impacting the propensity for younger people to learn to drive. Despite the perceived ubiquity of Uber when it became a publicly listed company in 2019, the company talked about only 1% penetration of their addressable market. Uber has since committed to being a zero-emission platform in the US, Canada and Europe by 2030 and as early as 2025 in London.
Investment considerations
The technology sector provides myriad opportunities to take advantage of these powerful long-term trends within sustainable transportation. Rather than attempt to identify which will be the dominant electric vehicle company, it may be better to consider suppliers of key technologies that are agnostic to who wins EV leadership, such as those companies specialising in electrification and ADAS platforms, ride hailing and computer vision necessary for more advanced ADAS and ultimately autonomous driving. While these stocks have generally benefited from the secular trend towards sustainable transportation, conviction to invest in each company requires thorough analysis and debate, a deep understanding of their franchises and an appreciation of the solutions they can provide to solve global challenges.
1 Arthur D Little: The Future of Urban Mobility.
2 World Economic Forum, Davos 2020: Climate emergency: how our cities can inspire change.
3,4 DC Shoup, Cruising for parking, 2006; Casualty Actuarial Society.
5 Japan National Police Agency, June 2019.
6 Sivak, M; US data.
7,8 US National Household Travel Survey, 2017.
9 EV-volumes.com, January 2021. 
10US National Household Travel Survey, 2017.
Read more on these topics