What lies ahead for Chinese equities in the Year of the Tiger?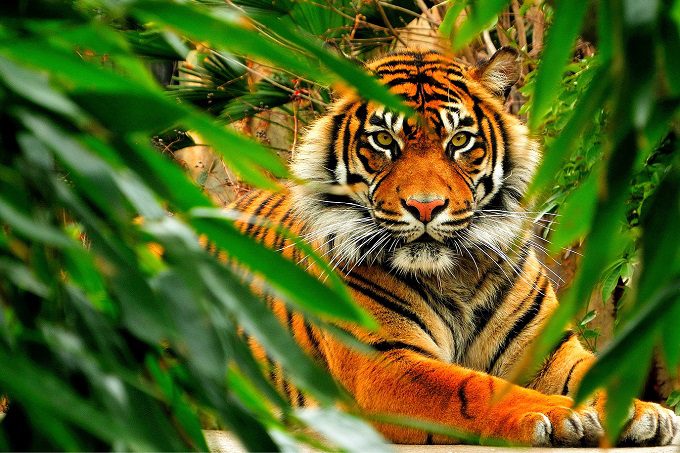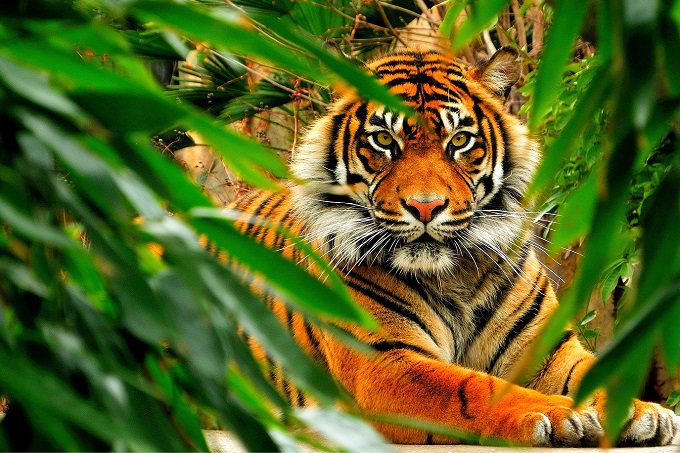 Portfolio manager May Ling Wee discusses the key risks and opportunities for Chinese equities and why she believes a positive outlook is justified in 2022.
Key takeaways:
With the politically sensitive 20th National Party Congress this year, the over-riding focus of China's government is on stability. There is now a shift away from the zero COVID policy to fast, localised lockdowns to ensure regional outbreaks are contained.
While we are likely past the peak of regulation in 'big tech', real estate and extreme decarbonisation efforts, these policies are nonetheless here to stay.
We believe China easing its monetary policy, coupled with currently more reasonable stock valuations, should stand Chinese equities in good stead.
As China enters the Year of the Tiger, a recap of 2021 provides some insight into what to expect in the year ahead. 2021 served as a reminder to investors in Chinese markets that companies are subject to the overarching reach of the state, and along with this, the power to decide the fortunes of corporate China. We also witnessed once again how investor sentiment can swing the pendulum from euphoria to extreme pessimism as reflected in the high valuations that investors are willing to attach to company earnings, in particular to those companies that are seen as beneficiaries of government support or in industries that the government wants to bolster. Conversely, those that are perceived to be out of favour can suffer significant valuation downgrades once these companies' growth potential is deemed to be weak.
With this background in mind, we discuss the key topics that are top of mind for investors in China.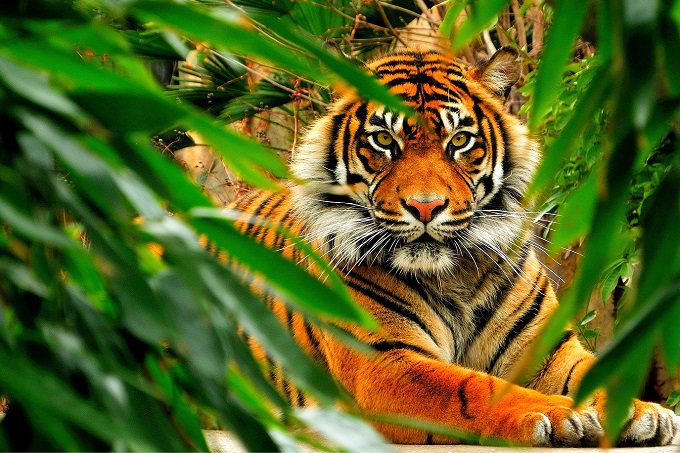 COVID, 2 years on
COVID continues to be a known unknown due to the local authorities' tighter mobility restrictions. Consumer demand, especially in service sectors such as catering and travel, continue to be constrained. While China's domestic supply chains were largely left intact and resilient, it is unclear if Omicron will have a more disruptive impact this year given it is more contagious and exhibits milder symptoms. China's attempt to contain and extinguish localised outbreaks means factory and port shutdowns could happen more frequently this year. With the politically sensitive National Party Congress in October, and President Xi looking toward a third term at the helm, it is likely that China will extend its COVID containment policy until the Congress begins, with a possible opening of borders with Hong Kong and Macau taking place earlier.
Regulatory risk
2021 was a reminder of the state's influence and ability to regulate industries that they do not support. The revisions to company valuations and earnings forecasts in 'big tech' ultimately led to disappointing share price performance. We now know what the state wants less of. The businesses that manage, comply, and survive these regulations are likely to surface with downward earnings revisions but importantly with their businesses still intact. The innovation in China's big tech (software, internet) is likely to continue, and continue to feed the growth of China's hard tech (such as semiconductors and microprocessors).
While we are likely past the peak of regulations in big tech, real estate and even extreme decarbonisation efforts, these polices are nonetheless here to stay with higher compliance costs for big tech. The initial shock and impact on share prices within the internet and real estate sectors are likely to have been mostly reflected in 2021.
China relations
Continued rivalry between China and the US, and other developed economies is likely to remain. US-China relations have continued to be bumpy, with a growing number of companies on the 'Entity List' that are affected by the US government's restrictions on investing and trading with certain Chinese companies deemed to be associated with the Chinese military-industrial complex. These companies are effectively cut off from global capital, while their supply chains, as well as customer demand remain at risk.
Technology independence
In our view, China's desire and will for technology independence will continue to strengthen. We expect industries viewed as providing 'core' technologies will continue to be nurtured by the government and incentivised. China's semiconductor industry, and the wider industrial tech sector, should continue to be a focus of the current 14th Five-Year economic and social development plan, along with environmentally clean technologies, where China is now exhibiting independence in its supply chain.
Sectors that look to be the most rewarding
1. Internet stocks (aka 'the new large consumer stocks')
We think 2022 is likely to be a better year for key internet s tocks where business models have largely stayed intact. Chinese internet companies continue to innovate, providing access to products and services and ease of transaction to the consumer. Having achieved market-leading positions in multiple areas that have made their apps and platforms ubiquitous in China's daily life, their dominance and success inevitably resulted in the regulatory onslaught seen in 2021. While investors may choose not to view China 'big tech' as true internet companies due to the permanently higher regulatory costs and constraints they now face, we prefer to think of them as large China consumer companies and brands. Several internet companies remain attractive to us given some of the issues affecting the sector are temporary, such as the weak macroeconomic environment, and with investor sentiment weak current valuations appear more reasonable.
2. Clean technology
China remains committed to its decarbonisation goals of a carbon peak and neutrality by 2030/2060. We continue to see opportunities in the clean tech supply chain with China demonstrating global leadership in the manufacturing value chain and its trade and export of climate technology. In clean tech, we like integrated cost and technology leaders in China's solar value chain as well as automation and industrial control solution providers to China's power/electricity grids where upgrades are necessary in the transmission and distribution of renewable energy. China's green tech ecosystem is still at an early stage of buildout, with dedicated investment in clean energy estimated to be around US$26 trillion over the next 30 years.1 China dominates the value chain in equipment required to make decarbonisation possible; it currently has global market shares of c91% in solar photovoltaics, c70% in electric batteries, c59% in electrolysers and c27% in wind turbines.2
3. Consumer stocks
While demand for consumer services has underwhelmed over the past two years, a change in the COVID containment strategy is expected to lead to a rebound in domestic consumption, although this is likely to come later rather than early in the year.
Key risks
The property market remains an area of risk. While government policy has shifted to a focus on stabilisation and growth, it is uncertain if further falls in property prices will trigger a buyers' strike when investors no longer view property gains as a 'given.' This has ramifications for construction activity and related industrial activities, which would ultimately feed into lower economic growth.
Additionally, monetary policy in China has been on a divergent path, with China easing and the US tightening. Given the high correlation between US equities and Chinese stocks listed on US exchanges and in Hong Kong (offshore listings), Chinese equities as a whole are likely to also be impacted by the contraction in global liquidity due to policy tightening moves.
Outlook
China's monetary policy direction is set for easing to achieve the goals of economic stabilisation and ensuring growth, with 2022 being a politically sensitive year. We are also currently seeing more reasonable stock valuations relative to recent history, with the MSCI China Index trading at around a five-year average. We believe the combination of these factors could stand Chinese equities in good stead for improved performance in 2022.
MSCI China Index forward price-to-earnings ratio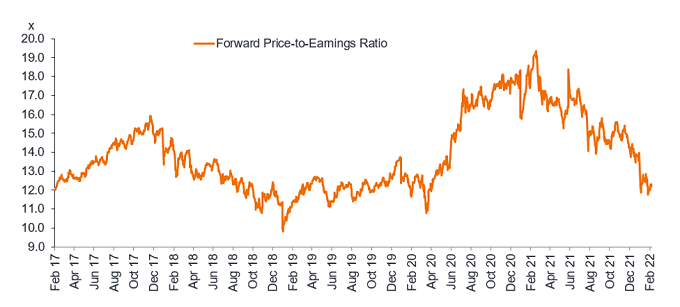 Source: Bloomberg, Janus Henderson Investors as at 8 February 2022. Price-to-earnings is calculated by dividing the current share price by its earnings per share. In general, a high P/E ratio indicates that investors expect strong earnings growth in the future. Forward ratios are based on either projected earnings for the following 12 months or the next full-year fiscal period. Past performance does not predict future returns.
1 IEA Net Zero Report, Bernstein, Janus Henderson Investors analysis, data as at 9 November 2021.
2 Bloomberg, Bernstein analysis. Building a China clean energy portfolio for the transition ahead, 9 November 2021.
Footnotes
The National People's Congress of the Chinese Communist Party is the highest body of state power, each congress is elected for a term of five years and meets in session each year.
Entity List is a tool used by the US Department of Commerce to restrict the export of certain sensitive technologies and components to organisations who are involved in activities that threaten the national security or foreign policy interests of the US.
Monetary policy relates to central bank action aimed at influencing the level of inflation and growth in an economy. It includes controlling interest rates and the supply of money. Monetary easing/stimulus refers to a central bank increasing the supply of money and lowering borrowing costs. Monetary tightening refers to central bank activity aimed at curbing inflation and slowing down growth in the economy by raising interest rates and reducing the supply of money.
The MSCI China Index captures large and mid-cap representation across Chinese stocks including foreign listings.
Note: funds that have a high exposure to a particular country or geographical region carry a higher level of risk than those that are more broadly diversified. Emerging market investments have historically been subject to significant gains and/or losses. As such, returns may be subject to volatility.
These are the views of the author at the time of publication and may differ from the views of other individuals/teams at Janus Henderson Investors. Any securities, funds, sectors and indices mentioned within this article do not constitute or form part of any offer or solicitation to buy or sell them.
Past performance does not predict future returns. The value of an investment and the income from it can fall as well as rise and you may not get back the amount originally invested.
The information in this article does not qualify as an investment recommendation.
Marketing Communication.
Important information
Please read the following important information regarding funds related to this article.
The Janus Henderson Horizon Fund (the "Fund") is a Luxembourg SICAV incorporated on 30 May 1985, managed by Janus Henderson Investors Europe S.A. Janus Henderson Investors Europe S.A. may decide to terminate the marketing arrangements of this Collective Investment Scheme in accordance with the appropriate regulation. This is a marketing communication. Please refer to the prospectus of the UCITS and to the KIID before making any final investment decisions.
Specific risks

Shares/Units can lose value rapidly, and typically involve higher risks than bonds or money market instruments. The value of your investment may fall as a result.
Emerging markets expose the Fund to higher volatility and greater risk of loss than developed markets; they are susceptible to adverse political and economic events, and may be less well regulated with less robust custody and settlement procedures.
The Fund may invest in China A shares via a Stock Connect programme. This may introduce additional risks including operational, regulatory, liquidy and settlement risks.
If a Fund has a high exposure to a particular country or geographical region it carries a higher level of risk than a Fund which is more broadly diversified.
This Fund may have a particularly concentrated portfolio relative to its investment universe or other funds in its sector. An adverse event impacting even a small number of holdings could create significant volatility or losses for the Fund.
The Fund may use derivatives with the aim of reducing risk or managing the portfolio more efficiently. However this introduces other risks, in particular, that a derivative counterparty may not meet its contractual obligations.
If the Fund holds assets in currencies other than the base currency of the Fund or you invest in a share/unit class of a different currency to the Fund (unless 'hedged'), the value of your investment may be impacted by changes in exchange rates.
Securities within the Fund could become hard to value or to sell at a desired time and price, especially in extreme market conditions when asset prices may be falling, increasing the risk of investment losses.
The Fund may incur a higher level of transaction costs as a result of investing in less actively traded or less developed markets compared to a fund that invests in more active/developed markets. These transaction costs are in addition to the Fund's Ongoing Charges.
The Fund could lose money if a counterparty with which the Fund trades becomes unwilling or unable to meet its obligations, or as a result of failure or delay in operational processes or the failure of a third party provider.