Ainslie McLennan, Co-Manager of the Janus Henderson UK Property PAIF, discusses the importance of a sustainable approach to investing in the UK commercial property market.
The Minimum Energy Efficiency Standards (MEES) legislation, evolving expectations from tenants and investors, and an increasing awareness of the link between wellbeing and productivity have all contributed towards the case for investment in sustainability within the UK commercial property market.
Measuring efficiency
According to the 2017 Property Data Report, UK commercial property accounts for around 10% of the UK's energy consumption, while 12% of the UK's CO2 emissions can be attributed to commercial buildings. Similar to domestic consumer appliances such as fridges and washing machines, buildings have energy performance certificates (EPCs). Since 1 April 2018, MEES regulation means that landlords in England and Wales cannot let a commercial (or residential) property with an EPC rating of F or G, unless the building has specific exemptions. These lowest two grades account for around 17.5% of commercial property space in England and Wales according to the Real Estate Climate Risk Report 2017.
Energy efficient buildings are more attractive to tenants and are at lower risk of obsolescence. We have therefore set a 2030 target to achieve a 30% reduction of the energy intensity of properties owned by the fund, based on a 2015 baseline. Some of our tenants have their own minimum EPC requirements for commercial space, and sustainability ratings are now an expectation for investment grade new-build properties.
Benefits for all stakeholders
Since 2011 we have included 'green' clauses in all new leases signed in the UK, in line with the Better Building Partnership industry guidelines. We continue to focus on improving the efficiency of lighting in our buildings through installing sensors, timers and alternative lamps such as LEDs, as well as increasing electric vehicle charging points, installing solar panels and enhancing recycling zones.
We also take every feasible opportunity to improve the efficiency of heating and cooling equipment, and to ensure that the building management systems controlling it are functioning properly. Improved contracts with suppliers have also been signed, enabling us as landlords to recycle more waste on-and off-site. A sustainable approach should help reduce vacancy rates and obsolescence by attracting a higher-quality tenant on long leases while paying a rental premium, which is ultimately passed on to investors.
Integrating sustainability into asset management
We are implementing smart building technology (sensors and controls) across the fund. This low-cost solution delivers excellent value for tenants, saving them money while also reducing the carbon emissions of our assets.
One of the first buildings for deployment was Bermondsey Square, London, where the installation led to a 35% reduction in electricity consumption in the first six months of use.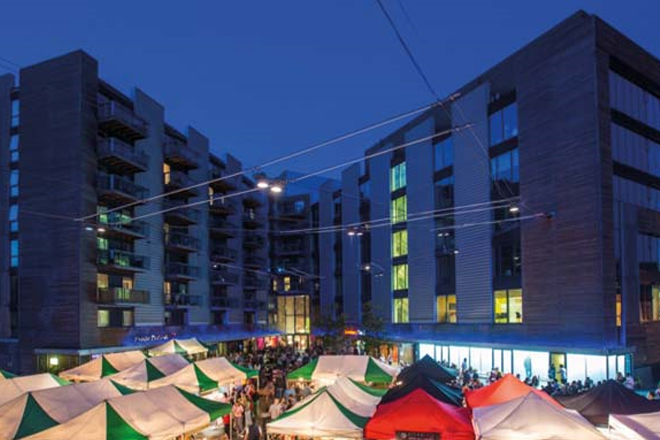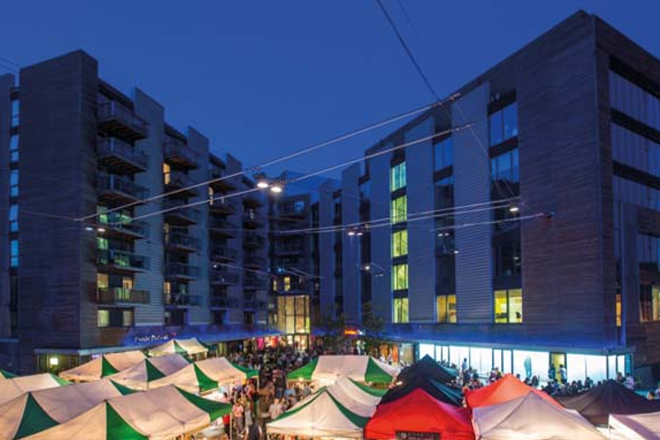 Integrating sustainability into acquisitions
Sustainability risks and opportunities are always assessed at the point of acquisition. In 2013 the fund acquired a JCB distribution centre in Stoke-on-Trent, which was the first logistics building in the world to receive an outstanding BREEAM rating, a leading sustainability assessment method for buildings. Some of the onsite renewable energy features of the building include: