​​Ethan Lovell, co-portfolio manager of Janus Henderson's Global Life Sciences Strategy, discusses how China is becoming a fast-growing market for biopharmaceutical companies.
Key Takeaways:
During the second quarter of 2018, global biopharmaceutical companies reported accelerating sales in China.
The government has introduced reforms to improve the country's healthcare system and China's aging population continues to accumulate more wealth. These factors could contribute to a continued rise in demand for pharmaceuticals.
Such changes could lead to further growth for companies, especially those with innovative products that address high unmet medical needs in the country.
When looking at recent earnings reports for biopharmaceutical companies, one trend stands out: an explosive rise in sales in China. During the second quarter of 2018, UK pharma giant AstraZeneca reported a 24% rise in sales in China during the first half of the year. Merck & Co., one of the leading developers of immunotherapies, saw a 50% climb in the second quarter alone, and within Pfizer's Essential Health business, operational sales rose 24% in China for the same period. Such growth is exceptional – and a trend that we believe could continue.
China expands healthcare access
China's swift economic growth is leading to an improved standard of living for much of the country's aging population. This increased wealth has spurred demand for healthcare services and, consequently, government initiatives to expand access to affordable care. Last year, for example, Beijing updated and expanded the country's National Reimbursement Drug List (NRDL), a group of therapies approved for reimbursement in the country's government-run health insurance schemes (which cover nearly 100% of China's population). It was the first update since 2009, and resulted in 339 new medicines being added to the list, of which 40% are manufactured by non-Chinese companies.
Drug makers typically have to make significant price concessions in order to get a product added to the NRDL. But because 60% of the Chinese pharmaceutical market – the second largest in the world – is reimbursed through government insurance schemes, volumes can quickly make up for the lower price. AstraZeneca, for example, lowered the price of Iressa* by more than 50% to get a place on the NRDL early last year but in less than 12 months, the company reported that total revenues for the drug, a targeted anti-cancer therapy, had eclipsed prior levels.
Medicines listed on NRDL tend to enjoy faster market growth than drugs that are not.
Chart 1: Drug sales rise with government support (by disease category).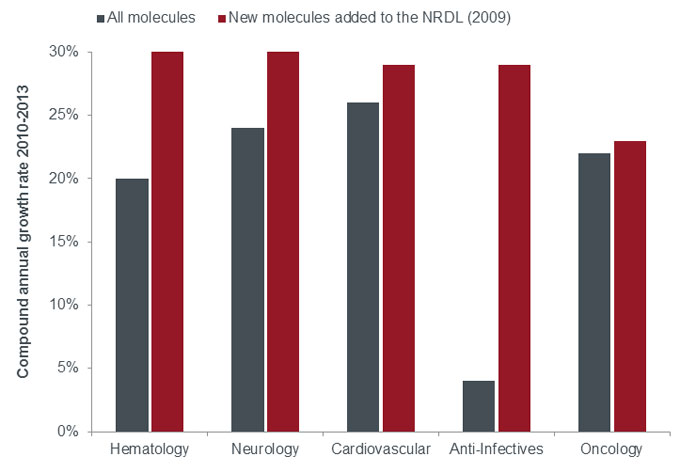 Source: IQVIA, New Drug Listing & Pricing Policies in China, Issue 8, 2018
New Growth for Drug Makers
Going forward, the government plans to update the NRDL with more frequency. In addition, regulators are speeding up the review process of new therapies. So when Keytruda, an immuno-oncology drug from Merck, was approved in China earlier this year, the review took only five months, versus a more typical 18 to 24 months. In recent years, China has also started to participate in global clinical trials, as well as accepting the data of foreign patients when considering a drug for regulatory approval.
This could all lead to potentially faster sales growth for biopharmaceutical companies in China. The biggest risk is an economic slowdown in the country. Should China's growth stall, the government could demand steeper price discounts or temporarily rein in the number of new drug approvals. In the long term, however, Beijing has signalled its commitment to supporting healthcare spending. In 2011, biomedicine was named as one of seven strategic priorities for the country and in 2016, the government rolled out the Healthy China 2030 initiative, with goals that include reducing the population's high morbidity for non-communicable diseases, such as diabetes. This focus could potentially mean greater demand for pharmaceuticals in China and, in turn, a new and significant source of growth for global biopharmaceutical companies.
*Glossary
Iressa - A medicine that contains the active substance gefitinib and is used to treat adult patients with non-small-cell lung cancer that is locally advanced or has spread to other regions of the body.