Russia Ukraine market impact – a week on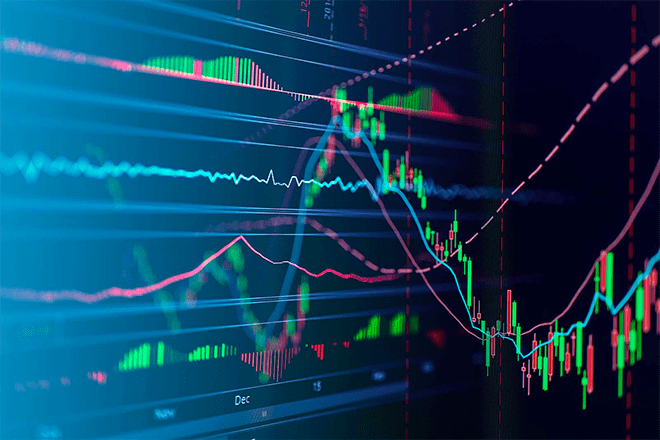 A little over a week on from the beginning of the conflict, Ben Lofthouse, Head of Global Equity Income, explores how equity markets have reacted.
Key takeaways:
The humanitarian impact of the crisis is saddening. Increased equity market volatility is likely to continue for some time as the ramifications become clearer.
Increases in energy prices are likely to have a significant impact, both on global growth and certain sectors. They could also either be the cause of central banks pausing tightening or acting with increased urgency.
Russia and Ukraine are key exporters of a number of other commodities, such as Palladium, Potash and wheat. It is important to keep a close eye on the shifting demand and supply dynamic.
The Russian Ukraine conflict is not a completely unexpected event given the build-up over the last three months. A period of increased equity market price volatility is now likely to continue for some time as the ramifications of the event become clearer. The limited number of listed companies in investors' portfolios that are directly impacted by current events is, however, likely to be small.
Why? Most mainstream equity investors have largely avoided direct investments in Russia since the initial incursion into Ukrainian territory in 2014, driven largely by uncertainty around sanctions imposed at the time (and that wariness has been reinforced subsequently after watching the increased use of prohibited investment lists by the US with regard to Chinese companies). Indeed, the chart below shows Russia accounts for just 1.5% of direct revenue exposure within the MSCI Europe Index.
Europe has minimal direct revenue exposure to Russia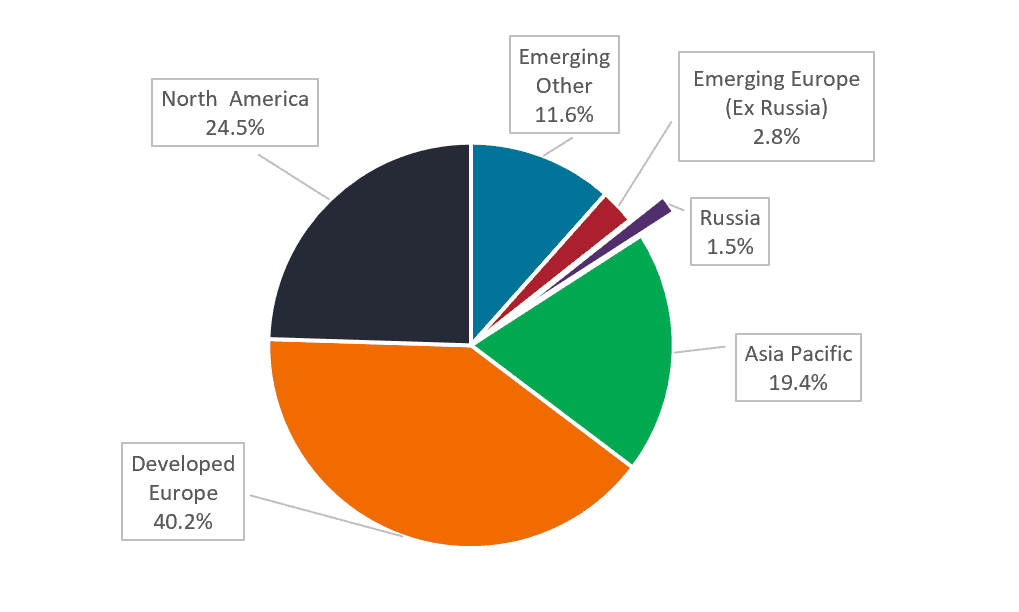 Over the last week equity market falls have been felt most acutely in Europe with sectors such as autos, financials, and travel the most impacted. Other areas of the markets, that might benefit from higher prices, such as mining and energy, have fared better. Analysis of previous significant geopolitical events over the last few decades indicates that equity markets often recover relatively quickly, over a few weeks or months, but this obviously hides the fact that some sectors and companies will be more impacted and take longer. Avoiding those companies most impacted by sanctions will be important, as history shows sanctions can last for many years.
The economic impact of the conflict will therefore be the more important factor determining returns from here. This will depend on the duration of the conflict, and the sanctions and embargoes that might come as a result of it. At the time of writing, the sanctions announced so far are likely to have the most impact on companies with significant Russian or Ukrainian operations. However, we do know that even in Europe trade with Russia and the Ukraine is a relatively low figure, and accounts for around 1% of its GDP, so even if this halves, it would be manageable.
A potentially more significant impact will come from energy prices; some economists estimate that a $10 increase in oil has a 0.1% impact on global growth. Over the last week the oil price has risen more than 10%. Noticeably, there has been a price dislocation as western buyers seem to be trying to avoid Russian crude (see chart below), which has caused Brent North Sea crude to rise in price relative to the Russian Urals price. The higher oil price has benefitted energy producers while negatively impacting some utilities.
Similar price rises have been felt by buyers of natural gas, as shown in the chart below, particularly in Europe given the reliance of a number of European countries on Russian natural gas.
The interplay between higher energy prices, inflation, economic growth and central bank policy will be very closely watched in the coming months. Will higher energy prices due to this event cause central bankers to pause tightening, or add to the urgency? It is too soon to assess how central banks will react, but it could be that the cure for high prices is high prices, with demand impacted by higher costs or employment growth tempered, thus reducing the need for as many rate hikes as forecast. Russia and Ukraine are also key exporters of a number of other commodities, such as Palladium, Potash (for fertilising crops) and wheat. In terms of equity investments determining which companies might be impacted or benefit from changes in the demand and supply of these is something we will be analysing very closely in the coming months.
These are the views of the author at the time of publication and may differ from the views of other individuals/teams at Janus Henderson Investors. References made to individual securities do not constitute a recommendation to buy, sell or hold any security, investment strategy or market sector, and should not be assumed to be profitable. Janus Henderson Investors, its affiliated advisor, or its employees, may have a position in the securities mentioned.
Past performance does not predict future returns. The value of an investment and the income from it can fall as well as rise and you may not get back the amount originally invested.
The information in this article does not qualify as an investment recommendation.
Marketing Communication.
Important information
Please read the following important information regarding funds related to this article.
Before investing in an investment trust referred to in this document, you should satisfy yourself as to its suitability and the risks involved, you may wish to consult a financial adviser. This is a marketing communication. Please refer to the AIFMD Disclosure document and Annual Report of the AIF before making any final investment decisions.
Specific risks

Higher yielding bonds are issued by companies that may have greater difficulty in repaying their financial obligations. High yield bonds are not traded as frequently as government bonds and therefore may be more difficult to trade in distressed markets.
The portfolio allows the manager to use options for efficient portfolio management. Options can be volatile and may result in a capital loss.
Global portfolios may include some exposure to Emerging Markets, which tend to be less stable than more established markets. These markets can be affected by local political and economic conditions as well as variances in the reliability of trading systems, buying and selling practices and financial reporting standards.
Where the Company invests in assets that are denominated in currencies other than the base currency, the currency exchange rate movements may cause the value of investments to fall as well as rise.
This Company is suitable to be used as one component of several within a diversified investment portfolio. Investors should consider carefully the proportion of their portfolio invested in this Company.
Active management techniques that have worked well in normal market conditions could prove ineffective or negative for performance at other times.
The Company could lose money if a counterparty with which it trades becomes unwilling or unable to meet its obligations to the Company.
Shares can lose value rapidly, and typically involve higher risks than bonds or money market instruments. The value of your investment may fall as a result.
The return on your investment is directly related to the prevailing market price of the Company's shares, which will trade at a varying discount (or premium) relative to the value of the underlying assets of the Company. As a result, losses (or gains) may be higher or lower than those of the Company's assets.
The Company may use gearing (borrowing to invest) as part of its investment strategy. If the Company utilises its ability to gear, the profits and losses incurred by the Company can be greater than those of a Company that does not use gearing.
If the Company seeks to minimise risks (such as exchange rate movements), the measures designed to do so may be ineffective, unavailable or negative for performance.
All or part of the Company's management fee is taken from its capital. While this allows more income to be paid, it may also restrict capital growth or even result in capital erosion over time.
Specific risks

Shares/Units can lose value rapidly, and typically involve higher risks than bonds or money market instruments. The value of your investment may fall as a result.
The Fund may use derivatives with the aim of reducing risk or managing the portfolio more efficiently. However this introduces other risks, in particular, that a derivative counterparty may not meet its contractual obligations.
If the Fund holds assets in currencies other than the base currency of the Fund, or you invest in a share/unit class of a different currency to the Fund (unless hedged, i.e. mitigated by taking an offsetting position in a related security), the value of your investment may be impacted by changes in exchange rates.
Securities within the Fund could become hard to value or to sell at a desired time and price, especially in extreme market conditions when asset prices may be falling, increasing the risk of investment losses.
Some or all of the ongoing charges may be taken from capital, which may erode capital or reduce potential for capital growth.
The Fund could lose money if a counterparty with which the Fund trades becomes unwilling or unable to meet its obligations, or as a result of failure or delay in operational processes or the failure of a third party provider.