DEALING SUSPENSION REVIEW AND UPDATE
Lifting of temporary dealing suspension in relation to the Janus Henderson UK Property PAIF and the Janus Henderson UK Property PAIF Feeder Fund (the "Funds").
We are pleased to announce that following the most recent review of progress made to prepare the Funds for reopening, the Board of Henderson Investment Funds Limited, which is the authorised corporate director (ACD) for the UK Property PAIF, is satisfied with the progress made to raise liquidity in the Funds to allow investor dealing to resume.
Dealing in the Funds will recommence on 24 February 2021 and dealing instructions may be made from 8:00am to be processed at the noon valuation point that day.
We would like to take this opportunity to thank you for your patience and continued support, and we apologise for any frustration and inconvenience the dealing suspension may have caused.
The decision to resume dealing has been taken in agreement with the Funds' Depositary/Trustee, NatWest Trustee and Depositary Services Limited. The Financial Conduct Authority (FCA) has also been informed.
We will continue to monitor the Funds and the market in the lead up to the planned resumption of dealing. Should anything materially change, we will issue further updates.
Attached to this notice is the investor letter that we have issued today (27 January 2021), which provides further details.
Monthly Commentary and Quarterly Review
The latest Janus Henderson UK Property PAIF Monthly Commentary and Quarterly Review provide an update on performance, fund positioning, investment activity, strategy and the managers' outlook.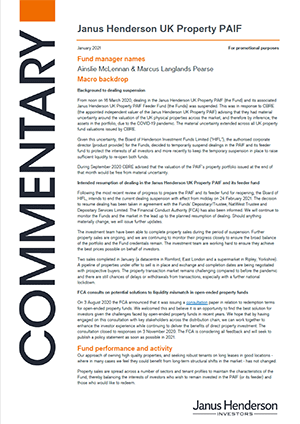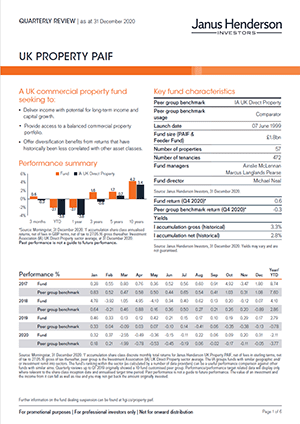 The Fund aims to provide a high and increasing level of income as well as capital growth over the long term (5 years or more). The Fund will be a Property Authorised Investment Fund (PAIF) for tax purposes at all times.
More
The Fund invests at least 60% of its assets in UK commercial real estate and in shares and bonds of UK companies in the real estate industry.
The Fund may also invest in other assets including cash and bank deposits, money market instruments, non-UK commercial real estate, residential real estate, funds (collective investment schemes including exchange traded funds) and real estate outside of the UK (to a maximum of 20% of its assets).
The investment manager may use derivatives (complex financial instruments) to reduce risk or to manage the Fund more efficiently.
The Fund is actively managed with reference to the IA UK Direct Property sector average, which is based on a peer group of broadly similar funds, as this can provide a useful comparator for assessing the Fund's performance.
Less
The value of an investment and the income from it can fall as well as rise as a result of market and currency fluctuations and you may not get back the amount originally invested.
Potential investors must read the prospectus, and where relevant, the key investor information document before investing.
This website is for promotional purposes and does not qualify as an investment recommendation.

Portfolio with a broad mix of high-quality properties across UK regions and sectors, with a South East bias, that are well-placed to benefit from long-term consumer, demographic, and technological trends.
Focuses on location, tenant strength, lease length, lease structure, building quality, and sustainability considerations.
Highly experienced investment team with support from more than 500 property specialists.
Ratings for this fund include: