The European Smaller Companies Trust – Investing in the market leaders of tomorrow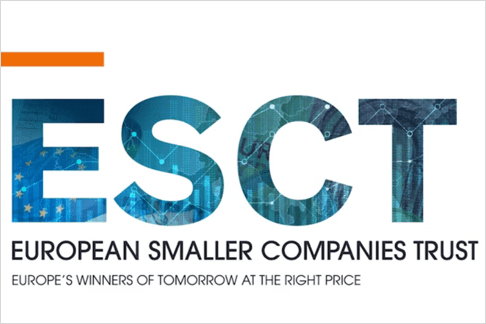 In this article, Ollie Beckett, Portfolio Manager of The European Smaller Companies Trust (ESCT), formerly the TR European Growth Trust, examines what the market leaders of tomorrow might look like and focuses on the prospects for specific stocks within key areas.
The last couple of years have certainly witnessed a great deal of turmoil. The Covid-19 pandemic transformed the dynamics of global economies substantially, whilst the fallout – supply chain disruptions and higher inflation and energy prices – has been exacerbated by the war in Ukraine. However, looking forward cautiously, there appears to be a silver lining: the pandemic as a positive accelerant for change, particularly around sustainability. Policy makers and institutions such as the World Bank and the International Monetary Fund are calling for stronger emphasis on environmental sustainability as economies recover from the Covid-induced slump.
In parallel, increased scrutiny from regulatory authorities, consumers and investors has pushed businesses to be more environmentally conscious and identify synergies between sustainability and business rationale. With sustainability increasingly becoming an important topic on the economic, social, and political landscape – Europe has been leading the way. However, this means nearly every major aspect of the European economy will need to be overhauled, whether its energy generation, food production, transportation, manufacturing, or construction.
At European Smaller Companies Trust, we believe that this change will bring exciting opportunities within the region that are focused on making a positive impact on the continued development of a sustainable economy. As well as matching evolving consumer expectations and consumption patterns, our goals are in alignment with the United Nations' Sustainable Development Goals (SDG). In fact, in one way or another, the majority of our investments are aimed at making a positive impact as the chart below shows.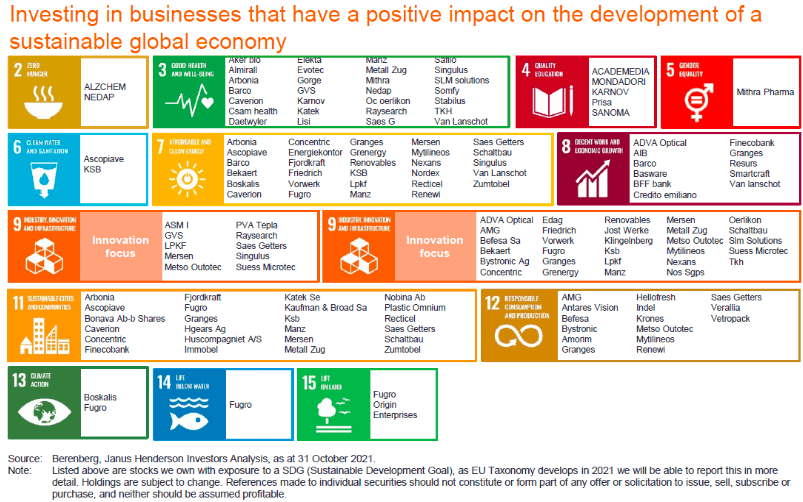 Preview modal-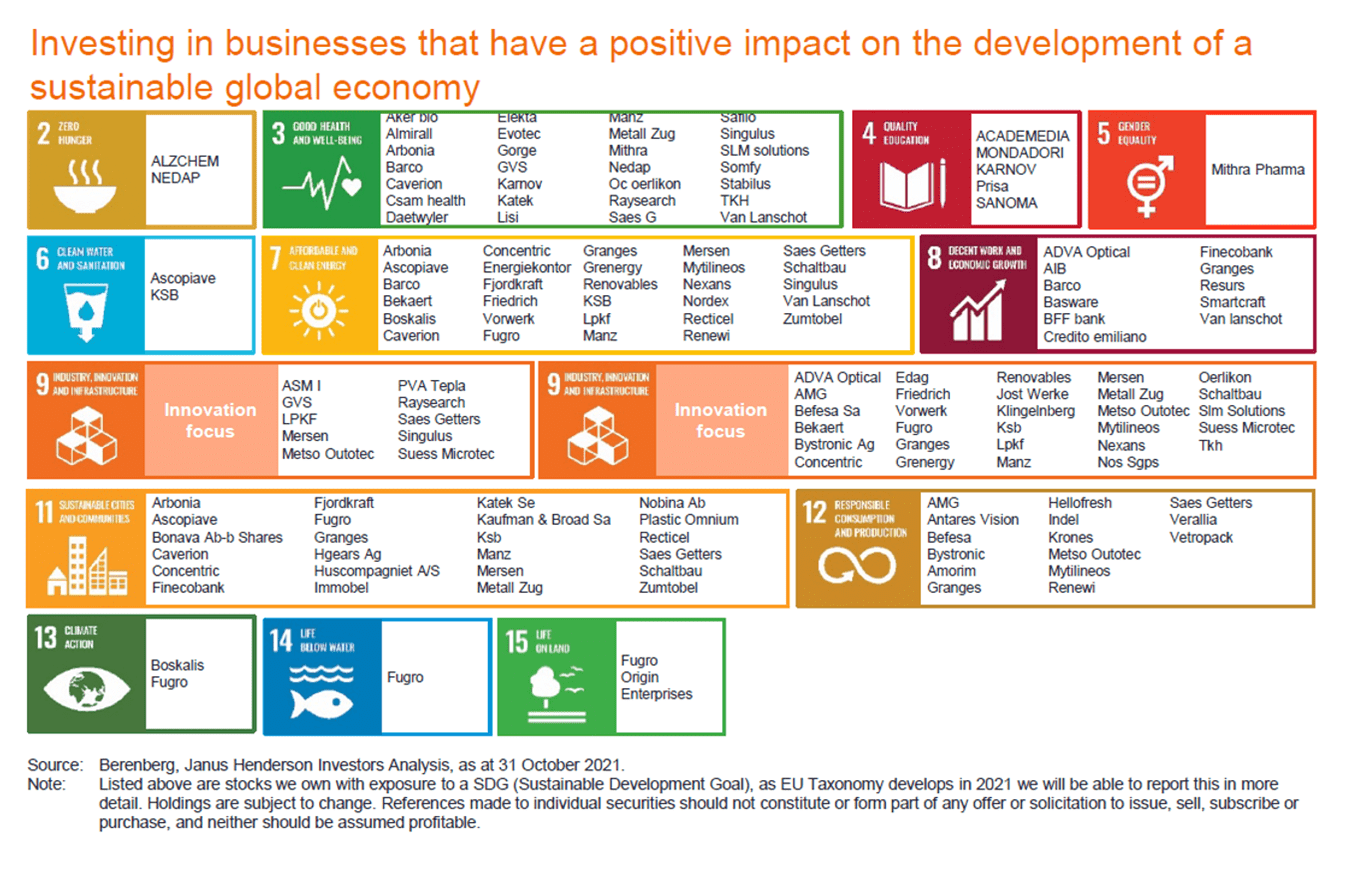 Below, we look at how two of our current investments are contributing towards the SDG goals.
Sustainable Cities and Communities
For us the answer is simple: we must reduce energy consumption by improving energy efficiency and this begins with the building materials. Amongst other reasons, it's why we invested in Recticel (one of our top 10 holdings). The business specialises in polyurethane (PU) chemistry. It produces high quality thermal insulation lines primarily used in construction projects and building renovations. Using PU helps reduce the consumption of gas, oil and electricity which would otherwise be needed to heat and cool them. In addition, the lightweight nature of PU's, combined with their durability, strength and versatility makes them ideal for use in cars. From an energy efficiency perspective, their use in cars and trucks leads to a reduction in vehicle weight, and therefore greater fuel economy.
With net-zero targets now locked in across the globe, using PU's to build insulation will play a critical role in building sustainable cities and communities because they are an affordable, durable, and safe way of reducing carbon emissions. For Recticel, this realisation has been evident in its share price. Despite a difficult market environment, the share price is up 149% over the last two-years and 560% over the last ten-years.iii During lockdown, the firm showed strong resilience and generated solid profitability. In addition, the business has recently divested its engineered foam and bedding segment which had low synergies with the remaining business and will operate as a pure play going forward. The EU green deal increases opportunities for insulation solutions and Recticel is now a quality pure play, trading at more attractive multiples than its peers.
Responsible Consumption and Production /Industry, Innovation & Infrastructure
Another important theme is looking at how we can turn the tide on consumption and production. Worldwide consumption and production – a driving force of the global economy – rests on the use of resources in a way that continues to have a destructive impact on the planet. Sustainable consumption and production is about doing more with less. It is about decoupling economic growth from environmental degradation, increasing resource efficiency, and promoting sustainable lifestyles. One way we can achieve this is by recycling materials used in carbon intensive industries, and one of our portfolio holdings that operates within this niche industry is Befesa.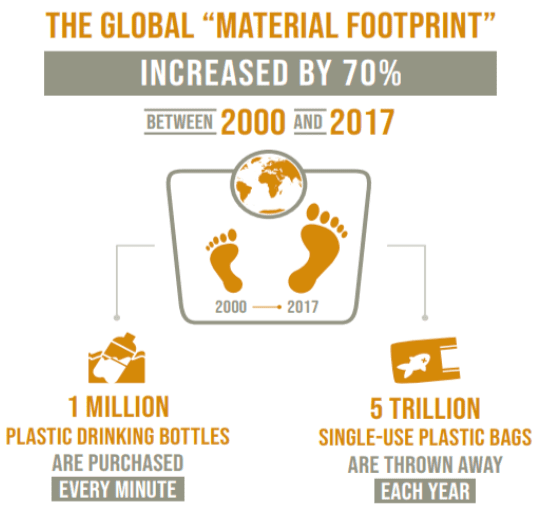 Headquartered in Luxembourg, Befesa is a European market leader in niche industrial services. It specialises in hazardous work handling and recycling steel dust and salt slags for the secondary steel and aluminium industry and provides aluminium recycling services. The company's core focus is sustainability. Through the recycling of materials and the reintroduction of products into the market, materials can be reused several times and the consumption of natural resources is reduced. By reducing the consumption of natural resources it prevents around two million tonnes of residue from reaching landfills each year.iv The company enjoys high barriers to entry as it is operating in a regulated market with stable customer relationships and low substitution risk as the alternative of landfill is more costly in developed countries and is having negative effects on the environment. Befesa is the market leader in steel dust recycling in Europe and the US and benefits from a first mover advantage in China, a key market with supportive regulation.
Keeping the focus on potential market leaders
Though we have only highlighted two themes within this article, the transition towards a more sustainable economy is here to stay and, if anything, the Covid-19 pandemic, and the war in Ukraine have highlighted how important it is to speed up this transition. As a result, businesses will have to adapt and embrace new models of thinking to address the risks, opportunities and expectations that are likely to emerge over the next few years. Amidst all these changes, opportunities will present themselves as businesses innovate to solve new challenges. We will continue to look for investment opportunities that are currently undervalued, but which we believe will generate solid and sustainable returns for our shareholders. In particular, we will seek out and invest in growing companies that will also contribute towards a more sustainable global economy.
iiiSource: Bloomberg as at 07/06/22
ivSource: Befesa
These are the views of the author at the time of publication and may differ from the views of other individuals/teams at Janus Henderson Investors. References made to individual securities do not constitute a recommendation to buy, sell or hold any security, investment strategy or market sector, and should not be assumed to be profitable. Janus Henderson Investors, its affiliated advisor, or its employees, may have a position in the securities mentioned.
Past performance does not predict future returns. The value of an investment and the income from it can fall as well as rise and you may not get back the amount originally invested.
The information in this article does not qualify as an investment recommendation.
Marketing Communication.
Important information
Please read the following important information regarding funds related to this article.
Before investing in an investment trust referred to in this document, you should satisfy yourself as to its suitability and the risks involved, you may wish to consult a financial adviser. This is a marketing communication. Please refer to the AIFMD Disclosure document and Annual Report of the AIF before making any final investment decisions.
Specific risks

If a Company's portfolio is concentrated towards a particular country or geographical region, the investment carries greater risk than a portfolio that is diversified across more countries.
Where the Company invests in assets that are denominated in currencies other than the base currency, the currency exchange rate movements may cause the value of investments to fall as well as rise.
Most of the investments in this portfolio are in smaller companies shares. They may be more difficult to buy and sell, and their share prices may fluctuate more than those of larger companies.
This Company is suitable to be used as one component of several within a diversified investment portfolio. Investors should consider carefully the proportion of their portfolio invested in this Company.
Active management techniques that have worked well in normal market conditions could prove ineffective or negative for performance at other times.
The Company could lose money if a counterparty with which it trades becomes unwilling or unable to meet its obligations to the Company.
Shares can lose value rapidly, and typically involve higher risks than bonds or money market instruments. The value of your investment may fall as a result.
The return on your investment is directly related to the prevailing market price of the Company's shares, which will trade at a varying discount (or premium) relative to the value of the underlying assets of the Company. As a result, losses (or gains) may be higher or lower than those of the Company's assets.
The Company may use gearing (borrowing to invest) as part of its investment strategy. If the Company utilises its ability to gear, the profits and losses incurred by the Company can be greater than those of a Company that does not use gearing.
Using derivatives exposes the Company to risks different from - and potentially greater than - the risks associated with investing directly in securities. It may therefore result in additional loss, which could be significantly greater than the cost of the derivative.
If the Company seeks to minimise risks (such as exchange rate movements), the measures designed to do so may be ineffective, unavailable or negative for performance.