Hamish Chamberlayne, portfolio manager for Henderson's global sustainable equity strategy, provides an update on Tesla as its Gigafactory begins battery cell production. He explains how Tesla's ambitions for a low carbon revolution extend beyond electrifying the automotive industry.
On 4 January 2017 Tesla began producing its next generation lithium-ion battery cells at its enormous Gigafactory. Located in the Nevada desert, the factory will have the largest footprint of any building in the world when it is completed in 2020. To mark the commencement of production, Tesla hosted an on-site investor event where it reiterated its 2018 target of producing 35 gigawatt-hours (GWh*) of battery cells and 50GWh of battery packs, enabling it to meet its 2018 production goal of 500,000 all-electric vehicles. At the event, Tesla also highlighted the productivity gains that it and its partner Panasonic have been able to achieve by using advanced engineering techniques and factory automation technology.

A zero carbon factory
The factory has been designed as a giant machine and its capacity is now expected to be three times greater than the original plan. Reflecting this, Tesla also announced a 2020 target of 150GWh of battery pack production, enough to support the production of 1.5 million vehicles. This level of battery production will have a material impact on reducing global demand for fossil fuels and therefore carbon emissions. The factory itself will also be zero carbon, thanks to its roof being entirely covered by solar panels, and an onsite battery reprocessing facility will allow battery cells to be recycled.
In addition to producing next generation batteries with higher energy density, the Gigafactory will result in material reductions to the cost of batteries. In many parts of the world, thanks to lower running and maintenance costs, electric cars are already competitive with gasoline cars on a total cost of ownership basis. With a 30% decline in battery costs they will become competitive on a list price basis.
Not just cars: storage solutions and solar tiles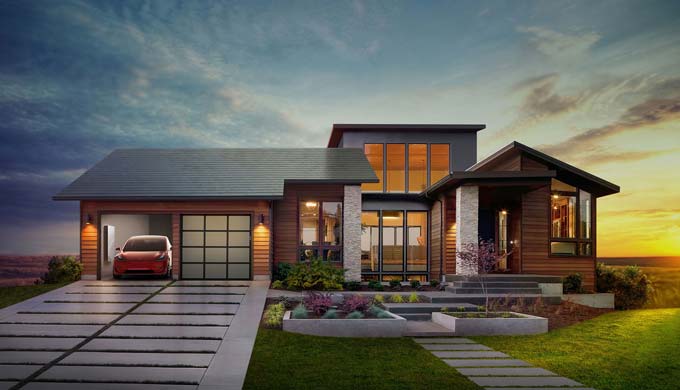 It is not just about cars, however, with Tesla's ambitions going far beyond manufacturing vehicles. The company's mission is "to accelerate the world's transition to sustainable energy". We think many people overlook the fact that Tesla expects 50% of the Gigafactory output to go towards battery packs for stationary storage applications in residential, commercial, and utility end markets. Affordable batteries enable much greater penetration of renewable energy since the problem of the intermittency of wind and solar power is solved.
The partnership with Panasonic also extends to the manufacturing of solar cells incorporated into roofing tiles to create a solar product that will go on sale later this year.
We are fast approaching the inflection point where the cost of clean technologies is competitive with fossil technologies on an unsubsidised basis and the transition to a low carbon economy will be driven by market forces. Tesla is at the heart of this transition. It is attacking multiple industries – from fossil fuel production to power generation and transportation – and we believe it will be one of the great global growth stocks of the next decade. We think Tesla's earnings could approach US$20 per share by 2020**, which by our estimates implies the stock is currently trading on a 2020 price-earnings ratio of roughly 12x***. And this is just the beginning: we expect more Gigafactories to be built and that Tesla will keep on growing.
*1 GWh = a measure of electrical energy equivalent to the work done by one billion wattsoperating for onehour.
Please note: all images are sourced from Tesla, with their permission. Copyright laws apply.