Termination of Janus Henderson UK Property PAIF (the Fund) and the Janus Henderson UK Property PAIF Feeder Fund (the "Funds") - Update
21 June 2022
Further to our last update on 31 May 2022, we are pleased to confirm that for non-Janus Henderson ISA investors (ISA investors should see below), we have instructed payment to return monies to you. If we have your bank details on file, monies should be received by you on 22 June 2022. Otherwise, a cheque will be posted to you and you should receive it shortly thereafter. Details of the final price achieved will be included in the contract note that we will also send to you.
Reminder for Janus Henderson ISA Investors only
Please be reminded that for investors who held the Fund in the Janus Henderson ISA, we will retain the redemption proceeds within the ISA for a period of up to six months (expiring 28 October 2022). This will preserve the ISA status of the proceeds and allow you sufficient time to decide what to do next.
If you held the Fund in the Janus Henderson ISA and haven't yet confirmed your instructions to us, we need you to review and complete a form of direction, available from this link https://www.janushenderson.com/download/document/134947. This sets out the options available to you and the actions you may need to take.
If you do not provide instructions to us by 28 October 2022, your proceeds will be returned to you and you will lose your ISA status on that amount.
We thank you again for your patience whilst we concluded the sale of the Fund's property assets. We believe the combination of the speed with which we have been able to return money to you and the price achieved in selling the properties represents a good outcome for investors given the uncertainties and future concerns that we had for the Funds.
Monthly Commentary
The latest Janus Henderson UK Property PAIF Monthly Commentary provides an update on performance, fund positioning, investment activity, strategy and the managers' outlook.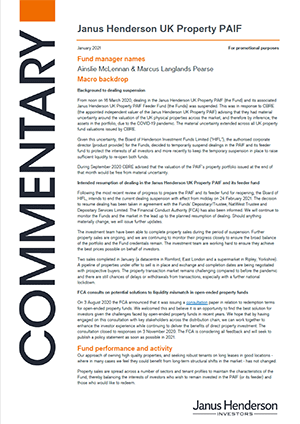 The Fund aims to provide a high level of income as well as growth of income and capital over the long term (5 years or more). The Fund will be a Property Authorised Investment Fund (PAIF) for tax purposes at all times.
More
The Fund invests at least 60% of its assets in UK commercial real estate and in shares and bonds of UK companies in the real estate industry.
The Fund may also invest in other assets including cash and bank deposits, money market instruments, non-UK commercial real estate, residential real estate, funds (collective investment schemes including exchange traded funds) and real estate outside of the UK.
The investment manager may use derivatives (complex financial instruments) to reduce risk or to manage the Fund more efficiently.
The Fund is actively managed with reference to the IA UK Direct Property sector average, which is based on a peer group of broadly similar funds, as this can provide a useful comparator for assessing the Fund's performance.
Less
The value of an investment and the income from it can fall as well as rise as a result of market and currency fluctuations and you may not get back the amount originally invested.
Potential investors must read the prospectus, and where relevant, the key investor information document before investing.
This website is a Marketing Communication and does not qualify as an investment recommendation.

Investment into the fund will acquire units / shares of the fund itself and not the underlying assets owned by the fund.
Portfolio with a broad mix of high-quality properties across UK regions and sectors, with a South East bias, that are well-placed to benefit from long-term consumer, demographic, and technological trends.
Focuses on location, tenant strength, lease length, lease structure, building quality, and sustainability considerations.
Highly experienced investment team with support from more than 500 property specialists.
UK Property PAIF invests in assets that may at times be hard to sell. This means that there may be occasions when you experience a delay or receive less than you might otherwise expect when selling your investment. For more information on risks see the prospectus and key investor information document.
Ratings for this fund include: