Meeting the need for a sustainable and resilient water system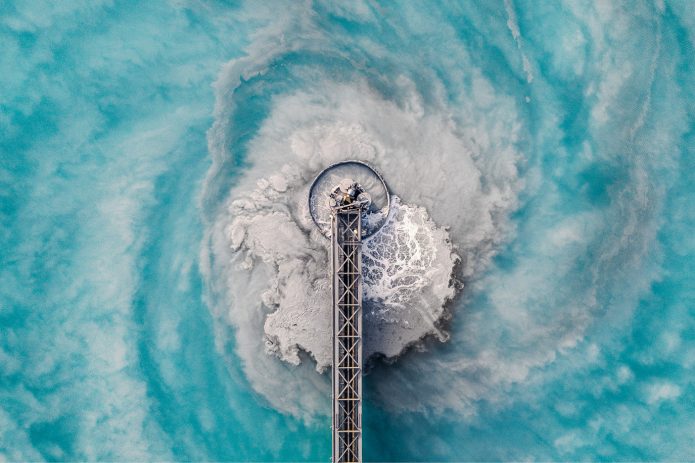 Hamish Chamberlayne, Head of Global Sustainable Equities, discusses how businesses are changing the way we use and consume water.
Key takeaways
The world is facing critical water shortages, thanks to climate change and an increasing global population.
The goal of building a safe, sanitary and more sustainable water system is vital in achieving the United Nations' Sustainable Development Goals.
Evoqua Water Technologies is a water treatment company making billions of litres of water safe for consumption by communities, companies and organisations.
Water is vital for life, supporting healthy ecosystems and ultimately driving economic growth. Safe drinking water and sanitation are fundamental human rights and are essential for nutrition, disease prevention, healthcare and ensuring that every individual can participate in society. Reliable access to purified water is also critical for industries to run effectively. With concerns over safety and sanitisation at an all-time high due to the COVID pandemic, water disinfection systems are being relied upon to keep products, consumers and employees safe.
Today's water challenges
In 2020 a United Nations (UN) report1 provided stark evidence that billions of people worldwide are still living without safe drinking water and sanitation. According to the report:
2 billion people (26% of the world's population) lacked safely managed drinking water services
3.6 billion (46% of the world's population) lacked safely managed sanitation services
3 billion people live in water-stressed countries
Climate change is also exacerbating the issues of water availability by causing less predictable and more extreme weather conditions, which impacts the availability and distribution of rainfall. As a result, the number of water-stressed regions have increased and shortages in countries already facing water scarcity have been exacerbated. In addition, higher incidences of flooding and droughts threaten to destroy water points and contaminate water sources.
Elsewhere, developed nations face a different set of critical issues. The pollution of fresh water sources from industrial and agricultural waste jeopardises the quality and safety of water supply, while the use of polyfluoroalkyl substances (PFAS), selenium, microplastics, and other emerging contaminants drive complexity of water treatment. The expanding global population has intensified these issues by putting greater demand on industries, agriculture and energy generation. Consequently, water management has emerged as the key factor in managing global risks related to global health, migration, inequalities between countries, political instability and natural disasters.
Importance of water management recognised globally
We believe that high quality and evenly distributed water supplies are needed to drive both environmental and social development. The UN also considers Clean Water and Sanitation a Sustainable Development Goal. This goal recognises that water is fundamental across all sectors of society, while understanding that, if not managed safely, wastewater can create inefficiencies, inequalities and introduce hazardous substances into the water supply.
A circular approach to water management
Circular economy principles present an alternative to today's linear 'take-make-waste' model of production. In practical terms, a circular economy seeks to design products that reduce pressure on natural resources and minimise waste. We believe that by extending this model to today's water issues, a circular approach could reduce stress through more effective reuse of water and efficient recycling technologies, helping to create a sustainable and resilient water system that benefits everybody.
Reliable, resilient and sustainable water management begins with water companies. Evoqua Water Technologies develops solutions for industrial, municipal and recreational water companies that, in turn, deliver water to the masses. Its products and services span the entire water life cycle, from extraction and purification to waste treatment and reuse. We believe that companies like Evoqua can lead change by improving efficiency, reusing and recycling, and extending product life where water is a requirement in the manufacturing process.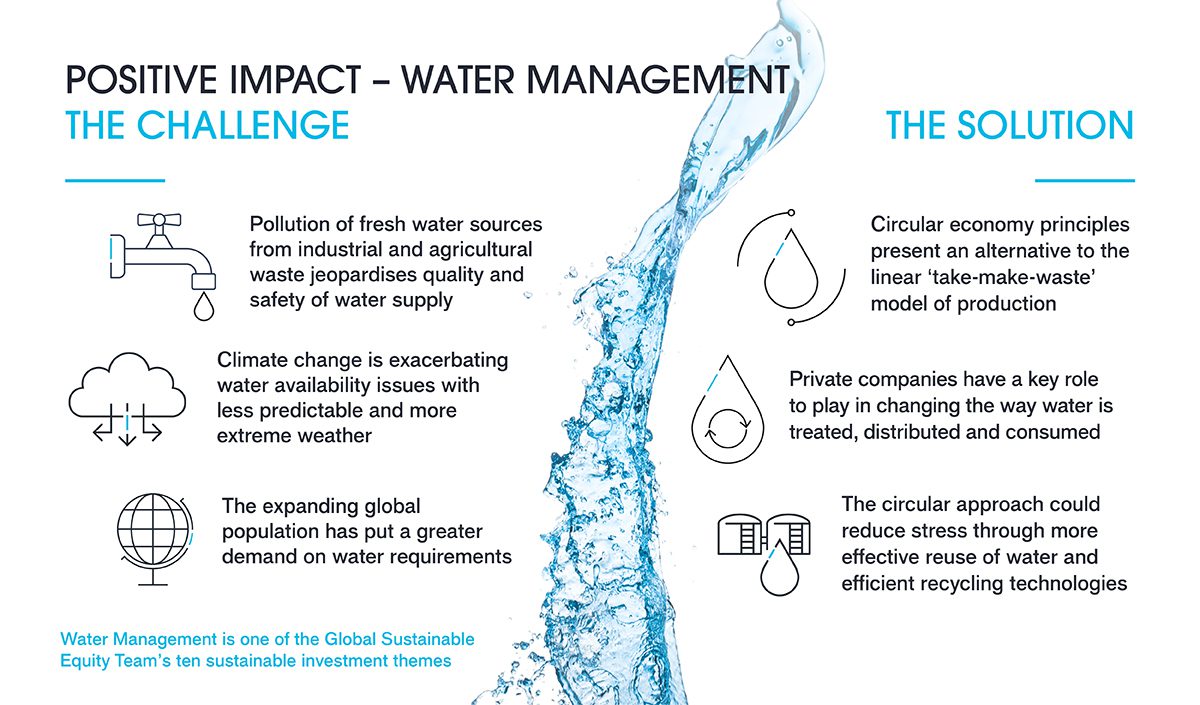 Purification rather than neutralisation
Modern wastewater and drinking water facilities face an array of complex and sometimes contradictory problems. For example, it has become essential to treat water for micro-organisms that have become tolerant to chlorine, which is a traditional method used to clean water. At the same time, new water contaminants continue to emerge, such as pesticides used in farming and land use and chemicals found in pharmaceutical products. Evoqua's technologies focus on purification – removing impurities from water rather than neutralising them through the addition of chemicals – and this is an effective method to minimise the use of unnecessary chemicals.
Ultraviolet (UV) technology is a chemical-free disinfection technique used to remove organic and inorganic contaminants found in drinking water. As well as being highly effective in treating a wide variety of micro-organisms, including chlorine-resistant bacteria, viruses and other pathogens, UV technology requires no storage, handling or transportation of toxic of corrosive chemicals. Importantly, by ensuring water can be reused, UV technology also helps companies towards their sustainability objectives. High-performance technology such as Evoqua's UV system has can help to improve the reliability and resilience of water treatment facilities without the use of harsh chemicals, all while maintaining a minimal footprint.2
Maintaining safe drinking water
Polyfluoroalkyl substances (PFAS) are manmade chemicals used in the manufacturing of many day-to-day products including textiles, cosmetics, paints, non-stick kitchenware and even firefighting foam. Importantly, PFAS are water soluble and do not readily breakdown in the environment. Due to the broad manufacturing applications of PFAS, they are commonly found in water supplies near industrial facilities. Current scientific research suggests that exposure to high levels of PFAS could lead to adverse health outcomes, although the wider implications are unclear. In 2020, Evoqua supported a programme to identify and remove PFAS that had accumulated in groundwater. The installation of two media adsorption vessel systems enables the treatment of 86 million gallons of water per day, providing clean and healthy drinking water to 2.5 million water district customers in Southern California who otherwise would not have access to clean and sanitised water.
Recycling wastewater for hydrogen production
Water is an essential component in the large-scale production of hydrogen, which is used in many processes, including manufacturing fertilisers, treating metals and as a source of fuel. Due to the high volumes of water needed, many hydrogen production companies look for ways to become more efficient with their water usage to reduce costs for the business and its customers. In 2015, Evoqua developed a solution to recycle wastewater streams back into the operating process at a hydrogen facility. In doing so, the company was able to save 75 million gallons of water per year. By creating efficiencies in water-intense industries, companies can 'close the loop' in their water use and alleviate pressures in water-stressed areas.
While continued urbanisation puts more pressure on our water supply, innovation is happening at a similarly fast rate. We believe that technological advances will be an integral part of the solution and because of this, private companies have a key role to play in changing the way water is treated, distributed and consumed.
Evoqua is just one example of how companies can innovate to solve some of the challenges around water scarcity, pollutants and the implications of climate change on water resources. By taking wastewater, purifying and reusing it, firms like Evoqua can help the world move toward a more circular and sustainable economy.
1United Nations, summary progress 2021: SDG 6 indicators, July 2021
2Evoqua Water Technologies, Reliability and resilience: Northumbrian Water case study, 2022
References made to individual securities should not constitute or form part of any offer or solicitation to issue, sell, subscribe or purchase, and neither should be assumed profitable.
These are the views of the author at the time of publication and may differ from the views of other individuals/teams at Janus Henderson Investors. Any securities, funds, sectors and indices mentioned within this article do not constitute or form part of any offer or solicitation to buy or sell them.
Past performance does not predict future returns. The value of an investment and the income from it can fall as well as rise and you may not get back the amount originally invested.
The information in this article does not qualify as an investment recommendation.
Marketing Communication.
Important information
Please read the following important information regarding funds related to this article.
The Janus Henderson Horizon Fund (the "Fund") is a Luxembourg SICAV incorporated on 30 May 1985, managed by Henderson Management S.A. Henderson Management SA may decide to terminate the marketing arrangements of this Collective Investment Scheme in accordance with the appropriate regulation. This is a marketing communication. Please refer to the prospectus of the UCITS and to the KIID before making any final investment decisions.
Specific risks

Shares/Units can lose value rapidly, and typically involve higher risks than bonds or money market instruments. The value of your investment may fall as a result.
Shares of small and mid-size companies can be more volatile than shares of larger companies, and at times it may be difficult to value or to sell shares at desired times and prices, increasing the risk of losses.
The Fund follows a sustainable investment approach, which may cause it to be overweight and/or underweight in certain sectors and thus perform differently than funds that have a similar objective but which do not integrate sustainable investment criteria when selecting securities.
The Fund may use derivatives with the aim of reducing risk or managing the portfolio more efficiently. However this introduces other risks, in particular, that a derivative counterparty may not meet its contractual obligations.
If the Fund holds assets in currencies other than the base currency of the Fund or you invest in a share/unit class of a different currency to the Fund (unless 'hedged'), the value of your investment may be impacted by changes in exchange rates.
When the Fund, or a hedged share/unit class, seeks to mitigate exchange rate movements of a currency relative to the base currency, the hedging strategy itself may create a positive or negative impact to the value of the Fund due to differences in short-term interest rates between the currencies.
Securities within the Fund could become hard to value or to sell at a desired time and price, especially in extreme market conditions when asset prices may be falling, increasing the risk of investment losses.
Some or all of the ongoing charges may be taken from capital, which may erode capital or reduce potential for capital growth.
The Fund could lose money if a counterparty with which the Fund trades becomes unwilling or unable to meet its obligations, or as a result of failure or delay in operational processes or the failure of a third party provider.