George P. Maris, CFA
Co-Head of Equities – Americas | Portfolio Manager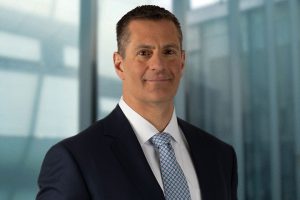 George Maris is sinds 2018 co-hoofd van Equities – Americas bij Janus Henderson Investors. George geeft leiding aan de aandelenafdeling in de regio Noord-Amerika en is tevens hoofd-portefeuillemanager voor de Overseas en de European Equity strategieën en de Global Alpha Equity strategie, waar de Global Select producten onder vallen. Daarnaast is dhr. Maris lid van de raad van bestuur van Janus Henderson en van het North American Leadership Team, en was hij eerder lid van de Ethics, Operating en Proxy Committees en van de raad van bestuur van Perkins Investment Management. Hij trad in 2011 in dienst bij Janus als portefeuillemanager van Northern Trust, waar hij de kernstrategieën voor Amerikaanse largecaps, internationale largecaps en wereldwijde aandelen beheerde. Voordat hij in 2008 in dienst kwam bij Northern Trust, was George vier jaar werkzaam als portefeuillemanager bij Columbia Management Group. Daar was hij medebeheerder van de kernportefeuilles voor Amerikaanse largecaps en midcaps. Van 1999 tot 2004 was hij lid van het beleggingsteam bij Putnam Investments als portefeuillemanager, aandelenanalist en , and derivatenstrateeg in de Value Group van Putnam. Daarnaast hield hij zich ook bezig met binnenlandse, internationale en wereldwijde aandelenstrategieën. Hij was van 2003 tot 2005 gastdocent voor het onderwerp effectenanalyse aan de MIT Sloan School of Management.
George behaalde zijn Bachelor of Arts in economie aan Swarthmore College. Daarnaast behaalde hij een MBA aan de Universiteit van Chicago en een doctoraat in rechten aan de Universiteit van Illinois. Hij is CFA gecertificeerd en heeft 24 jaar ervaring in de financiële sector.
Articles Written
The degree to which inflation elicits policy responses – and an evolving market structure – should command equities investors' attention in 2022.