Global six-month real narrow money growth is estimated to have risen further in January, based on partial data. This increases the probability that October marked a low, in turn suggesting that economic momentum will reach a low around July 2019, allowing for a typical nine-month lead. The recovery to date, however, has been modest and driven by a slowdown in inflation, which may reverse into mid-year. A pessimistic economic view will be retained here pending a more convincing monetary rebound.
The US, China, Japan, India and Brazil have released January monetary data, together accounting for about two-thirds of the G7 plus E7 aggregate tracked here. All countries bar Japan and Canada, meanwhile, have released inflation data. Six-month real narrow money growth is estimated to have risen to a 14-month high – see first chart.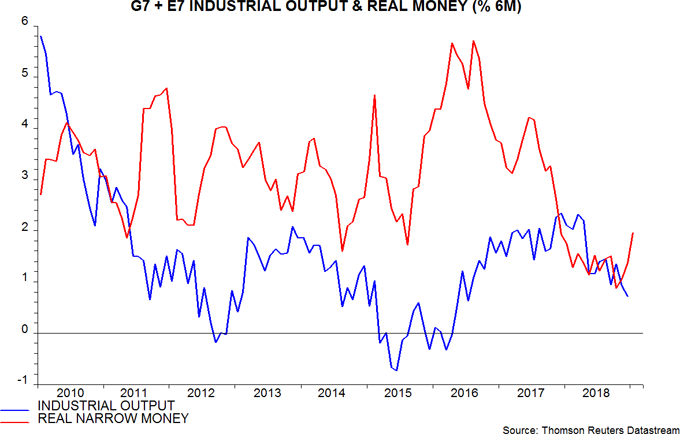 The level of growth remains weak by post-crisis standards – it was lower in only three months between September 2008 and November 2017. The recent recovery, moreover, reflects a sharp fall in six-month consumer price inflation, with nominal money growth moving sideways – second chart. Inflation is likely to rebound into mid-year if commodity prices stabilise at current levels – third chart. Nominal money trends need to pick up to warrant hopes of late 2019 economic improvement.