A surge in US banks' commercial and industrial (C&I) loans in late 2018 supports the view here that the stockbuilding cycle has peaked and will act as a drag on GDP growth in 2019.
Commercial banks' loans and lease​s rose by 1.6% between September and December, or 6.5% at an annualised rate – the fastest since 2016. The pick-up reflected a 4.0% surge, or 17.1% annualised, in C&I loans, which account for about a quarter of the total – see first chart.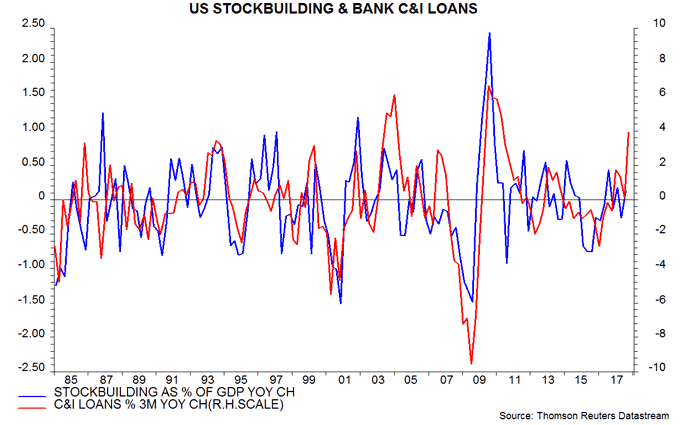 C&I loan growth is related to the level of stockbuilding, since companies typically draw down bank credit lines to finance an increase in inventories. Changes in stockbuilding, meanwhile, influence GDP growth. It follows that GDP growth depends on the rate of change of C&I loan growth, i.e. the C&I loan "impulse".
The year-on-year change in three-month C&I loan growth rose to its highest since 2011 in December, suggesting that stockbuilding will have made a strong positive contribution to year-on-year GDP growth in the fourth quarter – second chart. The level of the impulse is consistent with a cycle peak, i.e. the stockbuilding contribution is likely to weaken and turn negative over coming quarters, with "multiplier" effects on other GDP expenditure components.