Three-month growth of US commercial bank loans and leases fell from 1.5% (6.3% annualised) in February to 0.9% (3.5%) in June, reflecting a sharp slowdown in commercial and industrial (C&I) lending – see first chart.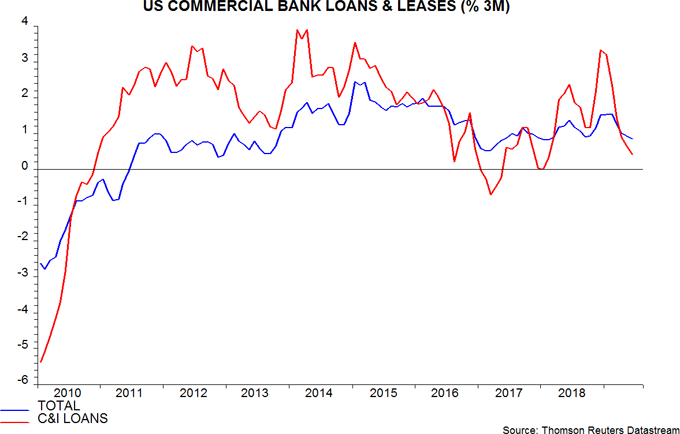 The demand for C&I loans is closely related to the stockbuilding or inventory cycle. The lending slowdown adds to other evidence, discussed in Friday's post, that the US / global cycle is weakening rapidly towards a low likely to be reached during the second half of the year.
The second chart shows the contribution of stockbuilding to annual GDP growth together with the annual change in three-month growth of C&I loans. The relationship suggests that the change in inventories will be a significant drag on Q2 GDP, to be released on Friday.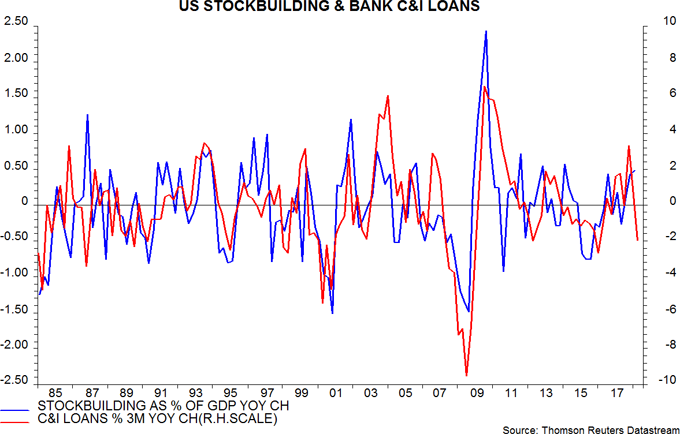 The Q2 report will incorporate annual revisions, which may resolve the recent large divergence between the headline (expenditure) and income measures of GDP. According to current data, headline GDP rose at a 2.6% annualised rate in the fourth and first quarters combined versus growth of only 0.8% in the income measure – the latter weakness is consistent with a stagnation of real narrow money in the year to November 2018.​