Environmental, Social and
Governance (ESG): overview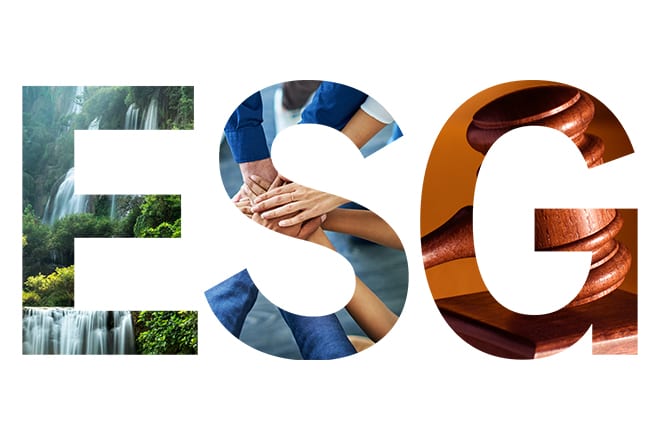 What does ESG mean to Janus Henderson Investors?
Being a global asset management organisation comes with important responsibilities. With thousands of employees serving investors globally, we recognise that our activities can have an especially significant impact. We seek to be at the forefront of anticipating and adapting to change to deliver long-term market-leading, risk-adjusted returns to our clients. That commitment includes a focus on managing our business and clients' assets in support of long-term sustainable business practices in line with Environmental, Social and Governance (ESG) principles.

Environmental
Factors include climate change, energy efficiency, resource depletion, water and waste management.

Social
Factors include employee and community relations, diversity, quality of life, enhancements in knowledge and advances in supportive technology for improved sustainability.

Governance
Factors include mitigating risks such as bribery and corruption, questioning board diversity, executive pay, accounting standards and shareholder rights, and positively influencing corporate behaviour.
As an investor, we seek to be responsible stewards of our clients' capital. As a publicly traded company, we also aim to create and preserve value for the shareholders who invest in Janus Henderson. In addition, we are proud to be a
carbon neutral company.
ESG is important to what we stand for as a company, and how we aim to create and preserve value for all of our stakeholders.
As an organisation, ESG principles influence our people, our culture and our choices, helping to make us a better company.
As an active manager, we have integrated ESG factors into our company analysis and relevant investment processes, helping us identify opportunities and risks, and influence positive change when engaging with companies.
By incorporating ESG considerations across our decision making, we are contributing to a sustainable future for generations to come.
We believe there is a strong link between sustainability issues and the companies that will grow and succeed going forward. This applies to us as an organisation and to the companies our investment teams actively engage with in their pursuit of long-term returns for our clients."

- Dick Weil, Chief Executive Officer
ESG: as a company
Learn more here about how we embrace ESG principles at the corporate level to create a better company and contribute to a better world.
ESG: as an investor
Learn more here about how we embrace ESG considerations in our actively managed approach and in our relationships with companies in which we invest.