JH Explorer: Exceeding expectations in the Middle East
Emerging Markets Equities Analyst Daphne Poon highlights what impressed her most on a recent trip to the Middle East as the region undergoes a significant economic and social transformation.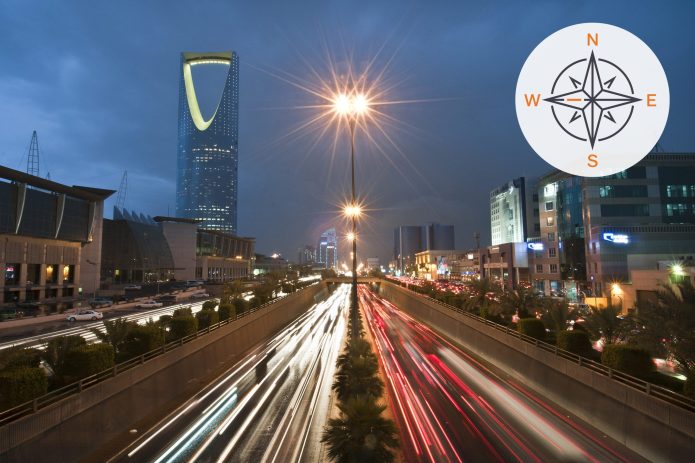 23 Mar 2023
5

minute read
Key takeaways:
The Middle East is embarking on an ambitious economic transformation as it seeks to diversify away from an overreliance on energy.
The region is encouraging women to join the workforce in greater numbers as many countries relax certain legacy social norms.
Saudi Arabia is aiming to catalyze its transformation by creating zones of innovation and seeking to further digital capabilities across the broader economy.
The JH Explorer series follows our investment teams across the globe and shares their on-the-ground research at a country and company level.
Part and parcel with being an equities analyst is the mandate to seek differentiated views on investment opportunities that are underappreciated by the broader market. It is with this perspective in mind that I looked forward to my recent trip to the Middle East, which is a region characterized as being highly dependent on hydrocarbons.
The countries along the western shore of the Arabian Gulf are also known for their historically conservative societies, and here I was, a foreign businesswoman conducting meetings with senior executives and government officials. Perhaps understandably, I harbored some trepidation that the research I was conducting on the region's companies and economic prospects might not go as seamlessly as it would for my male colleagues.
One goal of this trip was to test the conventional wisdoms of a conservative society fearful of change and a collection of countries that have yet to fully embrace the opportunity to diversify their economies away from an overreliance on energy. In both respects, my time in the Middle East exceeded my expectations. What I found was a region in transition, from both an economic and social perspective. The degree of structural reform occurring in several Gulf countries – unimaginable just a generation ago – belies the region's modest 7.2% share of the MSCI Emerging Markets Index and serves as a reminder that the universe of emerging market investment opportunities extends far beyond East Asia and Brazil.
Unlocking potential
Many of my social concerns were assuaged upon arrival in Saudi Arabia as I found myself welcomed in places I visited and at meetings I attended. I saw groups of men and women mingling in public area and observed women working in various roles and sectors, such as immigration officers, receptionists at hotels, and senior representatives at government organizations. The share of women in the Saudi workforce has risen from 22% in 2016 to the current 34%– already exceeding the target set by the Kingdom's ambitious Vision 2030 initiative. (For perspective, not long ago, Saudi women could not dine in the same area of restaurants as men and were not allowed to drive.) From an economic standpoint, a country that can tap underutilized human capital is likely on the path of enhancing productivity, thus fueling economic growth.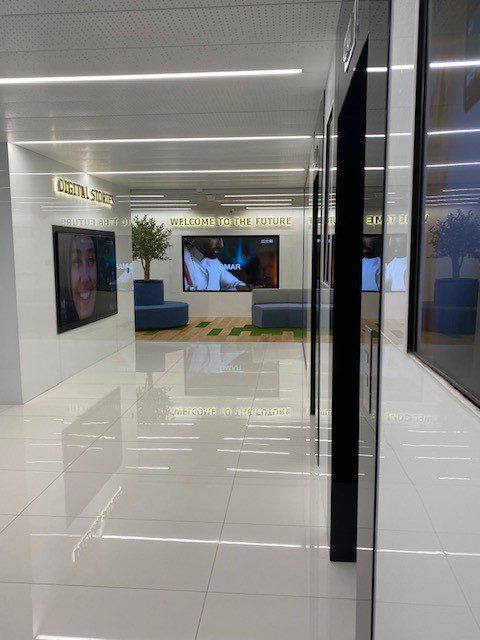 A corporate office focused on digital transformation. Source: Janus Henderson Investors.
Another area where social reform is unlocking economic potential is the focus on empowering Saudi Arabia's young population – a median age of 32. A housing program featuring generous mortgage subsidies targets 70% home ownership by 2030, encouraging the Saudis to marry younger and begin forming their own households. Similarly, corporations are prioritizing developing young talent, which will likely prove complementary to the trend of women entering the workforce and serve to boost aggregate household income and incentivize change in consumer behavior. Ultimately, these reforms should have a positive impact on sectors geared toward consumers, including banking, healthcare, and retail. These developments also likely explain why Saudi Arabia ranks so high with respect to citizens believing their country is on a favorable track – a view that I came to share after my positive interaction with myriad Saudi citizens.
Beyond hydrocarbons
Recognizing developed nations' desire to curb their use of hydrocarbons, Gulf governments have directed entities such as Saudi Arabia's Public Investment Fund and National Development Fund under Vision 2030 to allocate energy windfalls toward projects across a range of sectors. Given the existing composition of the economy, the petrochemicals and renewables sectors are natural targets for growth, but so are others, including housing, tourism, education, and hospitals.
An inescapable fact – given the proliferation of cranes – is that infrastructure projects are a major priority across the region. In Saudi Arabia alone, the Kingdom seeks to transform much of the eastern shore of the Gulf of Aqaba into a hub of innovation known as NEOM.
As is the case elsewhere, digital transformation is engrained across these initiatives, which is something I experienced firsthand with a seamless, online visa-approval process. Given my focus on the financials sector, I took special note of the embracing of fintech by both the regulator and the banks, especially as it relates to engaging the digitally enabled younger generation in a range of financial services.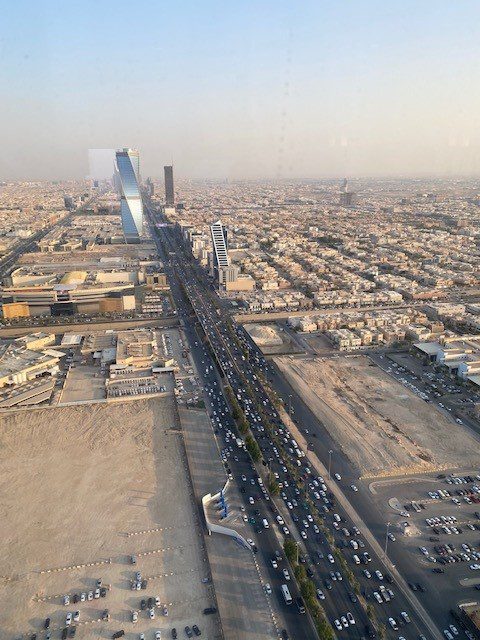 View of Riyadh with plenty of construction sites. Source: Janus Henderson Investors.
Taking a holistic and long-term view
It is laudable that Saudi Arabia and other Gulf countries are seeking to diversify their economies and move up the value chain. But such grand projects are not without risks. However, notable missteps over the past few decades in other emerging markets – especially those overly reliant upon infrastructure and debt to propel growth – can hopefully provide a template of what not to do.
While some of the projects might register returns that fall short of expectations from a purely financial perspective, their aggregate benefit to the economy as they catalyze the private sector will undoubtedly prove meaningful in the long run. We will, of course, be closely monitoring progress on these initiatives in the years ahead.
MSCI Emerging Markets Index℠ reflects the equity market performance of emerging markets.
IMPORTANT INFORMATION
Foreign securities are subject to additional risks including currency fluctuations, political and economic uncertainty, increased volatility, lower liquidity and differing financial and information reporting standards, all of which are magnified in emerging markets.
Emerging market investments have historically been subject to significant gains and/or losses. As such, returns may be subject to volatility.
These are the views of the author at the time of publication and may differ from the views of other individuals/teams at Janus Henderson Investors. References made to individual securities do not constitute a recommendation to buy, sell or hold any security, investment strategy or market sector, and should not be assumed to be profitable. Janus Henderson Investors, its affiliated advisor, or its employees, may have a position in the securities mentioned.
Past performance does not predict future returns. The value of an investment and the income from it can fall as well as rise and you may not get back the amount originally invested.
The information in this article does not qualify as an investment recommendation.
Marketing Communication.
Important information
Please read the following important information regarding funds related to this article.
The Janus Henderson Fund (the "Fund") is a Luxembourg SICAV incorporated on 26 September 2000, managed by Janus Henderson Investors Europe S.A. Janus Henderson Investors Europe S.A. may decide to terminate the marketing arrangements of this Collective Investment Scheme in accordance with the appropriate regulation. This is a marketing communication. Please refer to the prospectus of the UCITS and to the KIID before making any final investment decisions.
Specific risks

Shares/Units can lose value rapidly, and typically involve higher risks than bonds or money market instruments. The value of your investment may fall as a result.
Shares of small and mid-size companies can be more volatile than shares of larger companies, and at times it may be difficult to value or to sell shares at desired times and prices, increasing the risk of losses.
Emerging markets expose the Fund to higher volatility and greater risk of loss than developed markets; they are susceptible to adverse political and economic events, and may be less well regulated with less robust custody and settlement procedures.
This Fund may have a particularly concentrated portfolio relative to its investment universe or other funds in its sector. An adverse event impacting even a small number of holdings could create significant volatility or losses for the Fund.
The Fund may use derivatives to help achieve its investment objective. This can result in leverage (higher levels of debt), which can magnify an investment outcome. Gains or losses to the Fund may therefore be greater than the cost of the derivative. Derivatives also introduce other risks, in particular, that a derivative counterparty may not meet its contractual obligations.
If the Fund holds assets in currencies other than the base currency of the Fund, or you invest in a share/unit class of a different currency to the Fund (unless hedged, i.e. mitigated by taking an offsetting position in a related security), the value of your investment may be impacted by changes in exchange rates.
Securities within the Fund could become hard to value or to sell at a desired time and price, especially in extreme market conditions when asset prices may be falling, increasing the risk of investment losses.
The Fund may incur a higher level of transaction costs as a result of investing in less actively traded or less developed markets compared to a fund that invests in more active/developed markets. These transaction costs are in addition to the Fund's Ongoing Charges.
The Fund could lose money if a counterparty with which the Fund trades becomes unwilling or unable to meet its obligations, or as a result of failure or delay in operational processes or the failure of a third party provider.