Members of Janus Henderson's Alternatives Team highlight key considerations for investors.
In this, the first edition of our Market GPS: Alternative Perspectives, some of our team members introduce their current thinking and the ideas that help shape our strategies. Aneet Chachra explains why relative momentum is a good way to assess the merits of Developed versus Emerging Market equities. Mat Kaleel shows how uncorrelated returns can be generated from bond carry strategies. Steve Cain discusses how we consider macro hedge in the context of today's market environment. Finally, Andrew Holden outlines some of our findings on the deforestation of the Amazon and the implications for Agricultural strategies. We hope you find this publication of interest, and we would be happy to discuss any of these ideas in more detail. Further, we welcome any feedback you may have.
Michael Ho, Ph.D.
Global Head of Multi-Asset and Alternatives
INSIGHTS FROM OUR
GLOBAL TEAMS
Do hedge funds still provide the alpha and diversification benefits that investors seek? Michael Ho, Global Head of Multi-Asset and Alternatives, discusses outflows in the hedge fund industry and why low equity beta strategies might prove beneficial.
In this article, portfolio manager Aneet Chachra considers the potential benefits of a simple tactical allocation model based on trailing relative returns when looking at US vs emerging markets, and the importance of moving quickly when making investment decisions.
Is there a strategy that offers the potential to generate a differentiated return stream within bond markets? Mathew Kaleel, Portfolio Manager, discusses the potential benefit of using bond carry and illustrates how the addition of this strategy can impact the total return of a portfolio.
Steve Cain, portfolio manager in the Diversified Alternatives team, outlines where he sees the current risks and opportunities in the market. Steve co-manages multi-strategy portfolios with David Elms.
Agricultural strategy analyst Andy Holden takes a look at the beleaguered Amazon rainforest, considering some of the factors driving the relentless expansion of Brazil's agricultural sector.
OUR ALTERNATIVES
CAPABILITIES
Janus Henderson's alternative investment strategies are designed to deliver attractive risk-adjusted returns with moderate volatility and low correlations to traditional asset classes. Solutions can be constructed to consist of multiple sources of returns with the intention of enhancing diversification and lowering overall portfolio risk.
The Janus Henderson Alternatives platform is made up of 27 investment professionals situated in the UK, the US, Australia and Singapore. The team is responsible for US$12.3 billion* in client assets and manages a range of investment solutions aimed at delivering specific outcomes tailored to meet the needs and constraints of clients. The team brings together a cross-asset class combination of alpha generation, risk management and efficient beta replication strategies. Solutions include multi-strategy, alternative risk premia, alpha capture, agriculture and global commodities/managed futures as well as the ability to create customized offerings.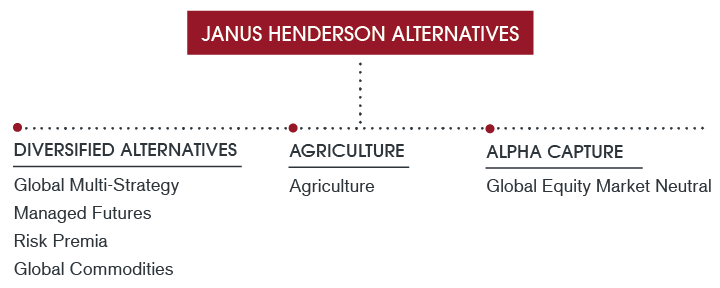 Subscribe for relevant insights delivered straight to your inbox