The recent steep rise in yields has unsettled markets but Nick Maroutsos and Andrew Mulliner, Portfolio Managers within the Global Bonds Team, believe the Fed and other central banks are in no mood to abandon their accommodative stance.
  Key takeaways
The recent move up in yields is a natural response to a global economy emerging from lockdowns.
US 10-year Treasury nominal yields are approaching where they were pre-pandemic as the emergency from the pandemic dissipates, with breakevens already pricing in inflation above 2%.
Real yields remain negative and central banks will not want financial conditions to tighten too quickly – the Fed is keen to avoid a repeat of the 2013 taper tantrum.
Recent weeks have led to disquiet in the bond markets. What began as a gradual climb in nominal yields from summer accelerated in late February with the US 10-year Treasury briefly topping 1.6% before settling back. Comments by US Federal Reserve (Fed) chairman Jerome Powell in early March (the last communication before the policy decision meeting on 16/17 March) did little to alleviate inflation jitters as he underscored the bank's commitment to accommodative monetary policy.
The chart below reveals the steepness of the recent move in nominal yields on the US 10-year Treasury. So far, real yields have remained in negative territory, with breakeven inflation at over 2.2%, the highest it has been in six years.
US 10-year Treasury nominal yield, real yield and breakeven inflation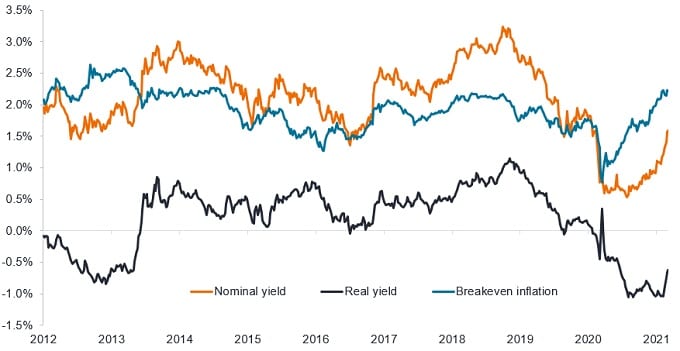 Source: Bloomberg, 6 January 2012 to 8 March 2021.
Are markets right and the Fed wrong?
Markets in early March were pricing in 75 basis points of hikes before the end of 2023 versus zero hikes according to the Fed's existing dot plot.1 At the Fed policy meeting in mid-March we will learn if the Fed intends to adjust its rate hike expectations. But we have been here before. Coming out of the 2008-9 Global Financial Crisis the Fed took until December 2015 before it raised rates, a lengthy delay that defied not just the market but even the Fed's own earlier dot plots for three years out. To raise them within three years from the pandemic would be a major acceleration from the previous crisis even if we were to treat the pandemic as a punctuation rather than the start of a new economic cycle.
1Source: Federal Reserve, Morgan Stanley Research, 3 March 2021.
Confidence in COVID-19 vaccination programmes, together with President Biden's stimulus package, has excited markets as consumers and investors begin to see a route out of the crisis and a surge in economic activity. We expect to see some of the pent-up demand of people emerging from lockdown cause a temporary spike in inflation, but we do not believe persistently high inflation to be a 2021 story.
Although there was some improvement in the labour market in the US, with February non-farm payrolls growth beating expectations, significant slack remains. The broader U-6 unemployment rate was unchanged at 11.1%, four percentage points above pre-pandemic levels.2 We believe sustained job gains will be necessary to drive wage inflation as a precursor to general inflation.
2Source: Bureau of Labor Statistics, 5 March 2021.
The move to flexible average inflation targeting by the Fed also means the Fed's reaction function has shifted. The Fed is likely to tolerate higher inflation without tightening policy. The coming months were always going to be noisy on the inflation front as the base effects from a year ago feed through to higher headline year-on-year inflation rates, and the recent boost in oil prices will exacerbate this. We suspect the Fed is prepared to treat this as a temporary cyclical uptick rather than evidence of a systemic shift. Moreover, commodity driven inflation acts as a tax on the consumer.
Thwarting tighter financial conditions
Central banks are likely to lean against a tightening of financial conditions to prevent the recovery being choked off. For now, the Fed is likely to remain sanguine while real yields remain negative but it will not want to see a repeat of the taper tantrum when real yields rose sharply. In Australia, the Reserve Bank of Australia intervened in late February to stem rates volatility, buying A$7bn in what was the largest weekly quantitative easing purchase volume to date. Notably, that included A$3bn of yield curve control purchases which is outside its normal programme. Similarly, the pace of rising yields in Europe saw Francois Villeroy de Galhau, European Central Bank (ECB) policymaker and Bank of France chief, calling for intervention. While the sell-off in nominal yields has not been as severe in the Eurozone, the move higher in February was led by real yields, which for the ECB is cause for concern as it tightens financial conditions.
With emergence from the pandemic still in its infancy we think central bankers will be keeping a close eye on how higher longer-term government bond yields might spill over into financial markets, notably equity and credit, as well as the real economy in terms of demand for mortgages, loans and corporate borrowing.
It is worth noting that we exit this recession with substantially higher debt levels than even 12 months ago, and due to the marginal productivity of debt this has acted as a gravitational pull on government bond yields to the downside .The marginal productivity of debt is a measure of how much growth we get from each newly borrowed dollar. The point here is that adding more debt to an already indebted economy has a lower and lower impact on gross domestic product (GDP) than previously and acts as a constraint on future growth (and bond yields). This is because the burden of paying the interest plus the accumulated debt load pulls capital away from more productive uses.
2021 was always going to be a more challenging year for fixed income, given the risk asymmetry from relatively tight credit spreads and longer duration. The rise in yields has been faster than we expected but in so doing it may help to temper some of the exuberance in markets. We think the US 10-year Treasury is most likely to be rangebound around current levels but will remain volatile.
With longer maturities leading the sell-off, term rates have normalised closer to their long run expected level, eg the US five-year rate five years forward is close to 2.4% (see chart below).
US forward interest rate swap 5-year rate 5 years forward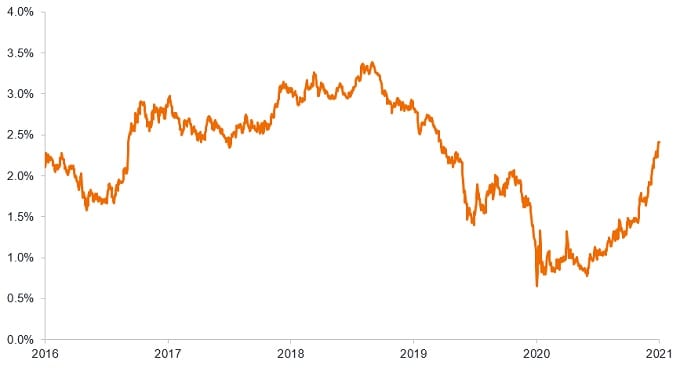 Source: Bloomberg, US 5-year rate 5 years forward, 8 March 2016 to 8 March 2021.
We also see that the yield curve steepening that has occurred has begun to run out of steam at the 30-year point in particular. This would suggest the next leg higher in yields would need to be driven by shorter-term real rates, something which central banks are likely to be less comfortable with, and which looks more difficult to achieve now as markets are already pricing in rate hikes in excess of central banks' guidance.
Pursuing different paths
Thinking more globally there are a number of factors to consider in addition to monetary policy factors. First, the pandemic did not strike the global economy all at once and different parts of the world are at different stages of the recovery. China and Asia were affected first but were among the most successful in reducing the impact of the pandemic on their economies. This is most apparent in the positive gross domestic product (GDP) growth for China in 2020, at a time when other economies suffered economic contraction.
Second, the virus appears to have some seasonal sensitivity, with northern hemisphere countries experiencing a significant wave of infections in the past six months. While some countries like New Zealand and Australia all but hermetically sealed their borders in 2020 and continue to do so, any virus that does get in (as it periodically does) may find an environment more conducive to spreading in the coming months relative to the northern hemisphere. In addition, this seasonality has also resulted in different fiscal impulses between northern and southern hemisphere countries. Australia is on the cusp of a fiscal cliff as pandemic wage support policies roll off this month, in contrast to the US which is about to experience a sizeable fiscal boost. This also has resulted in different vaccine timelines, with northern hemisphere countries rushing to vaccinate their populations while less affected countries have longer timelines.
What does all this mean? In our opinion, rates markets globally are pricing in a recovery to the pre-COVID period and, in the case of the US, potentially better times ahead. However, while economies like the US have significant tailwinds in the coming months, others have more modest or negative fiscal thrust, suggesting opportunities may lie in the higher yielding fixed income markets outside of the US as opposed to concentrating solely on treasuries.
Over the medium term, we pay close attention to macroeconomic variables like the China credit impulse, which has historically led the global economic outlook by about a year. Currently, we see the credit impulse rolling over. This suggests tougher times ahead for the global economy heading into 2022, where a negative base effect from this year's fiscal stimulus in the US and Europe could act as a brake on growth. We think that subsequent years could closely resemble the low growth rates that characterised much of the last decade.
China credit impulse (12-month % change)
Source: Bloomberg, Bloomberg Economics China Credit Impulse 12m change, 31 January 2007 to 31 January 2021.
Notes
Breakeven inflation: the implied inflation rate for the term of the maturity of the bond. It is calculated by subtracting the real yield of the inflation-linked maturity curve from the yield of the closest nominal Treasury maturity.
China credit impulse: This is defined as the change in credit growth or credit flow using total social financing growth (a measure of aggregate credit growth).
Forward interest rate swap: A forward interest rate swap is an agreement between two counterparties to exchange cash flows (fixed versus floating) in the same currency. The start date of the swap contract begins in the future and payments are made during the life of the swap. As an example, the 5y5y interest rate swap indicates the market expectation for the 5-year interest rate, in five years' time.
Yield curve control: a central bank policy measure that seeks to set a target interest rate (or yield on a specific maturity government bond) and then buying and selling as many bonds as necessary to reach that target.