Every investor knows a tax plan is important, but not every investor knows how to efficiently adjust when things don't go as smoothly as anticipated. A recharacterization may not be the answer to all of your problems, but it's one strategy that can alleviate common tax issues resulting from poor planning or unforeseen consequences. Learn if a recharacterization is the right strategy for you.
What Is Recharacterization?
A recharacterization allows you to treat a contribution that you made to one type of IRA as being made to a different type of IRA for tax reporting purposes. So a purchase you made into your Roth IRA can be recharacterized and moved into a Traditional IRA without potential penalties.
That's because, in general, recharacterizations are tax reportable, but not taxable. So while they generate 1099-R and 5498 tax forms, an investor does not have to pay income tax on recharacterized amounts. Always work with a qualified tax advisor to determine if a recharacterization is the best option for your situation.
The graphics below will illustrate the recharacterization process from beginning to end for someone under the age of 50 where there are earnings and losses.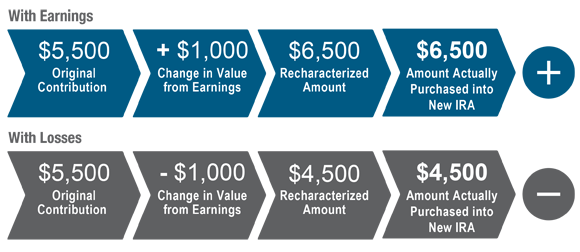 A Recharacterization May Be Right For You If...
You Are Ineligible For A Deductible Contribution To A Traditional IRA
If you make a contribution to your Traditional IRA, but later find you cannot take a tax deduction for that contribution (e.g., because your modified adjusted gross income is too high), you are able to recharacterize the contribution to your Roth IRA (if you meet the Modified Adjusted Gross Income limits). This essentially moves your investments into a Roth IRA without removing the money from the Traditional IRA as a taxable distribution.
You Find You Are Ineligible To Contribute To A Roth IRA After You Already Made The Contribution
While contribution limits ($6,000 for under 50 years old and $7k for over) apply to both Traditional IRAs and Roth IRAs, only a Roth IRA has income limits that can determine whether or not you're eligible to contribute. If you make a Roth IRA contribution and you find you are over the income limit to contribute to a Roth IRA, you are able to recharacterize the contribution to a Traditional IRA and potentially avoid penalties for an excess contribution.
What you need to know about recharacterizations
Before processing a recharacterization, consult with a qualified tax advisor and consider the following key issues.
Timing Is Critical
The deadline to recharacterize is generally the tax filing deadline plus extensions for the year the contribution was made. Generally, this is October 15th of the year following the contribution. Starting in 2018, it's not possible to recharacterize a 2018 conversion or any conversion made thereafter.
You Must Meet Eligibility Requirements
If recharacterizing a contribution from a Traditional IRA to a Roth IRA, you must be eligible to contribute to a Roth IRA in the first place. If you don't meet the eligibility requirements to contribute to a Roth IRA, a recharacterization may result in an ineligible contribution toward your Roth.
IRA Contribution Limits
See our list of the various IRA contribution limits and to see annual IRS contribution limits.
Retirement Resources
Looking for help with your retirement account? Here you'll find information on transfers, rollovers, contributions, withdrawals, account types, taxes and more.
Retirement Planner
Get a clear picture of your retirement goals and estimate how much you should save with the Janus Henderson Retirement Planner.