Global equities: focus on the predictable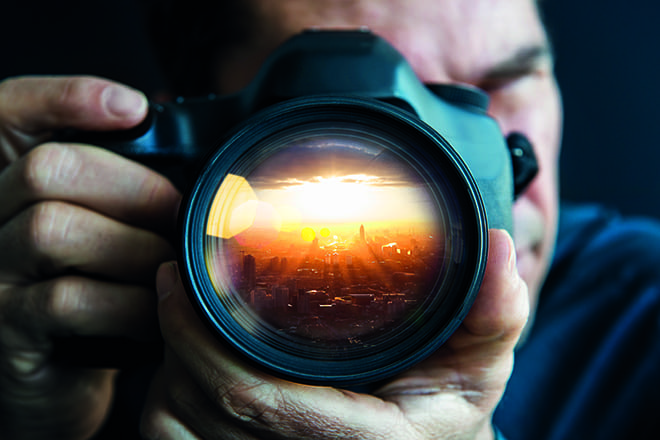 Global Equity Portfolio Manager Gordon Mackay believes investors should focus on more predictable long‑term secular trends, which can be powerful tailwinds for certain businesses.
  Key takeaways:
In our view it is not possible to predict with any degree of accuracy the direction or level of the market over periods as short as the coming calendar year.
We do, however, believe more predictable long‑term secular trends can be powerful tailwinds for certain businesses, and this is where we will continue to focus.
These trends include an ageing population that is likely to see growing demand for healthcare provision; resource scarcity which can act as a tailwind for companies that help with the conservation of resources; and the disruption driven by increased use of the internet.
Global equity markets have posted substantial gains since the lows witnessed in March 2020 when fear in relation to the potential impact of the Covid-19 pandemic was at its peak. Given such strong returns since then it is fair to question the prospects for markets in 2022.
Market uncertainty
It appears that we are experiencing the biggest inflation scare since the early 1980s with much debate on whether current trends are transitory or not. The answer will likely influence the future path of monetary policy though to what degree interest rates may rise is also unclear, particularly given elevated debt levels and the growing mandate creep for central banks to take account of factors beyond those that directly relate to inflation and employment. Helping address climate change and inequality are two such examples. Moreover, rapidly rising COVID cases in certain parts of the world makes for an uncertain backdrop. However, it is important to remember that there are always uncertainties and risks when investing.
Focus on the predictable
We have never attempted to make top-down macroeconomic or geopolitical predictions. Attempting to time markets from such judgement calls is not something we feel comfortable doing. On COVID, however, it seems more probable that the vaccines already approved should eventually make the virus something that can be managed in a way that allows people to return to more normal patterns of daily life.
Instead, our preference is to seek businesses with a very specific set of qualities, identify long-term tailwinds that can help them prosper over the coming years and do our best to ensure we do not overpay to invest in them.
For example, an ageing population is likely to see growing demand for healthcare provision. Therefore, healthcare innovation that helps improve outcomes while lowering costs is one such tailwind that we believe has many years to play out. Within healthcare the treatment and management of diabetes is an area we have invested in given the increase in sedentary lifestyles
An increasing number of people globally are expected to be living with diabetes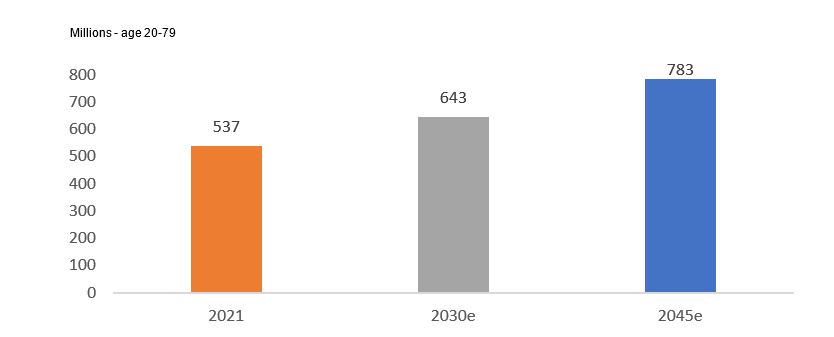 Source: International Diabetes Federation Diabetes Atlas 2021, 10th edition. e = estimated.
The International Diabetes Federation estimates that there are more than 530 million adults globally today suffering from this disease and that if current trends continue this will likely increase to more than 640 million by 2030 and 780 million by 2045. Innovative technology such as continuous glucose monitoring can help diabetics monitor and control their blood glucose levels. Much work is underway analysing the cost benefit impact of continuous glucose monitoring technology adoption but from what we have seen thus far it appears that this technology is capable of lowering users blood sugar levels, can reduce the need for costly medication and in some instances help drive disease remission.
Resource scarcity is another long-term trend that we believe can act as a tailwind for companies whose businesses enable the conservation of resources that are finite or limited in nature. Food waste is a good example. According to the United Nations, if food loss and waste were a country it would be the third biggest source of greenhouse gas emissions globally*. Businesses focused on the area of meal kit provision have the potential to significantly reduce food waste through collecting customer orders in advance of delivery and careful supply chain management. Not only does this help conserve scarce resources, it can provide market leaders with a cost advantage when compared to traditional supermarkets or grocers.
The disruption driven by increased use of the internet in many aspects of life is another tailwind that has been well recognised for years but which continues to benefit a broad range of businesses. Beyond the obvious examples of ecommerce and online advertising, the impact of the internet can be seen across an increasing number of areas including online accounting, tax filing, entertainment and digital content creation to name but a few.
In our view it is not possible to predict with any degree of accuracy the direction or level of the market over periods as short as the coming calendar year. However, we do believe these more predictable long‑term secular trends can be powerful tailwinds for certain businesses, and this is where we will continue to focus.
*Source: United Nations Environment Programme Food Waste Index Report 2021.
Glossary
Monetary policy: The policies of a central bank, aimed at influencing the level of inflation and growth in an economy. It includes controlling interest rates and the supply of money.
These are the views of the author at the time of publication and may differ from the views of other individuals/teams at Janus Henderson Investors. Any securities, funds, sectors and indices mentioned within this article do not constitute or form part of any offer or solicitation to buy or sell them.
Past performance does not predict future returns. The value of an investment and the income from it can fall as well as rise and you may not get back the amount originally invested.
The information in this article does not qualify as an investment recommendation.
Marketing Communication.
Important information
Please read the following important information regarding funds related to this article.
The Janus Henderson Fund (the "Fund") is a Luxembourg SICAV incorporated on 26 September 2000, managed by Janus Henderson Investors Europe S.A. Janus Henderson Investors Europe S.A. may decide to terminate the marketing arrangements of this Collective Investment Scheme in accordance with the appropriate regulation. This is a marketing communication. Please refer to the prospectus of the UCITS and to the KIID before making any final investment decisions.
Specific risks

Shares/Units can lose value rapidly, and typically involve higher risks than bonds or money market instruments. The value of your investment may fall as a result.
Emerging markets expose the Fund to higher volatility and greater risk of loss than developed markets; they are susceptible to adverse political and economic events, and may be less well regulated with less robust custody and settlement procedures.
This Fund may have a particularly concentrated portfolio relative to its investment universe or other funds in its sector. An adverse event impacting even a small number of holdings could create significant volatility or losses for the Fund.
The Fund may use derivatives with the aim of reducing risk or managing the portfolio more efficiently. However this introduces other risks, in particular, that a derivative counterparty may not meet its contractual obligations.
If the Fund holds assets in currencies other than the base currency of the Fund or you invest in a share/unit class of a different currency to the Fund (unless 'hedged'), the value of your investment may be impacted by changes in exchange rates.
When the Fund, or a hedged share/unit class, seeks to mitigate exchange rate movements of a currency relative to the base currency, the hedging strategy itself may create a positive or negative impact to the value of the Fund due to differences in short-term interest rates between the currencies.
Securities within the Fund could become hard to value or to sell at a desired time and price, especially in extreme market conditions when asset prices may be falling, increasing the risk of investment losses.
The Fund could lose money if a counterparty with which the Fund trades becomes unwilling or unable to meet its obligations, or as a result of failure or delay in operational processes or the failure of a third party provider.