我們的固定收益團隊發表季度觀點,以助客戶駕馭各種風險及早著先機。
焦點分析
V型復甦能否延續,將有賴消費者對個人收入前景是否有信心。不少公司借貸是未雨綢繆或者是過渡性融資,相信有助減少違約情況,以便企業在明年修復資產負債表。
聯儲局的平均通脹目標有助緩和第二次「退市恐慌」的風險,所以不只是表面功夫。然而,撇除短暫基數效應,我們質疑美國或其他主要經濟體是否會面臨通脹壓力。
貨幣政策的威力很可能每況愈下,但依然是維持融資成本較低和控制波幅的重要一著,而遏止波幅將是息差收窄的關鍵。
環球固定收益主管Jim Cielinski
影片內容 (英文版)
Can the V-shaped recovery last? I think that's an important question for markets. It's interesting to me that a minority of participants actually think that we're even in a V-shape, even though the economic numbers would tell you quite strongly that we are. My own view is that you've had such enormous fiscal stimulus: it added about 4% to global growth in the second quarter. As we move into 2021, that shifts to a minus of about 1% or 2%.* So, for us to continue to exhibit V-shaped behaviour in that environment, I don't think that's likely, you will still have job losses. And what I would expect then is growth to slow, the trajectory to slow, but it will still be positive and that will still mean easy money, accommodative policy and a growing economy.
As people return and earn incomes, I think that is really the critical factor, I think, for whether we can live with the virus or not, because the stimulus has helped us replace lost income. As that fades, we need to now find a second cure, if you will, for replacing that lost income and that's really going to be the true test. But we shouldn't also forget that a vaccine, if it does come say around year-end, would have a meaningful impact on people's expectations of income in 2021. And that's really what drives confidence. It's do you expect your job to be there? And do you expect to be making the income that you did in the past, in the next year? And if you are, you will go spend. And I think that's the one thing that is still missing here.
Every crisis brings a lot of change. And my feeling has always been that it will probably take two years for us to truly know what has permanently been shifted. But it's not too early to know that some things are dramatically different. Number one, the expected policy response. I think we've already moved into new territory. So, the expectation if something else were to go wrong, what they could then do. You know, MMT, all these things that were, I think, lunatic fringe two years ago are now kind of front and centre if we need to kind of pull on additional policy levers. So, I think that's different. I think the wealth inequality situation globally is very different. And so, there are some things where I think we can already see the shift occurring. ESG, the focus on social investing, and that kind of fabric across the landscape. It's going to be stronger, not weaker. So, I think there are some things that we know, but some things that we just simply don't. One other shift that we've been keeping an eye on, not just related to COVID, but before COVID was globalisation and it looked to have reached a peak in the Trump era. I think as the COVID crisis has continued to rumble on, what we're seeing is the beginning of regionalisation. So not a complete breakdown, but perhaps an Asian bloc, a European bloc and a US bloc. I think this is what is likely to persist and that will permanently alter, I think, how economies behave and how trade works globally.
Monetary policy is largely exhausted, not completely. It's just in that space now where the law of diminishing returns has taken over. You can always do yield curve control, you can always do more QE, but that exacerbates as many problems as it probably solves. So, for me, it's not completely done but if fiscal policy isn't there to pick up the slack, we're in trouble. A little bit of fiscal now will do as much as a lot of monetary and so the balance has to shift, I think, if we're going to see sustainable growth.
The Fed recently adopted average inflation targeting, which implied that if inflation overshoots their 2% target, they're going to stand pat and not overreact because they want to see that number realised over time. And I think it's more than just cosmetic. And the reason for that is in the first half of 2021, we had a sharp fall-off in inflation, deflation around the pandemic. It's now bouncing back and could easily overshoot that 2% target. I think by removing any risk of a 'taper tantrum' or any expectation that the Fed would react to that, they probably have I think quelled volatility in the markets, which is good for risk assets. So, I think the real test is ultimately whether the 2% target even means anything and whether central banks can actually ever achieve that. The answer in Europe is no. The answer in Japan is no. The answer in the US is cyclically, perhaps, yes.
There is a view in the market that companies have been bingeing on cheap debt, starting with too much already, and then borrowing more because we've seen borrowing hit record levels in 2020. I would call it a binge if they had borrowed and then gone on to spend that. But if you look at a measure of net debt, which is the cash plus the debt on the balance sheet, what you see is that they've just borrowed and let it sit there as a precaution. So, I think what they'll now do is employ some caution. I think they will pay down debt and delever over time. And if they can do that into a growing economy, it's not a binge, even though the absolute level of debt has gone up. Interest service is really affordable. These are record low rates. So, interest cover ratios, if we can get earnings coming back shortly, will not, in my opinion at least, threaten companies and lead to a sharp spike in defaults.
What does this all mean for fixed income? I think you've seen a phenomenal rally in risky assets, including credit, including emerging markets (EM). But if you step back and say, where are we today? I think what you've really seen is the removal of volatility. And central banks can't really inject a lot of stimulus or growth now into an economy, but they can in markets, really depress volatility. And that's the same as risk. And they can keep doing that. What that means is that rates are not moving around very much. That is likely to continue and they're low. So, couple that with what it means for markets like corporate credit or EM, you'll see a similar suppression of volatility and that is synonymous with tighter spreads. So, I think that is what you see unfolding.
*Source: JPMorgan, Global Economic Research, global fiscal thrust estimates for 2020 +3.6% and 2021 -1.7%, as at September 2020.
Glossary
V-shaped recovery: A type of economic recession and recovery that resembles a "V" shape in charting as it  involves a sharp rise back to a previous peak after a sharp decline in economic measures.
Fiscal policy/stimulus: Government policy relating to setting tax rates and spending levels. It is separate from monetary policy, which is typically set by a central bank. Fiscal austerity refers to raising taxes and/or cutting spending in an attempt to reduce government debt. Fiscal expansion (or 'stimulus') refers to an increase in government spending and/or a reduction in taxes.
Monetary policy/stimulus: The policies of a central bank, aimed at influencing the level of inflation and growth in an economy. It includes controlling interest rates and the supply of money. Monetary stimulus refers to a central bank increasing the supply of money and lowering borrowing costs. Monetary tightening refers to central bank activity aimed at curbing inflation and slowing down growth in the economy by raising interest rates and reducing the supply of money.
Modern Monetary Theory (MMT) is an unorthodox macroeconomic theory that proposes governments that control their own currency can spend freely, through the creation of money, to grow the economy to its full capacity.
Environmental, social and governance (ESG) are three key criteria used to evaluate a company's ethical impact and sustainable practices. ESG or sustainable investing considers factors beyond traditional financial analysis. This may limit available investments and cause performance and exposures to differ from, and potentially be more concentrated in certain areas than, the broader market.
Yield curve control involves a central bank targeting a longer-term interest rate and pledging to buy or sell as many bonds as necessary to hit that rate target.
Quantitative easing (QE): A government monetary policy occasionally used to increase the money supply by buying government securities or other securities from the markets.
Inflation: The rate at which the prices of goods and services are rising in an economy. The opposite of deflation.
Deflation: A decrease in the price of goods and services across the economy, usually indicating that the economy is weakening. The opposite of inflation.
Taper tantrum: Markets' reaction following the US Federal Reserve Chairman's comments in May 2013, which suggested that the US was considering tapering (slowing down) the rate of its bond buying programme (quantitative easing).
Volatility: The rate and extent at which the price of a portfolio, security or index, moves up and down. If the price swings up and down with large movements, it has high volatility. If the price moves more slowly and to a lesser extent, it has lower volatility. It is used as a measure of the riskiness of an investment.Net debt
Interest coverage ratio: a measurement used to determine how well a firm can pay the interest on its outstanding debt.
Spread/credit spread: A measure of how much additional yield an issuer offers over comparable "risk-free" assets such as U.S. Treasuries. In general, widening spreads indicate deteriorating creditworthiness of corporate borrowers, tightening spreads are a sign of improving creditworthiness.
Fixed income securities are subject to interest rate, inflation, credit and default risk.  The bond market is volatile. As interest rates rise, bond prices usually fall, and vice versa.  The return of principal is not guaranteed, and prices may decline if an issuer fails to make timely payments or its credit strength weakens.
The opinions and views presented are as of the date published. They are for information purposes only and should not be used or construed as investment, legal or tax advice or as an offer to sell, a solicitation of an offer to buy, or a recommendation to buy, sell or hold any security, investment strategy or market sector. Nothing in this material shall be deemed to be a direct or indirect provision of investment management services specific to any client requirements. Opinions and examples are meant as an illustration of broader themes, are not an indication of trading intent, and are subject to change at any time. It is not intended to indicate or imply that any illustration/example mentioned is now or was ever held in any portfolio. No forecasts can be guaranteed and there is no guarantee that the information supplied is complete or timely, nor are there any warranties with regard to the results obtained from its use. In preparing this document, Janus Henderson Investors has reasonable belief to rely upon the accuracy and completeness of all information available from public sources. Past performance is no guarantee of future results. Investing involves risk, including the possible loss of principal and fluctuation of value.
Not all products or services are available in all jurisdictions. The distribution of this material or the information contained in it may be restricted by law and may not be used in any jurisdiction or any circumstances in which its use would be unlawful. The contents of this material have not been approved or endorsed by any regulatory agency. Janus Henderson is not responsible for any unlawful distribution of this material to any third parties, in whole or in part, or for information reconstructed from this material.
 
This material may not be reproduced in whole or in part in any form, or referred to in any other publication, without express written permission. We may record telephone calls for our mutual protection, to improve customer service and for regulatory record keeping purposes.
In Europe, issued by Janus Henderson Investors. Janus Henderson Investors is the name under which investment products and services are provided by Janus Capital International Limited (reg no. 3594615), Henderson Global Investors  Limited (reg. no. 906355), Henderson Investment Funds Limited (reg. no. 2678531), AlphaGen Capital  Limited (reg. no. 962757), Henderson Equity Partners Limited (reg. no.2606646), (each registered in England and  Wales at 201 Bishopsgate, London EC2M 3AE and regulated by the Financial  Conduct Authority) and Henderson Management S.A. (reg no. B22848 at 2 Rue de Bitbourg, L-1273, Luxembourg and regulated by the Commission de Surveillance du Secteur Financier).
Advisory services in the U.S. are provided by SEC registered investment advisers that are subsidiaries of Janus Henderson Group plc. In Canada, products and services are offered through Janus Capital Management LLC only to institutional investors in certain jurisdictions.
Issued in (a) Singapore by Janus Henderson Investors (Singapore) Limited, licensed and regulated by the Monetary Authority of Singapore. Janus Henderson Investors (Singapore) Limited Company Registration No. 199700782N. This advertisement or publication has not been reviewed by Monetary Authority of Singapore. (b) Hong Kong by Janus Henderson Investors Hong Kong Limited, licensed and regulated by the Securities and Futures Commission, (c) Taiwan R.O.C by Janus Henderson Investors Taiwan Limited (independently operated), licensed and regulated by the Financial Supervisory Commission R.O.C. Suite 45 A-1, Taipei 101 Tower, No. 7, Sec. 5, Xin Yi Road, Taipei (110).  Telephone: (02) 8101-1001.  Approved SICE licence number 023, issued in 2018 by Financial Supervisory Commission, (d) Japan by Janus Henderson Investors (Japan) Limited, regulated by Financial Services Agency and registered as a Financial Instruments Firm conducting Investment Management Business, Investment Advisory and Agency Business and Type II Financial Instruments Business, (e) Australia by Janus Henderson Investors (Australia) Limited ABN 47 124 279 518 and its related bodies corporate including Janus Henderson Investors (Australia) Institutional Funds Management Limited (ABN 16 165 119 531, AFSL 444266) and Janus Henderson Investors (Australia) Funds Management Limited ABN 43 164 177 244, AFSL 444268 (f) the Middle East by Janus Capital International Limited, regulated by the Dubai Financial Services Authority as a Representative Office. No transactions will be concluded in the Middle East and any enquiries should be made to Janus Henderson.
This material is not to be reproduced or distributed to persons other than the recipient. Janus Henderson, Janus, Henderson, Perkins, Intech, Alphagen, Knowledge Shared, Knowledge. Shared and Knowledge Labs are trademarks of Janus Henderson Group plc or one of its subsidiaries. © Janus Henderson Group plc.
C-0920-33822 10-15-21
有關短片的免責聲明,請參見本網頁下方
隱藏影片內容
聯儲局改變政策後,美國固定收益主管Greg Wilensky及投資組合經理Michael Keough探討美國通脹的展望以及其對美國債市的影響。
駿利亨德森固定收益團隊提供主動型資產管理方案,助客戶達成投資目標。回顧過去四十年,我們的環球投資團隊推陳出新,開拓各類產品方案,迎合客戶各式各樣、日新月異的需求。無論是核心抑或跨板塊投資,乃至更特定的投資方案,我們提供創新和與眾不同的技巧,致力協助客戶駕馭每個獨一無二的經濟週期,並由團隊藉著個別策略或結合不同策略的特定方案發揮其實力。
不同團隊和地區貫徹知識共享理念,鼓勵通力合作,彼此討論投資理念,各個團隊能夠在嚴謹的架構範圍內保留一定程度的靈活性。我們的投資組合構建流程具備嚴格的風險管理框架,致力創造更佳的經風險調整後回報。此外,我們相信透明度是與客戶建立真正夥伴關係的基礎,憑藉完善、可重複的投資流程,並提供我們投資專才的第一手見解,務求得到及維繫客戶的信心。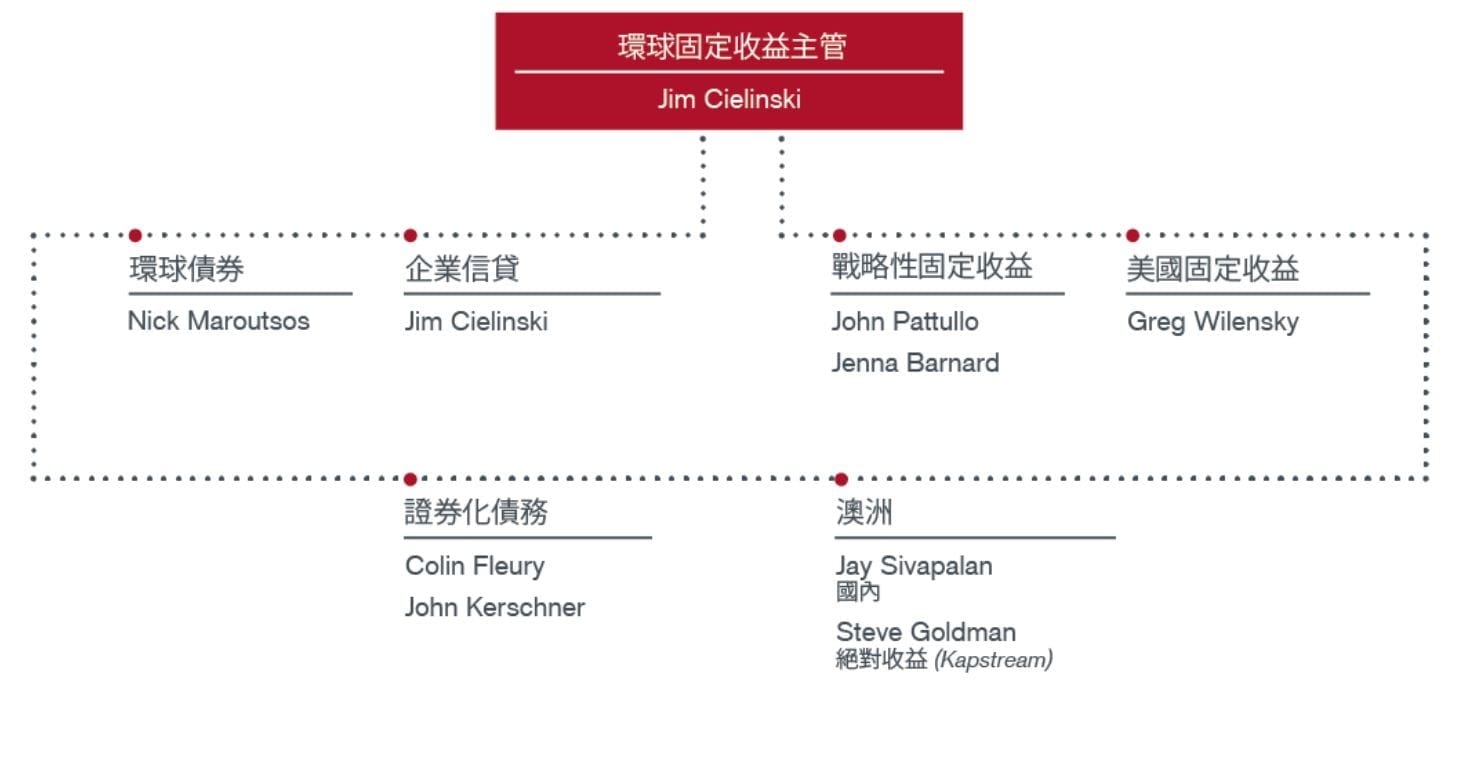 退市恐慌: 2013年5月,聯儲局主席暗示美國正考慮縮減(放緩)買債計劃(量化寬鬆)的規模,其後引發的市場反應。
息差/信貸息差:衡量發行人與美國國庫券等類似「零風險」資產比較的額外收益率。一般來說,息差擴闊顯示企業借貸人的信貸狀況惡化,息差收窄則象徵信貸狀況有所改善。
高收益債券: 信貸評級低於投資級別的債券,有時亦稱為次投資級別債券。此類債券的發行人拖欠付款的風險較高,所以一般提供較高票息作為額外風險的補償。