Gordon Mackay
Portfolio Manager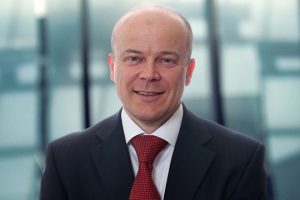 Gordon Mackay is a Portfolio Manager on the UK-based Global Equities Team at Janus Henderson Investors, a position he has held since joining Henderson in 2016. He is lead Portfolio Manager on the Global Equities strategy. Most recently, Gordon was a senior investment analyst at Speirs & Jeffrey Ltd. covering a range of UK equity sectors. From 2004 to 2014, he was a portfolio manager at Ignis Asset Management responsible for managing a range of Asian equity portfolios. Prior to this, Gordon was with Abbey National Asset Managers from 1996 until 2003, first as a trainee investment analyst covering North American equities before progressing to become an investment manager for that region. He began his career at Clydesdale Bank plc as a bank officer.
Gordon has a BA degree (Hons) in economics and finance from the University of Strathclyde. He is an Associate Member of the Society of Investment Professionals (ASIP) and an Associate Member of the Chartered Banker Institute (ACBI). He has 25 years of financial industry experience.
Gordon Mackay is portefeuillemanager binnen het Global Technology-team van Janus Henderson Investors in het VK. Hij bekleedt deze positie sinds 2016, toen hij bij Henderson kwam. Hij is de belangrijkste portefeuillemanager voor de Global Equities-strategie en portefeuillemanager voor de International Opportunities-strategie. Recentelijker was Gordon senior beleggingsanalist bij Speirs & Jeffrey Ltd en hield hij zich bezig met een aantal Britse aandelensectoren. Van 2004 tot 2014 was hij als portefeuillemanager bij Ignis Asset Management verantwoordelijk voor het beheer van een reeks Aziatische aandelenportefeuilles. Daarvoor werkte Gordon van 1996 tot 2003 bij Abbey National Asset Managers, eerst als trainee-beleggingsanalist voor Noord-Amerikaanse aandelen en daarna als vermogensbeheerder voor die regio. Hij begon zijn carrière als bankmedewerker bij Clydesdale Bank plc.
Gordon behaalde een BA (Hons) in economie en financiën aan de University of Strathclyde. Hij is geassocieerd lid van de Society of Investment Professionals (ASIP) en van het Chartered Banker Institute (ACBI). Hij heeft 25  jaar ervaring in de financiële sector.