Traditional lines in fixed income investing have been blurred by low rates and a proliferation of new strategies. As a result, what was once a fairly straightforward asset class aimed at providing capital preservation and income, is now disorienting for many investors. In this new era, we think it's more important than ever to focus on an investor's goals rather than attempt to find a single solution.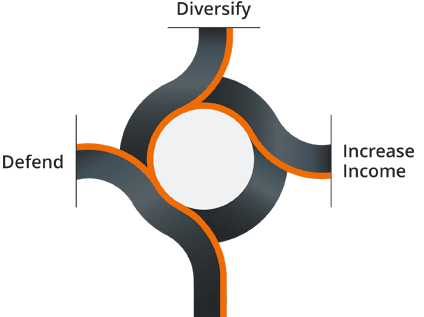 At Janus Henderson, we have the experience, expertise and income solutions designed to address investors' varied and evolving needs. Watch the video to see how we are equipped to help investors reach their financial goals.
Activating a Goals Based Fixed Income Strategy
We believe clients are best served with a multi faceted, goals based approach. The current environment requires forward looking investors to pursue a new level of due diligence for each destination of capital within their fixed income allocation. Below, we outline how Defend, Diversify and Increase Income are being redefined with new considerations and roadmaps.
Risk-managing, core fixed income
Dig Deeper
New Consideration: With most global sovereign bond rates below 1% or negative, traditional benchmarks with large, passive weightings to sovereign debt are no longer a bond investor's North Star.
New Roadmap: Dig deeper into the defensive tool kit; understand new opportunities and trade offs within securitized, investment grade corporates, and both short and intermediate duration.

Move beyond traditional benchmarks
A Brave New World
New Consideration: COVID-era volatility has been relentless in exacerbating the gaps and concentrations in fixed income allocations. There has been a decade's worth of new dynamic fixed income strategy launches, but COVID-19 and the Global Financial Crisis prove that no amount of innovation has escaped the fact that increased yield carries
increased risk.
New Roadmap: Diversifying strategies are dynamic tools that can "re-risk" core fixed income overweights and/or "de-risk" overly aggressive fixed income allocations. However, we believe investors need to focus on managers who streamline their approach and limit exposure to esoteric asset classes and complex approaches that can generate unintended risk.

High income opportunities
Expertise and Grit
New Consideration: A historical bull market in the riskiest – and highest-returning – fixed income markets was followed by a sell-off unprecedented in both speed and magnitude, creating once-in-a-lifetime opportunities alongside the potential for another drastic sell-off.
New Roadmap: Wide spreads don't guarantee positive prospective returns, but investors need to pay heed to the opportunities presented. Sector- and security-selection expertise tied to appropriate timing and a strong stomach are the necessary ingredients in order to navigate a rebound in these markets.

Janus Henderson Fixed Income
US$79.5bn
Diversified Fixed Income Assets
100+
Fixed Income Investment Professional
22
Average Years of Industry Experience for Portfolio Managers
160+
Equity Investment Professionals
19
Average Years of Industry Experience for Portfolio Managers
Global Fixed Income Perspectives
Quarterly insight from our fixed income teams to help clients navigate the risks and opportunities ahead.