Introducing the global sustainable equity fund
Our active ETF and managed fund focus on companies that make a positive impact on the environment and society.
Introducing the global sustainable equity fund
Our active ETF and managed fund focus on companies that
make a positive impact on the environment and society.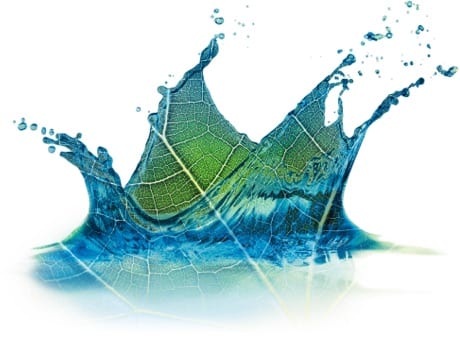 Established expertise
Built upon a 30-year strategy history, the Global Sustainable Equity Team are leaders in investing in global companies that support the development of a sustainable global economy.*

Driving positive impact
The fund invests in companies with resilience and compounding growth characteristics that seek to address environmental and social change.
High conviction, low carbon
The high conviction portfolio of 50-70 companies carries a carbon footprint that is 85% less than that of the MSCI World Index.**
*The Global Sustainable Equity Strategy was launched in July 1991.
**Source: Janus Henderson Investors, ISS Climate Impact data, as at 31 January 2021.
"Our team has three objectives: to seek to deliver outstanding investment returns to clients; to be regarded as leaders in sustainable investing; and, as active investors, to play a part in making the world a better place."
- Hamish Chamberlayne, Head of Global Sustainable Equities, Portfolio Manager
How the companies we invest in have delivered impact
Transparency is key to enabling sustainable development. The Global Sustainable Equity Team use qualitative and quantitative data to assess the impact of the products and operations of a business. Likewise, the team make clear how the portfolio contributes positively to the environment and society.
"Impact investments are investments made with the intention to generate positive, measurable social and environmental impact alongside financial return."
- Global Impact Investing Network
EVERY $1 MILLION INVESTED IN THE GLOBAL SUSTAINABLE STRATEGY*:

Avoided 72,150 metric tonnes of CO2e emissions
That is equivalent to travelling 131,000 times around the world in a petrol car.1

Supported the generation of 8,450 MWh of renewable energy
Enough energy to boil a kettle more than 84 million times, or equivalent to 500 million cups of tea.2

Recycled 950 metric tonnes
of waste
The weight of five Boeing 747 aeroplanes.3
*US Dollars, as estimated by the strategy's 2019 environmental impact. Source: Janus Henderson Investors as at 31 December 2019. The data provided in this report was collected during March and April 2020 and is based on the strategy as of the 31 December 2019. In certain cases where companies had yet to report 2019 data, we have used data from the prior year. Figures have been rounded to the nearest 50. Data is sourced from company reports, Carbon Disclosure Project (CDP) and International Energy Agency (IEA). Where companies have not disclosed relevant data they are excluded from the analysis. No estimates have been used. The calculations use total reported figures and are presented on a gross basis. 1Fleetnews Carbon Footprint Calculator, March 2020. Petrol car estimate based on 2.39 kgs of carbon content produced when burning one litre of fuel for a car with an average fuel consumption of 49.2 miles per gallon. 2 Npower, 2020. Estimate based on a 1.5 litre kettle using 0.1kWh of electricity to boil for three minutes. 2 Estimate based on an average Boeing 747 weight of 183,500 kg.
Comprehensive measurement and reporting
The 17 United Nations Sustainable Development Goals (UN SDGs) are a useful starting point to understand the impact of the funds investments. The portfolio contributes to all 17 of the goals.
Percentage Contribution to Each UN SDG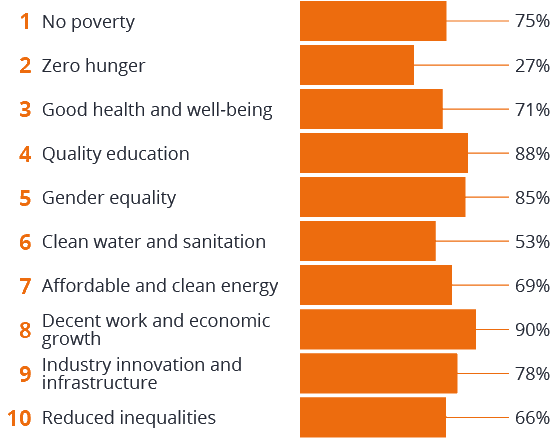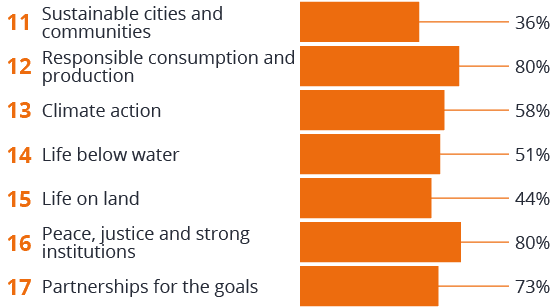 Source: Please refer to the 2020 Global Sustainable Equity Strategy Annual Sustainability Report for more detail.
Invest with positive impact
How to invest
Global Sustainable Equity Active ETF (ASX:FUTR)
FUTR can be bought and sold in the same way you buy or sell a share:
Via your broker or a licenced financial adviser, or
Directly through your online trading account

Global Sustainable Equity Fund
Alternatively, speak to a financial planner.
FUTR Active ETF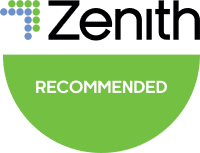 Global Sustainable Equity Fund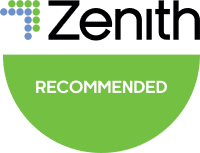 Asset class
Equities
Benchmark
MSCI World Index
(net dividends reinvested) in AUD
Exchange (ETF)
ASX
ASX code (ETF)
FUTR
Year end
30 June
ARSN
651 993 118
Inception date
September 2021
Investment Manager
Henderson Global Investors Limited
Portfolio Manager
Aaron Scully, CFA
Hamish Chamberlayne, CFA
Management fee
0.80% p.a.
Performance fee
Nil
Indirect costs
0.00% p.a.
Distribution frequency
Semi-annually (if any)
Distribution reinvestment plan (ETF)
Full participation available
*For adviser use only. The Zenith Investment Partners (ABN 27 103 132 672, AFS Licence 226872) ("Zenith") rating (assigned September 2021) referred to in this document is limited to "General Advice" (s766B Corporations Act 2001) for Wholesale clients only, as defined in section 761G of the Corporations Act 2001 (Cth). This advice has been prepared without taking into account the objectives, financial situation or needs of any individual and is subject to change at any time without prior notice. It is not a specific recommendation to purchase, sell or hold the relevant product(s). Investors should seek independent financial advice before making an investment decision and should consider the appropriateness of this advice in light of their own objectives, financial situation and needs. Investors should obtain a copy of, and consider the PDS or offer document before making any decision and refer to the full Zenith Product Assessment available on the Zenith website. Past performance is not an indication of future performance. Zenith usually charges the product issuer, fund manager or related party to conduct Product Assessments. Full details regarding Zenith's methodology, ratings definitions and regulatory compliance are available on our Product Assessments and at http://www.zenithpartners.com.au/RegulatoryGuidelines
Discover the strategy and team
In this on-demand webinar, Hamish Chamberlayne, Head of Global Sustainable Equities and Steve Weeple, Client Portfolio Manager, introduce the fund and detail how they construct a high-conviction portfolio of companies selected for their compounding growth potential and positive impact on the environment and society.
Topics of Discussion
The environmental and social megatrends pressuring the global economy.

The four pillars of a sustainability-driven investment strategy. 

How companies with strong ESG characteristics can be more financially resilient.
For financial professionals only. CPD points will be available for this session.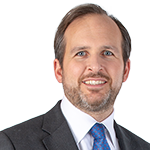 Hamish Chamberlayne, CFA
Head of Global Sustainable Equity | Portfolio Manager
18 years of financial industry experience
London based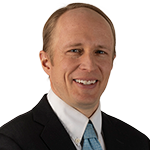 Aaron Scully, CFA
Portfolio Manager
23 years of financial industry experience
Denver based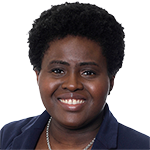 Amarachi Seery, CEnv, MIEnvSci, PIEMA
Sustainability Analyst
13 years of sustainability experience
London based
Discover the latest expert insights from the Global Sustainable Equity Team.