Beyond tech: Navigating AI's broader impact
Portfolio Managers Jeremiah Buckley and David Chung consider the investment implications of generative artificial intelligence (AI) and discuss what investors need to be mindful of – across industries – to capitalize on the strongest investment opportunities.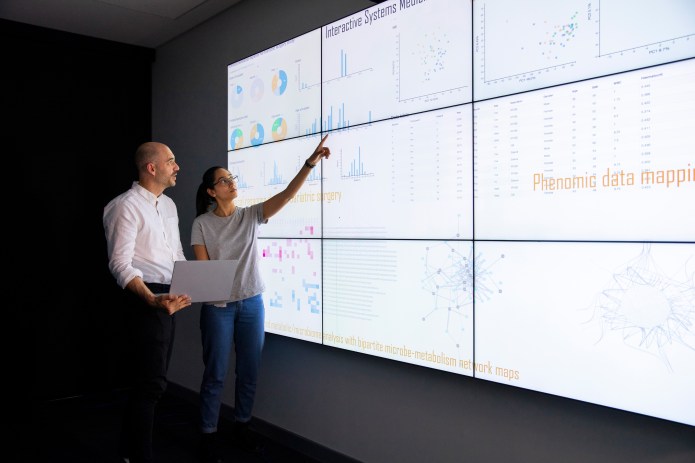 13 Nov 2023
6

minute read
Key takeaways:
AI presents a powerful secular growth driver with the potential to create lasting productivity and efficiency gains across industries.
Leading companies with the resources to invest in AI and proprietary data for training models are best positioned to enhance their operations and gain a competitive advantage.
Investors need to carefully evaluate management rhetoric versus reality, consider valuations, and exercise patience as AI adoption and transitions impact the business landscape.
AI is emerging as one of the most transformational technologies of our time, with systems now performing complex tasks that have historically required human cognition. Generative AI (GenAI) went mainstream roughly one year ago with OpenAI's launch of ChatGPT. GenAI, which is powered by a large language model (LLM) and designed to create original content based on patterns learned from training data, represents the most powerful and consumer-friendly AI model to date.
While GenAI is still in its early stages of development, its impact is already being felt across the economy and markets. Companies that are enabling the buildout of AI infrastructure and platforms are currently benefiting from technology spending in AI, but the scope of investment opportunities is likely to broaden. We believe AI represents a powerful secular growth driver with the potential to create lasting productivity and efficiency gains across sectors.
The key players
When assessing the investment opportunities tied to AI, it's important to understand the key players, their roles, and when and how they can benefit from this trend.
"Facilitators" include companies that provide graphic processing units (GPUs), which enable training and inference, and cloud services providers, which host the intensive AI activities on their platform. Facilitators have already experienced strong demand, and this trend should persist given the robust technology investments expected in the coming years.
"AI creators," which are the firms offering platforms, software applications, and industry-specific AI solutions, also appear well-positioned in the near term. For software companies, AI presents the potential to deliver significantly more value to customers, and thereby increase pricing. Those equipped with engaged users, established workflows with those users, and proprietary data have considerable advantages.
"AI users" – companies that will utilize AI to distinguish their business models – represent yet another wave of investment opportunities. According to OpenAI, there are more than two million developers and more than 92% of Fortune 500 companies building AI tools based on the company's products.1 With the fast-rising enterprise adoption of GenAI and in-house training of LLMs, the question for investors becomes, what value can be unlocked?
Rapidly expanding use cases
Early estimates suggest that AI could contribute to labor productivity growth of 0.1% to 0.6% annually through 2040, according to a recent McKinsey report.2 And our conversations with firms across industries underline AI's efficiency and productivity upside. GenAI has broad applicability to many businesses and individuals due to its versatility, customizability, and accessibility, and use cases are expanding swiftly beyond the tech sector.
Healthcare is a prime example. AI boosts efficiency and reduces costs through accelerated clinical trials and automated hospital workflows. In biotech, AI enhances drug discovery and protein production. Grand View Research expects a 36% annual growth rate in AI software, hardware, and services spending in the healthcare industry from 2023 to 2030.3
In the agricultural industry, a leading equipment manufacturer already employs AI to optimize crop protection and seed placement, resulting in cost savings for farmers. Latest models of certain farming machines now come equipped with sensors and cameras that pair with AI to help minimize chemical waste, reduce environmental impact, and maximize crop yields.
Sample AI use cases
As GenAI rapidly gains traction, use cases can be found in healthcare, agriculture, and beyond.
| | |
| --- | --- |
| PROBLEM | SOLUTION |
| Legal documents | Rote legal documents can easily be created by AI as opposed to expensive legal counsel |
| Accounting | Complex accounting functions can be performed by AI with less time and fewer errors |
| Creative content | Adobe Firefly suite incorporates AI into Creative Cloud, Document Cloud, Experience Cloud and other workflows |
| Coding | Microsoft GitHub Copilot-X uses a chat interface to help users generate code |
| Marketing | Jasper AI produces blogs, social media posts, web copy, sales emails, ads, and other customer-facing content |
| Contact centers | Automated chatbot responses that free up critical contact center resources |
| Healthcare | AI could be used in emerging nations or rural areas where doctors are scarce and patients can self diagnose issues |
| Drug discovery | AI models to analyze pathogens, proteins, and biomolecules which accelerates drug deployment and related cures |
Identifying tailwinds
AI's evolution is likely to be uneven, and we anticipate it will take time for the "haves" and "have nots" to emerge, despite recent market reactions. In our view, today's focus should be on trying to identify innovators that are harnessing AI tailwinds for future opportunities and to avoid disruption to their current business models.
So where can AI provide a tailwind? We believe industry leading firms with both resources to invest in AI and proprietary data to train models are best positioned to enhance their operations and gain a competitive advantage over time. It is the combination of scale and data that will enable them to train AI models effectively.
Developing these capabilities may entail significant costs, of course. As such, we think companies that embrace partnerships to adopt AI quickly and widen competitive leads are also poised to gain an early advantage.
Navigate with caution
AI is a buzzword with management teams today, and it's important that rhetoric matches action when evaluating a firm's new initiatives. Companies that consistently innovate and invest in R&D – even before the AI hype – have more credibility and will be in a better position to capitalize on their investments compared to those pursuing AI without a track record of innovation.
Additionally, investors should exercise caution regarding excessive valuations. Quite simply, some stocks have gotten ahead of themselves. A large number of companies have seen multiple expansion in 2023 based on the assumption that AI will drive significant future earnings growth. Our focus is on evaluating whether that higher multiple is justified and determining whether those earnings will actually materialize.
Conversely, companies may be overly discounted on the expected negative impact of AI on a particular business model. This provides contrarian investment opportunities among stocks affected by market misperception. Leading companies, including those in service industries, can adopt AI to boost productivity and accelerate revenue growth, not just replace workers.
Long-term journey
GenAI is still nascent but progressing very quickly and permeating virtually all sectors of the economy. It's essential to understand that the AI journey is long term and may be characterized by uneven periods of adoption and transition before significant productivity gains materialize.
That said, companies across diverse industries are investing heavily in AI today with the potential to widen their competitive advantages. In our view, those with the greatest scale to invest and proprietary data to harvest are likely to experience favorable tailwinds. Those companies should be well-positioned to emerge as long-term winners in this evolving landscape.
IMPORTANT INFORMATION
Technology industries can be significantly affected by obsolescence of existing technology, short product cycles, falling prices and profits, competition from new market entrants, and general economic conditions. A concentrated investment in a single industry could be more volatile than the performance of less concentrated investments and the market as a whole.
1 "OpenAI unveils ambitions to compete more directly with Big Tech." Washington Post, November 6, 2023.
2 "The economic potential of generative AI: The next productivity frontier." McKinsey, June 2023.
3 "Artificial Intelligence In Healthcare Market Size, Share, And Trends Report." Grand View Research, 2023.
These are the views of the author at the time of publication and may differ from the views of other individuals/teams at Janus Henderson Investors. References made to individual securities do not constitute a recommendation to buy, sell or hold any security, investment strategy or market sector, and should not be assumed to be profitable. Janus Henderson Investors, its affiliated advisor, or its employees, may have a position in the securities mentioned.
Past performance does not predict future returns. The value of an investment and the income from it can fall as well as rise and you may not get back the amount originally invested.
The information in this article does not qualify as an investment recommendation.
Marketing Communication.