Healthcare: Immunity from the downturn?
The healthcare sector has proved resilient during past market downturns and may offer growth opportunities regardless of the recession outlook. The Portfolio Construction and Strategy Team explains why an active approach and sector expertise are critical to identifying companies that can utilize the speed of innovation in the sector.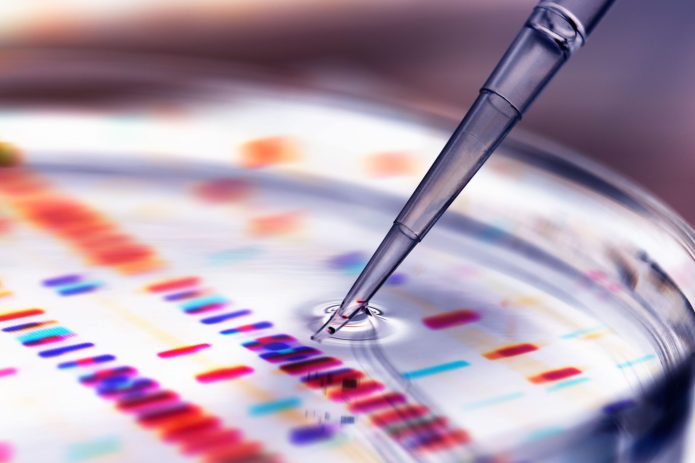 16 Feb 2023
3

minute read
This article is part of the latest Trends and Opportunities report, which outlines key themes for the next stage of this market cycle and their nuanced implications across global asset classes.
Healthcare and biotech sub-sector have outperformed the broader market through the drawdown and recovery phases of the past five sell-offs.
2022 Recap
In a year marked by supply-chain disruptions, persistent inflation, and historically sharp rate hikes, equity sector dispersion across global equity markets was staggering. But healthcare broadly – and the biotech sector specifically – were somewhat insulated from the pain.
Biotech began to recover in the second half of 2022 following the worst drawdown in the sector's recent history (-64% vs. average biotech drawdown of -32%).1
Innovation in healthcare accelerated during the COVID-19 pandemic and continues to drive the sector forward. Novel drug approvals by the U.S. Food and Drug Administration (FDA) are at decades-high annual averages since 2018.2
Global equity sector returns for 2022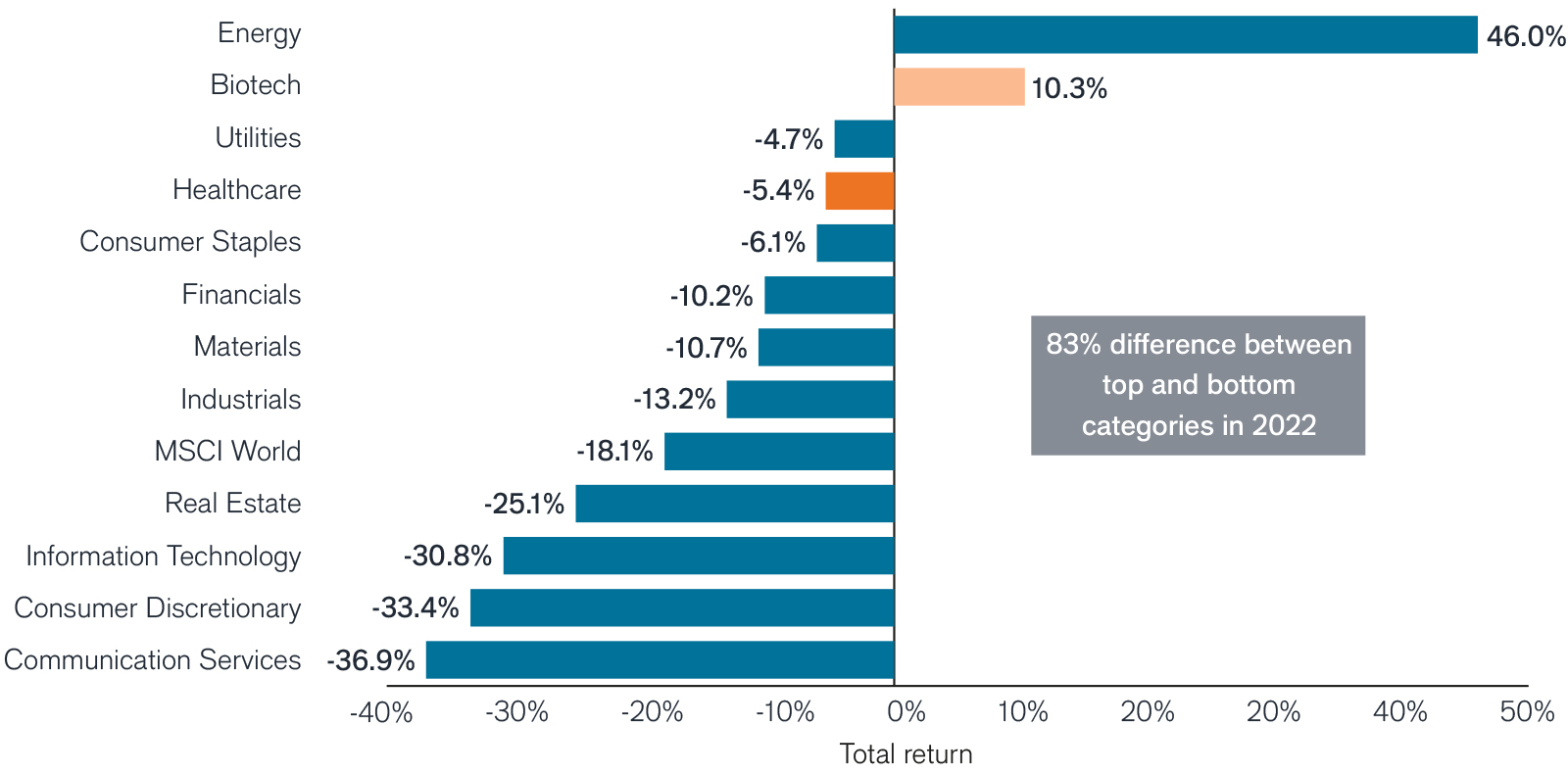 Source: Morningstar using MSCI World Index sub-sector returns as of 31 December 2022. Past performance is no guarantee of future results.
Outlook
Given the uncertainty surrounding the severity of the impending economic slowdown, volatility is expected to persist in 2023.
For the past two decades, the healthcare sector has proved resilient during market downturns, exhibiting lower average volatility and downside than global equities.
At the same time, the sector continues to trade at a discount to longer-term averages, with many biotech companies in particular trading below levels of cash on their balance sheets, providing the potential for growth regardless of the recession outlook.
In biotech, the ability to understand the science behind pending drug approvals, as well as the business impact of those approvals in the market, is critical to finding winners that can take advantage of the speed of innovation happening in the sector.
Healthcare and biotech have been resilient in market downturns and recoveries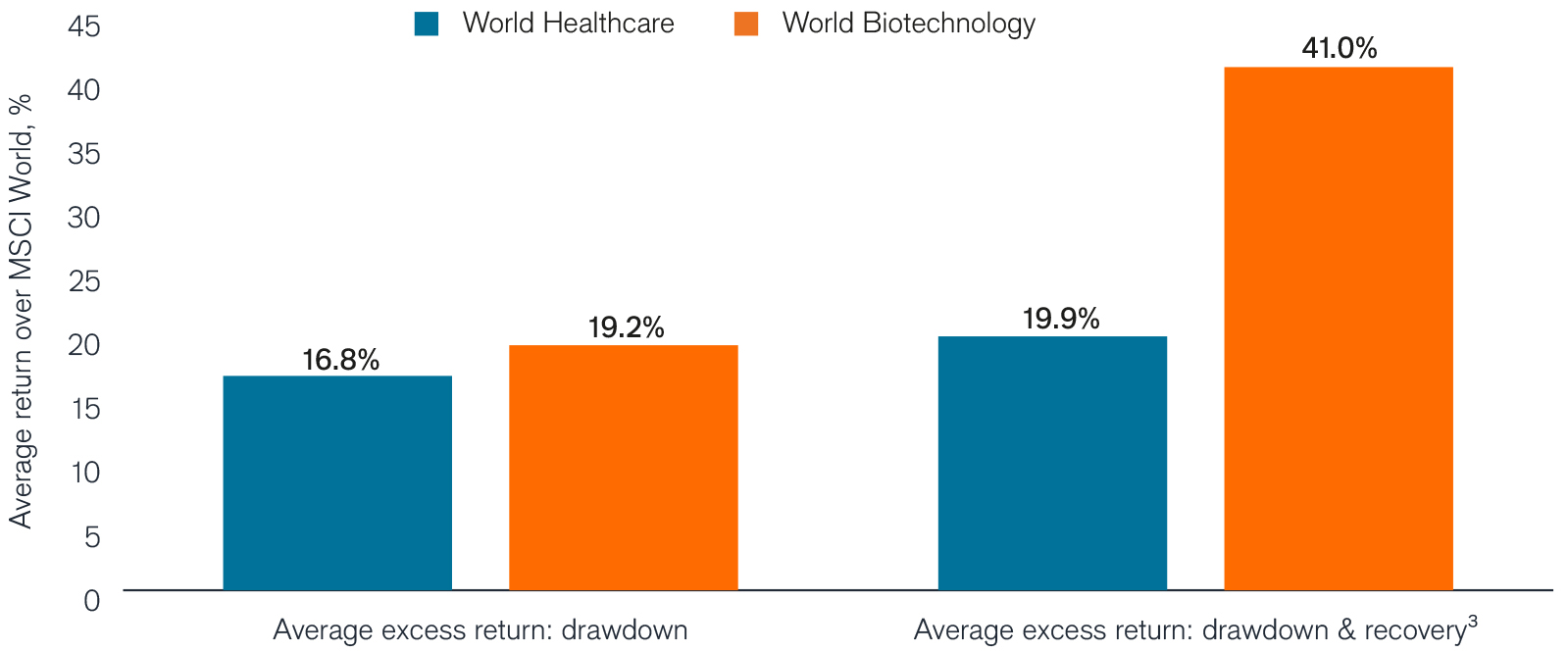 Source: Morningstar, global equity sectors and sub-sectors based on MSCI World Index. Average of downturn periods are 4/1/00 – 10/9/02, 11/1/07 – 3/9/09, 5/3/11 – 10/4/11, 2/13/20 – 3/23/20, 1/5/22 – 10/12/22. Recovery periods are based on MSCI World, for the final period 12/31/22 in the case of the recent recovery. Past performance is no guarantee of future results.
PCS Perspective
Taking a balanced approach to assessing both the defensive and growth characteristics of the healthcare index can help investors navigate the volatility ahead.
Healthcare and the narrower biotech sub-sector have outperformed the broader market through the drawdown and recovery phases of the past five sell-offs.
Paying close attention to near-term cash flows, valuations, and revenue generation is increasingly important in an environment where inflation may persist, and rates remain higher than in the previous decade.
An active and nimble approach incorporating sector and portfolio construction expertise can help investors take advantage of the many long-term tailwinds healthcare can provide.
1 Biotech performance is for SPDR® S&P® Biotech ETF (XBI). 64% drawdown occurred from 8 February 2021 through 11 May 2022 vs. average biotech drawdowns going back to 31 January 2006.
2 "New Drugs at FDA: CDER's New Molecular Entities and New Therapeutic Biological Products." U.S. Food and Drug Administration, 27 January 2022.
3 Last market downtown period recovery and full-cycle end date is as of 31 December 2022.
Note: Janus Henderson makes no representation as to whether any illustration/example mentioned is now or was ever held in any portfolio. Illustrations are only for the limited purpose of analyzing general market or economic conditions and demonstrating the research process. References to specific securities should not be construed as recommendations to buy, sell or hold any security, or as an indication of holdings.
MSCI World IndexSM reflects the equity market performance of global developed markets.
Volatility measures risk using the dispersion of returns for a given
IMPORTANT INFORMATION
Actively managed portfolios may fail to produce the intended results. No investment strategy can ensure a profit or eliminate the risk of loss.
Health care industries are subject to government regulation and reimbursement rates, as well as government approval of products and services, which could have a significant effect on price and availability, and can be significantly affected by rapid obsolescence and patent expirations.
These are the views of the author at the time of publication and may differ from the views of other individuals/teams at Janus Henderson Investors. References made to individual securities do not constitute a recommendation to buy, sell or hold any security, investment strategy or market sector, and should not be assumed to be profitable. Janus Henderson Investors, its affiliated advisor, or its employees, may have a position in the securities mentioned.
Past performance does not predict future returns. The value of an investment and the income from it can fall as well as rise and you may not get back the amount originally invested.
The information in this article does not qualify as an investment recommendation.
Marketing Communication.