The Company seeks to provide shareholders with a growing total annual dividend, as well as capital appreciation.
The value of an investment and the income from it can fall as well as rise as a result of market and currency fluctuations and you may not get back the amount originally invested. Potential investors must read the latest annual report and where relevant, the key investor information document before investing. This website is for promotional purposes and does not qualify as an investment recommendation.
2023 ANNUAL GENERAL MEETING
We are pleased to invite you to attend the Henderson International Income Trust plc 2023 Annual General Meeting, taking place at 2.30pm on Tuesday, 12 December 2023.
The meeting will be held at the Company's registered office, 201 Bishopsgate, London EC2M 3AE and will include a presentation by the fund manager, Ben Lofthouse. If you wish to join the AGM remotely by Zoom, please register at Trustslive in advance, entering your shareholder details.
As is our normal practice, there will be live voting for those physically present at the AGM. Due to technical restrictions, we cannot offer live voting by Zoom, and we therefore request all shareholders, and particularly those who cannot attend physically, to submit their votes by proxy, ahead of the deadline of 2.30pm on Friday, 8 December 2023, to ensure that their vote counts at the AGM.
For more details, please see the Notice of AGM within the Documents section listed below. If you would like to submit any questions in advance of the AGM, you are welcome to send these to our corporate secretary at itsecretariat@janushenderson.com.
In 2011, Henderson International Income Trust was launched to provide an investment solution for investors seeking attractive income and capital growth opportunities.
The Company invests in some of the best global income ideas, well diversified by sector and region outside the UK, generated by the Janus Henderson Global Equity Income team. Global diversification helps mitigate political and economic risks and provides exposure to additional opportunities. The portfolio is split into three regions, North America, Europe and Asia Pacific, with none representing more than 50% of assets and no individual stock over 5% of the portfolio at the time of investment.
As well as the ability to borrow up to 25% of net assets to enhance returns, the mandate includes the ability to own up to 25% in fixed interest assets to enhance income generation and diversification.
DIVERSIFIER FOR UK INCOME-DRIVEN INVESTORS
The ex-UK aspect of the portfolio allows investors to be confident of true stock specific diversification as many UK investors' income portfolios are often overweight the UK FTSE dividend payers. The dividends paid by UK companies (represented below by the FTSE 100) are highly reliant on a small number of companies. The same is not the case for a global index or for the HINT portfolio.

Source: Link Group UK Dividend Monitor for the year to December 2021. HINT dividend contribution for the one year period to 31 August 2022.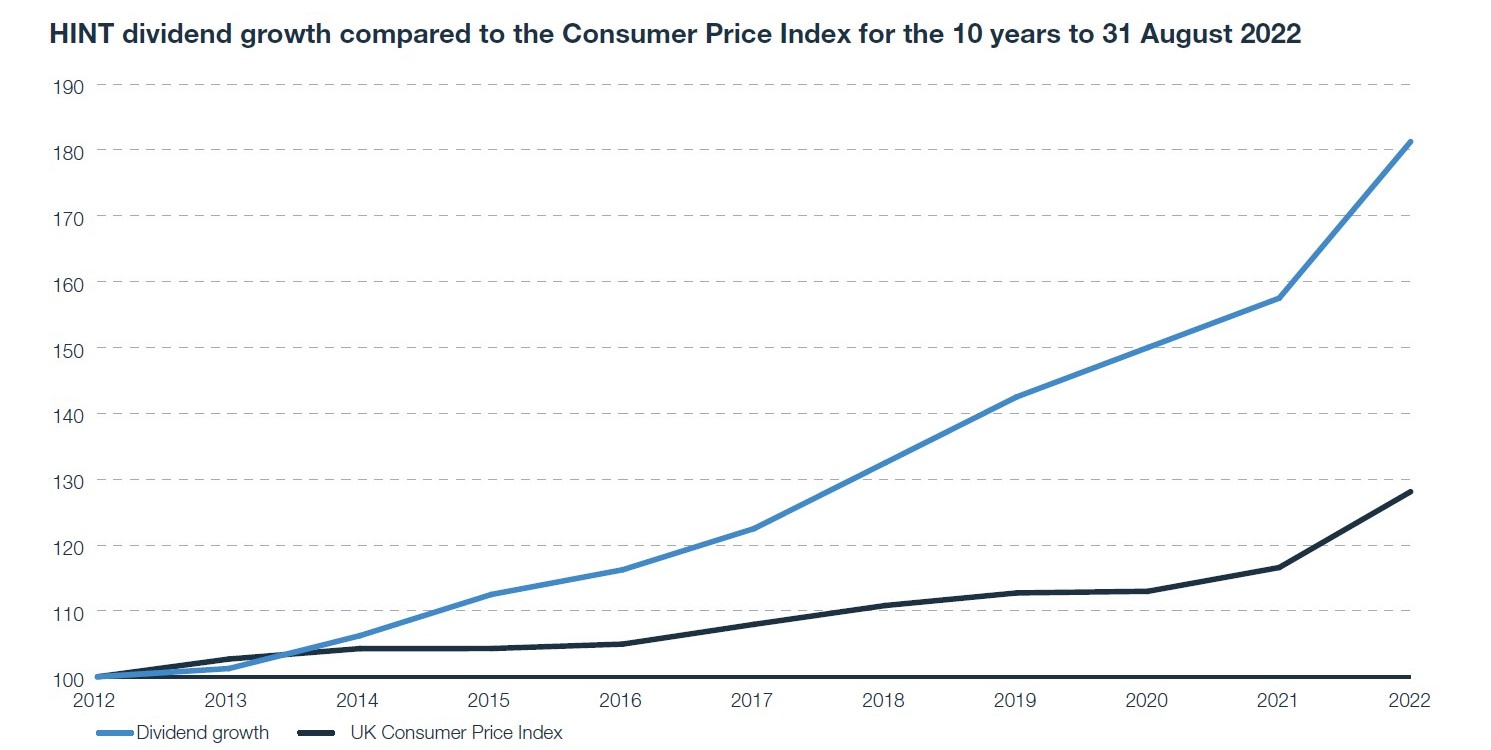 Source: Refinitiv Datastream (August 2022), Morningstar Direct (August 2022), Figures rebased to 100 as at August 2012.
HINT has an established track record since inception of a growing total annual dividend as well as capital appreciation:
The dividend has grown from 1p per quarter to 1.85p per quarter since launch (as at 31 August 2022). This is at a greater rate than inflation. The long-term sustainability of dividends is enhanced by the Company's ability to smooth distributions through the cycle using its reserves.
The capital value of the Company has increased from 100p at launch to 181.5p as at 31 August 2022
LATEST INSIGHTS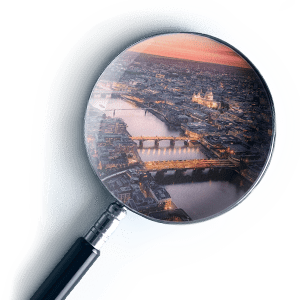 At Janus Henderson, we believe in the sharing of expert insight for better investment and business decisions. We call this ethos Knowledge Shared.
FREQUENTLY ASKED QUESTIONS
Source: Morningstar. Ratings updated quarterly.