Updating your marital status may require updates to your finances.
Marriage is a union of two lives – and the finances that go along with them. As you settle into your new life together, you and your spouse may need to make changes to your estate, retirement plan, insurance, home ownership, tax obligations and more.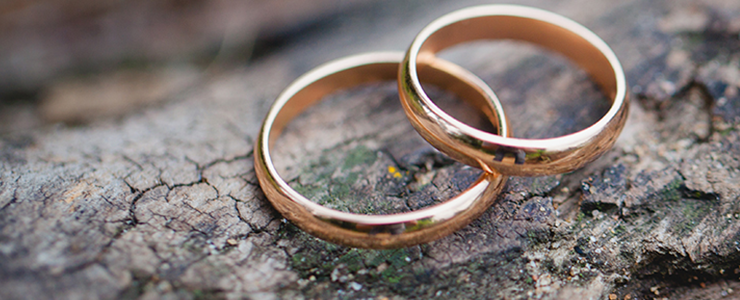 Update account information.
Updating your information in a timely manner allows for correct tax reporting and gets you thinking about your finances as a couple, especially in the case of a new last name. Here is a list of some of the recommended updates:
Janus Henderson Accounts
Start by updating any information that may have changed such as your addresses or phone numbers. If your name has changed, you can update it by completing the Legal Name Change Form.
Bank Information
Decide which bank accounts will be jointly shared and update the bank with your decision. Make sure to update any automatic payments with the new bank account information. You can update your bank information at Janus Henderson by completing the Bank Options Form.
Beneficiary Information
Now is a good time to review your beneficiaries.
For non-retirement accounts, you may update existing beneficiaries online. If there is no beneficiary designation listed, you may add one using the Transfer on Death Beneficiary Form.
For retirement accounts, you can add new or update existing beneficiaries online or with the Change of Beneficiary Form.
Don't forget to change beneficiary information on your 401(k), life insurance plans or other assets as needed. It may be helpful to choose a memorable date to review your beneficiaries annually.
Combine your finances.
You're Not Just Sharing a Life; You're Sharing a Bottom Line
Some accounts can be jointly owned and can offer many benefits to the owners. They can streamline bill payments for items like mortgages and expenses and provide mutual access for shared responsibilities. To add a spouse to your individual non-retirement account, download and complete the Individual Account Checklist.
If you don't have one already, you can open a joint account by downloading and completing the Account Application. You can get started with a $2,500 initial investment or a $100 initial investment with an automatic investment for as little as $50.
Build a new financial future together.
Tomorrow can be an exciting topic of conversation for married couples. Now that you've updated your accounts, it's time to start considering your new investment future together. It's time to talk about your goals, values and levels of risk tolerance when it comes to coordinating your strategies.
Retirement
What are your plans for retirement? Do you know your retirement age? Do you have a savings goal in mind, and is it attached to a particular lifestyle? The more you discuss now, the more you can both compromise and build a plan to a shared future. Along the way, Janus Henderson has several retirement account options to help. For more information, visit our Retirement Planning section.
Estate
You've updated your beneficiaries, but have you adjusted your will? Have you appointed your spouse the executor of your estate? Perhaps you should consider planning for the unlikely event that you both die at the same time and name a separate trustee or executor of your estate. Depending upon the complexity of your estate, you may want to consult with an accountant or even an attorney.
General Investing
Do you and your spouse have the same ideas about what to do with discretionary income? Regular, automatic investing can be an option for couples looking to capitalize on the market. Janus Henderson offers many different funds and account types to help you invest toward your goals.
Another option – and a prudent one at that – is to create a backup plan. Life is full of surprises – from a broken hot water heater to changing jobs. It may be smart to keep some of your assets readily available (such as in a non-retirement account) should you need money quickly.
Let your asset mix reflect your marriage.
As a couple, it's a great time to review your asset allocation against new life plans and combined risk tolerances. Maybe it's time to incorporate your spouse's investment philosophy with your own. Use our Fund pages to evaluate the risk of your current assets and look for new Funds that reflect your joint approach.
Account Application
Establish a regular (non-retirement) account at Janus Henderson.
Estate Planning
Estate planning is one of the pillars of personal finance, regardless of your net worth. A proper plan can protect you and the people you love.
Moving or Changing Jobs
Here's a simple checklist to help make your transition smooth.
Re-registration Kit for a Legal Name Change
Update the name on your account due to a legal name change (e.g. marriage or divorce).