How do I plan for health care in retirement?
According to a recent study, an average couple may need to save $268,000 to cover out-of-pocket medical expenses in retirement1. Over a 25-year retirement, that averages to over $10,700 per year in out-of-pocket costs. Many retirees look to Medicare as their primary health care provider in retirement, yet many don't fully understand how it works. Even with Medicare, it is important to plan for out-of-pocket premiums, deductibles and co-pays.

Generally, retirees will qualify for Medicare at age 65 if they or their spouse have worked long enough to be eligible for Social Security retirement benefits. At age 65, retirees who are receiving Social Security benefits will be enrolled automatically in Parts A and B; if not receiving benefits, they will need to apply.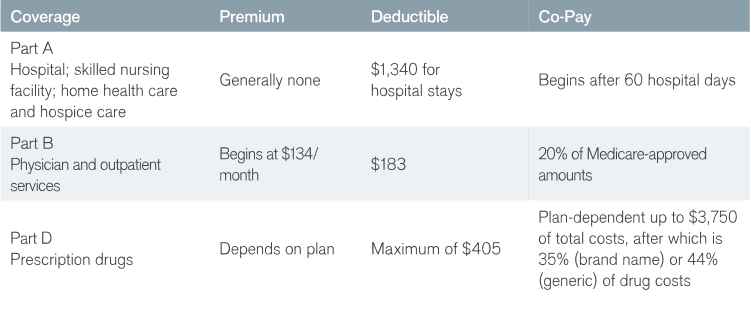 DID YOU KNOW?
Medicare covers only about 62% of expected health care costs.1
1. Savings Medicare Beneficiaries Need for Health Expenses: Some Couples Could Need as Much as $350,000." EBRI, January 31, 2017. https://www.ebri.org/crawler/view/savings-medicare-beneficiaries-need-for-health-expenses-some-couples-could-need-as-much-as-350-000

Medicare gaps to be aware of
Medicare Part A and Part B do not cover routine dental coverage such checkups, cleanings, fillings or dentures. Medicare also does not cover vision care such as eye exams, contact lenses and eyeglasses, and hearing exams and aids (although some implants may be covered). In addition, while skilled long-term care is covered, custodial long-term care, or the general day-to-day care that is not considered medical, is not covered. These factors should be considered when estimating annual out-of-pocket health care costs throughout retirement.
More information about Medicare Part A and Part B can be found at www.medicare.gov.
To help cover gaps in Medicare, consider:

Purchasing Medigap insurance for gaps in coverage not covered by Medicare

Purchasing custodial long-term care coverage
1 EBRI, "Savings Medicare Beneficiaries Need for Health Expenses: Some Couples Could need as Much as $350,000" January 31, 2017,
https://www.ebri.org/pdf/notespdf/EBRI_Notes_Hlth-Svgs.v38no1_31Jan17.pdf