25+ YEAR HISTORY OF
Providing S&P 500®-Like Returns with Significantly Less Volatility
Large-cap growth equities paired with an actively managed intermediate-term bond strategy
Dynamic asset allocation approach that migrates between 35%-65% equity depending on market conditions
Integrated research allows our equity and fixed income analysts to work side by side covering the same global sectors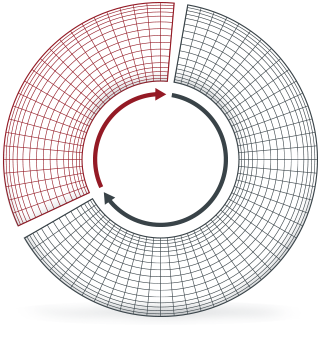 Equity Allocation Adapting to Market Changes
Balanced Fund Equity Allocation in Relation to Market Volatility (12/31/97 – 12/31/19)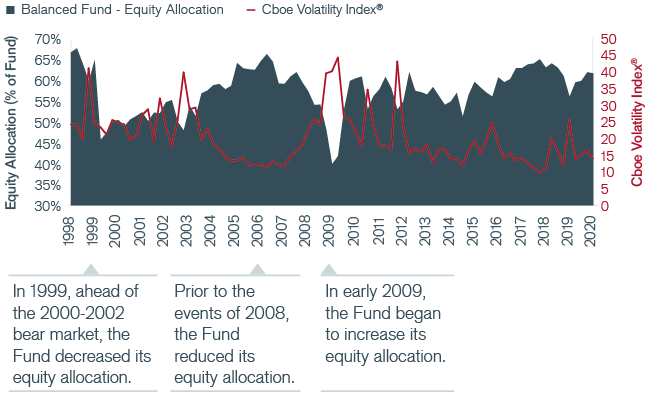 Hi, I am Jeremiah Buckley, co-portfolio manager of the Janus Henderson Balanced Strategy, and I am here to talk about 2019 performance so far and our outlook for 2020.
So the goals of the Janus Henderson Balanced Strategy are to keep investors confident in investing.  We do that in multiple ways. So one, importantly, is the dynamic asset allocation. It gives us the flexibility to adjust how we position the portfolio between security classes, given the risks and potential rewards in the market. We can adjust the equity weighting higher when we see a lot of opportunities in the market or we can adjust the equity weighting lower and increase the fixed-income weighting when we see risk in the market and we want to have more ballast to preserve capital in those periods of more volatile returns.
As a result of that process, since the inception of the fund, we have had S&P [500® Index]-like returns with lower risks. Big key components of that are, again, the dynamic asset allocation, but also actively managed equity and fixed-income sleeves. And another important tenant of the process is the collaboration between the equity and fixed-income team. Not only does that help with the security selection, but it really guides the dynamic asset allocation over time as we talk about different risks and different rewards and different security classes within the capital structure for all the companies that we do research on.
So the equity weighting in the portfolio can be anywhere from between 65% to 35%. A normal equity weighting would be around 60%. So when we are bullish on equities, we can go all the way up to 65%, but when we have concerns about equities and volatility in the market, we can go all the way down to 35%, like we did in prior recessions.
Performance Recap Title Card
The Janus Henderson Balanced Strategy has had another good year in 2019. Through the end of October, the Balanced Strategy is up 17.2 %
Both equities and fixed income have contributed to the returns so far this year. The equity sleeve has outperformed the S&P 500 Index so far this year and the fixed-income sleeve has also outperformed the Barclays Ag [the Bloomberg Barclays U.S. Aggregate Bond Index] so far this year, as well. So we have had good security selection within each of the asset classes.
We increased the equity rating in Q3 2019 as we felt that the more accommodating Fed [Federal Reserve] would lead to better returns within equities, and we saw better opportunities there. We continue to analyze where we think the Fed will go going forward, but we think this low rate environment continues to be a favorable environment for equities.
Market Outlook Title Card
So for our outlook for 2020, we continue to be bullish on equities, we continue to be overweight, our normal equity weighting of 60%, as we believe that there continue to be a number of drivers for the equity positions within the portfolio. One, we have strong consumer spending. Unemployment continues to be at very low rates. Wage inflation continues to grow at 2% to 3%, which we think bodes well for consumer spending over time.
We also see a number of transition themes that continue to support positions in the portfolio. We continue to see this theme of cloud spending, the shift to software as a service, also content as a service with streaming media; and we also see continued growth in e-payments as a transition to card globally continues to drive good growth for companies in those sectors.
While we have that bullish outlook, we continue to see risks in the globe, obviously, with trade wars and geopolitical risks, as well as an election in 2020 that we have to be aware of. We believe the opportunities continue to be better than the risks, but as we analyze those risks throughout 2020, we will continue to adjust the asset allocation appropriately. If we have concerns, geopolitical concerns or changes in the political environment, it could impact our companies, we will shift the allocation to more fixed income to provide that capital preservation if we fear that there is going to be more volatility in the market. But as of right now, we continue to see strong economic growth and good returns for equities.
With this backdrop, we think investors should consider balance, because of the long-term history and track record over different types of market cycles. Our dynamic asset allocation allows us to take advantage of opportunities in the market or provide more capital preservation when we see concerns or risks in the market. We adjust both that asset allocation, but within the sleeves, we also adjust the risk profile to cater to what types of opportunities we are seeing in the market at that time. We believe these, over time, gives investors the confidence to stay invested and appreciate that capital preservation.
Please consider the charges, risks, expenses and investment objectives carefully before investing. For a prospectus or, if available, a summary prospectus containing this and other information, please call Janus Henderson at 800.668.0434 or download the file from janushenderson.com/info. Read it carefully before you invest or send money.
As of 09/30/19, annualized returns, including reinvestment of dividends and capital gains, for Janus Henderson Balanced Fund Class I Shares were: 8.02%, 8.60% and 9.36% for the 1-, 5- and 10-year periods, respectively.
Expense ratios: Class [I] Shares: Gross 0.64% and Net 0.64%
Returns quoted are past performance and do not guarantee future results; current performance may be lower or higher. Investment returns and principal value will vary; there may be a gain or loss when shares are sold. For the most recent month-end  performance call 800.668.0434 or visit janushenderson.com/performance.
Performance for Class I Shares that includes periods prior to 7/6/09 reflects the performance of one or more share classes of the Fund or a predecessor fund, adjusted, where applicable and permitted, for differing fees and expenses. See the Fund's prospectus for further details concerning historical performance.
Net expense ratios reflect the expense waiver, if any, contractually agreed to through 2/1/20.
Discussion is based on the performance of the Fund's Class I Shares. 
There is no assurance the stated objective(s) will be met.
Investing involves risk, including the possible loss of principal and fluctuation of value.
Fixed income securities are subject to interest rate, inflation, credit and default risk.  The bond market is volatile. As interest rates rise, bond prices usually fall, and vice versa.  The return of principal is not guaranteed, and prices may decline if an issuer fails to make timely payments or its credit strength weakens.
Growth stocks are subject to increased risk of loss and price volatility and may not realize their perceived growth potential.
Actively managed portfolios may fail to produce the intended results. No investment strategy can ensure a profit or eliminate the risk of loss.
The opinions are as of 11/10/19 and are subject to change without notice. Janus Henderson may have a business relationship with certain entities discussed. The comments should not be construed as a recommendation of individual holdings or market sectors, but as an illustration of broader themes.  
S&P 500® Index reflects U.S. large-cap equity performance and represents broad U.S. equity market performance.
Bloomberg Barclays U.S. Aggregate Bond Index is a broad-based measure of the investment grade, US dollar-denominated, fixed-rate taxable bond market.
Balanced Index is an internally-calculated, hypothetical combination of total returns from the S&P 500® Index (55%) and the Bloomberg Barclays U.S. Aggregate Bond Index (45%).
Index performance does not reflect the expenses of managing a portfolio as an index is unmanaged and not available for direct investment.
Janus Henderson Distributors
Janus Henderson is a trademark of Janus Henderson Group plc or one of its subsidiaries. © Janus Henderson Group plc.
C-1119-27408 01-15-20