Investment Team Update
December 3, 2019
Janus Henderson Investors is pleased to announce the appointment of industry veteran Greg Wilensky, CFA, as Head of U.S. Fixed Income. Greg will join the firm January 29, 2020. Greg comes to us from Alliance Bernstein (AB), where he served as the director and lead portfolio manager of AB's US Multi-Sector Fixed Income team.
Greg's appointment is part of Janus Henderson's succession planning, as Darrell Watters, Head of U.S. Fundamental Fixed Income and Portfolio Manager of the Balanced Fund, will be retiring from the industry at the end of 2019. In addition, Mayur Saigal is stepping down as Portfolio Manager effective February 1, 2020. Both Darrell and Mayur will continue to work with the team, allowing for an orderly transition of oversight and responsibility for the funds they co-manage.
Greg and Michael Keough will join Marc Pinto, CFA and Jeremiah Buckley, CFA on the Balanced Fund. Marc and Jeremiah will continue as Portfolio Managers, with responsibility for the equity investments and shared responsibility around asset allocation decisions.
Hear more from Marc, Jeremiah and Michael regarding the Balanced Fund in this short video.
25+ YEAR HISTORY OF
Providing S&P 500®-Like Returns with Significantly Less Volatility
Large-cap growth equities paired with an actively managed intermediate-term bond strategy
Dynamic asset allocation approach that migrates between 35%-65% equity depending on market conditions
Integrated research allows our equity and fixed income analysts to work side by side covering the same global sectors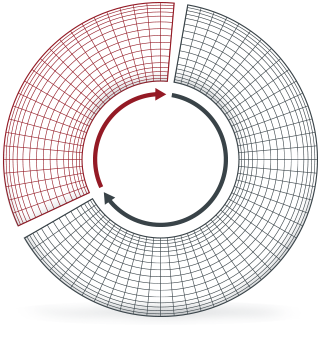 Equity Allocation Adapting to Market Changes
Balanced Fund Equity Allocation in Relation to Market Volatility (12/31/97 – 12/31/19)