Navigate Uncertainty
Watch now for a current market perspective and outlook from the investment team
SEEKS HIGH & CURRENT INCOME
Monthly distribution yield has consistently been above 4%.
LESS THAN HALF THE RISK OF HIGH YIELD
High income with less than half the risk of a dedicated high-yield strategy (as measured by standard deviation).
DESIGNED TO PERFORM
Actively managed strategy adapts to changing interest rate and credit risk environment.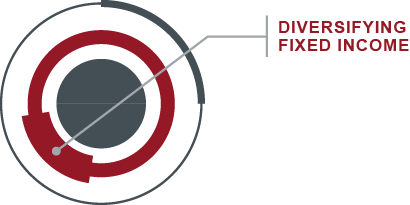 With its exposure to higher-yielding opportunities, the Fund may serve to complement and diversify a core fixed income allocation. It may be suitable for investors looking for a current monthly income stream.
When we add a security to the portfolio, the goal is to do one of two things: either dampen volatility or provide
us with the income that we want. Ideally, it will do both."
– Seth Meyer, Portfolio Manager
Our Approach
IDENTIFY BEST RISK-ADJUSTED OPPORTUNITIES
Leverages a bottom-up, fundamental, actively managed approach across U.S. fixed income

Higher yielding sectors to generate higher income – it may hold between 35% and 65% in below investment grade bonds

Less volatile sectors and shorter duration securities to help dampen overall volatility and create ballast for the fund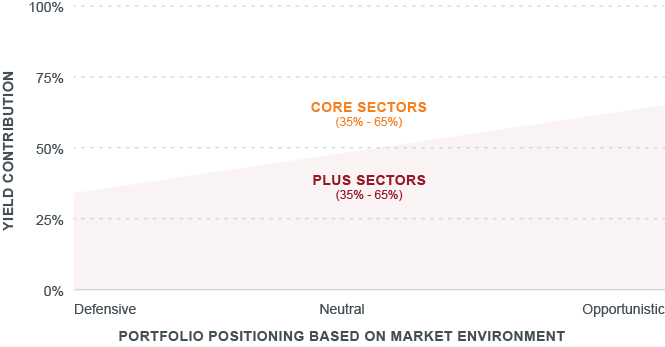 RISK MANAGEMENT
Risk management is fully integrated into the process, with deep, real-time insight gleaned from our proprietary portfolio and risk management system, Quantum Global.
HIGH, CURRENT INCOME WITH:
Less interest rate sensitivity

than a core bond strategy
Less credit sensitivity

than a dedicated high yield bond strategy
A Record of Regular Distributions
Monthly Distribution Yield - Class I Shares (4/30/14 – 12/31/19)