By taking a moderate approach to an asset class with potential for fast growth, this mid-cap growth portfolio has demonstrated lower volatility than the index. Unlike many competitor products that focus on short-term growth rates, this strategy seeks to invest in companies exhibiting sustainable and durable growth.
WHY INVEST IN THIS PORTFOLIO
"Smart Growth" Approach
The Portfolio's investment approach focuses on long duration, sustainable growth companies with strong competitive advantages and large addressable markets. We seek to avoid companies with rapid but unsustainable, short-term growth profiles.
Deep, Specialized Team
The Portfolio benefits from in-depth fundamental research, supported by a broad team of analysts, a team of small-mid-cap specialists, and a portfolio management team with experience in the mid-cap space.
Growth Potential with Tempered Volatility
Offering exposure to medium-sized companies with resilient business models, this equity portfolio is designed to weather a variety of market environments and take on moderately less risk than the index.
Seeking Long-Term, Sustainable Growth Driven by a Time-Tested Philosophy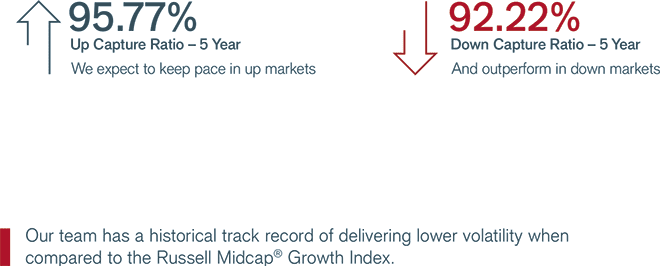 Capture Ratio measures the percentage of index (market) performance an investment "captured" during periods when the index achieved gains (up capture) or declined (down capture). A capture ratio of 100% means investment performance went up or down exactly the same amount as the index.
Information Ratio is a ratio of portfolio returns above the returns of an index to the volatility of those returns. It is an indicator of portfolio management performance.